---
HIKING SEDONA TRAILS Red Rock Sedona Pictures, Descriptions, GPS. We LOVE Hiking in Sedona. So Can YOU! LOCALS and Sedona AZ vacation lovers share. Top Things to Do In Sedona. Links to Sedona Cabins, Sedona Camping, Campgrounds.
West Fork | Don, Sedona AZ Vacationer (His site: PricelessPix.net)
Or, For Hiking In Sedona
With An Expert Guide…
Click Here.
Sedona hiking trails offer an impressive array of adventures.
This page includes need-to-know and in-the-know tips.
So you'll be well prepared for big fun.
And with a little insight, you can find just the right kinds of hikes to fit your interests and energy level.
Hiking in Sedona ranges from easy to very challenging.
Rest assured, whatever way you like to hike, the phenomenal natural beauty of Sedona AZ land will leave you… standing in awe.
Hiking Sedona - High Energy or Quiet Bliss…
How To Find YOUR Kind of Red Rock Forest Fun
Standing In Awe
Things To Do In Sedona - Hiking Guide
If hiking is about scenery and exercise, then just stand up and walk out the door… You've begun. In Sedona, there are great views in every direction. See it to believe it. This is no exaggeration.
Sedona Hiking Trails, of course, offer a more up-close and intimate way to experience the splendor…
At the end of this page, you'll find a list of 5 very different hikes. Each one of these is amazing in its own way.
---
Top 10 Tip #4: TAKE A HIKE
---

Sedona hiking trails are well-maintained and offer a great variety:
Everything from arid and giant-open-sky high hikes (ex: Bear Mountain) to thickly tree-veiled "wet" treks (we love West Fork of Oak Creek for this).
You can take deep canyon journeys with walls so high the sky becomes a slight blue sliver.

One time, after looking up for a while (and having adjusted to the dizzying wall heights), I thought to myself, ah… this is the secret to finding that elusive horizon…
…Here it is …I'm standing right under it! (Or, maybe that was just an illusion caused by the dizziness ; ).
Feeling The Spirit Of The Land
Things To Do In Sedona - Hiking Guide
Many hikers come for the vistas, and are thrilled to find that hiking Sedona leads them to even more unique and unexpected wonders as well. Like arriving at an energy vortex, or discovering "spontaneous art" created from stones, balanced just so, by previous visitors.
Sedona Vortexes (ex: Boynton Canyon) are located on Sedona AZ land at various, specific points. These are believed to radiate special (multi-dimensional) swirling, energy that is healing. Many locals and interested visitors go to a Sedona vortex to pray or meditate. Some focus on feeling this energy as medicine.
Native Americans, this land's original "locals," have long held the belief that Sedona is sacred and spiritually nourishing earth.
In nearby surrounding areas, it is possible to observe and honor the remains of some former native communities at Honoki, Palatki, and V-Bar-V.
Even our dear atheist friends, feel inspired in their own way. Because, whatever your beliefs are, beauty is beauty. And, hiking Sedona is a full-on phenomenal exposure.
Before You Begin… Stop By A Service Center
Things To Do In Sedona - Guide to Hiking In Sedona
Before you hit the trails, it's a good idea to go to the official Sedona tourism Visitor's Center (Uptown) or the Forest Service visitor's center (Hwy 179, 2 miles south of Village of Oak Creek). These are convenient places for free info and to buy your Red Rock Pass.
For more info on the Red Rock Pass, click here.
The pass is required in most of the area's State and National Forest parking places. And it comes with a simple, but good Sedona trails guide & Sedona map.
More in-depth maps can be purchased at these venues as well. We like the plastic coated Beartooth topographic/Sedona hiking map.
Visitor Information Center
331 Forest Road
Sedona, AZ (Uptown)
800-288-7336 | 928-282-7722
Click here for turn-by-turn
directions and a map
US Forest Service
Red Rock District
Coconino National Forest
8375 State Route 179
Sedona, AZ 86351 (VOC)
928-282-4119

NOTE: Formerly located on Brewer Rd. Here's how to find the current location: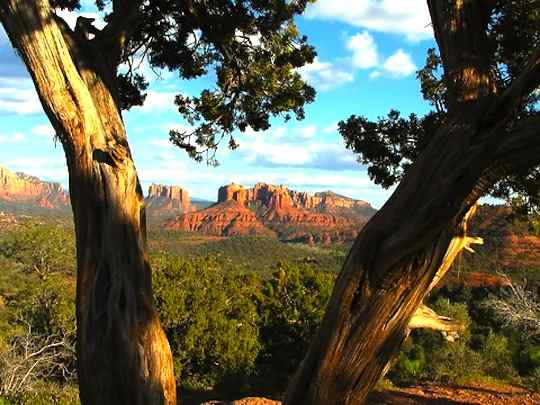 Photo © Daryl Faust
Hiking Sedona Trails - 5 Phenomenal Ways
Hiking Sedona Pick #1. COUTRHOUSE BUTTE LOOP TRAIL
Challenge Level = Fair. About 4 miles, total, offering terrific views of Bell Rock, Courthouse Butte, and Cathedral Rock.
Look for the Bell Rock Pathway sign on the left side of southbound Hwy 179. Start at the trail from the north side of the parking lot, which connects with the Courthouse Butte Loop in 0.5 mile.
Click here to see the Sedona hikes feature page on Courthouse Butte Loop, including more info, a photo, and location map.
Hiking Sedona Pick #2. WEST FORK
Challenge Level = Fairly Easy: A popular Sedona hiking trail, so you aren't likely to be alone (Note: Seasoned hikers can enjoy seclusion beyond the typical 3 mile returning point).
Along Oak Creek, you'll be crossing shallow water a few times, so expect wet feet. Highly recommended for coolness and greenery in the summer. Plus wonderful autumn colors (September - November) and fully vibrant spring blooms (March - June).
Access it by turning into Call O' The Canyon on the west side fo Hwy 89A (btwn mile markers 384-385).
See the Sedona hiking trails features page on West Fork? Click here for more info, some "in-the-know" tips, and a sweet photo from the West Fork hike.
Hiking Sedona Pick #3. BOYNTON CANYON
Challenge Level = Fair: Another very popular hike. It's considered one of the major Sedona Vortex spots, and ultimately, one of the most visually stunning.
Find it by turning north from Hwy 89A onto Dry Creek Road. About 3 miles out, turn left onto Boynton Canyon Road, then right onto Boynton Pass Road to the trailhead.
Click here to see this Sedona trails page, featuring a description of this Boynton Canyon hike, along with easy-to-absorb info, and a few insights from locals.
Hiking Sedona Pick #4. BEAR MOUNTAIN
Challenge Level = Full Power: About 1800 feet of climbing, in about 2.5 miles (one way). Views are staggeringly beautiful. There's a nice resting and vista point about 1000 feet up.
Find the 2nd trailhead parking entrance off of Boynton Pass Road. The actual trailhead is across the street.
Hiking Sedona Pick #5. BRINS MESA
Challenge Level = Fair +: It's almost 1000 foot rise, by the time you arrive at the secret scenic overlook. The first overlook is about 1.5 miles, then, take the trail to the right and continue just under 1 mile more. There's a big rock you can climb for 360° viewing.
From where Hwy 179 and 89A meet, turn north to Jordan Road, turn left and drive the full length of it. Turn left again, and continue onto the dirt road for about 0.5 mile to find the parking area.
Hiking Sedona BONUS PICK - V-Bar-V
Challenge Level = Easy: This is really just a 0.5 mile walk from the Ranger Station. But it leads to a wonderful prehistoric petroglyph experience.
Drive south on Hwy 179, all the way past I-17. In about 3 more miles, you'll see the parking area to the right.
Hiking Sedona BONUS PICK - AIRPORT
Challenge Level = Easy: Steep trail, but very short. It's more of a short inclined walk than a hike. In just a few hundred feet, you'll arrive at a wide open east facing overlook which is also believed to be another main Sedona Vortex. Sedona sunsets are often admired from another nearby vista point, a tiny distance up the same road.
Turn onto Airport Road off of Hwy 89A. You'll see the first spot about 0.5 mile up, on the left. The second area is on the right (park to the left, walk across the street).
Things To Do In Sedona - Guide to Hiking In Sedona
A SPOONFUL OF PRUDENCE KEEPS THE EXPERIENCE SWEET
There are times when Sedona temperatures can drop more than 30° after your hike begins. Hiking Sedona, it's wise to always carry a lighter, flashlight, and an extra layer of clothing (wool or synthetic, NOT cotton).
Also, for wind and rain protection, bring something with you, even if it's just a couple of plastic trash bags.
These safety tips, come courtesy of Ranger Al Cornell, from a hiking article in Sedona Monthly Magazine by Erika Ann Finch.
Also, always, but especially in the summer, bring water. Carrying a small first aid kit is also a prudent idea.
Alphabetical List of Sedona Trails
Following is an alphabetical listing of Sedona trails. Each link leads to a simplified presentation of information about each of these hikes, without the "narrative."
Each of these links will provide at-a-glance answers to these questions:
When is the trail open?
What's the difficulty rating?
The hiking time?
Elevation change?
GPS coordinates?
Is mountain biking permitted?
Is horseback riding permitted?
Can I bring my dog?
Is it a designated (protected) Wilderness area?
Access: How to I get to the trailhead?
Red Rock Pass/Fee requirements?
Experts say:
Connecting with nature nourishes one's soul…
It's a way to remember and draw out the essential self…
You know… your HAPPY self.
For your interest in our beloved Sedona AZ land, and in this Hiking Sedona page, we Thank You! Stay safe out there, and enjoy wonderful, natural discoveries!


The Real Sedona AZ
Red Rock Heaven On A Down-to-Earth Site
If you'd like to "share-it-forward," and help more people get this Sedona goodness, remember to mention this site to some people. Bookmark it. Share it. Fave it. Link to it. Keep this site growing strong! Thanks all.
Hiking Sedona Trails
Our Visitors Are Our Motive and Our Power