---
SEDONA HIKING Trails Guide. We LOVE hiking Sedona AZ, and hope YOU WILL TOO. Locals and Sedona hiking enthusiasts share in-the-know tips and insights. Favorite Sedona hikes, info, maps, pictures. Oak Creek Canyon and Red Rock Sedona. Enjoy!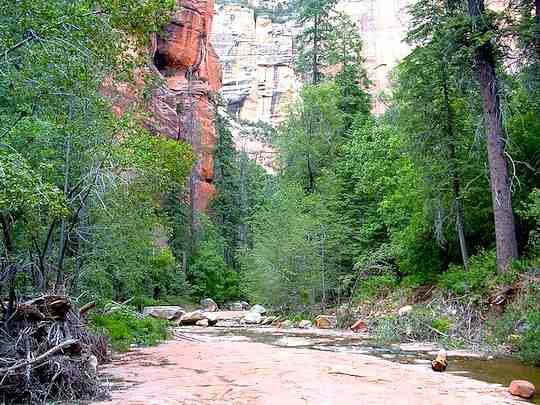 West Fork © Lee Adlaf
Sedona Hiking Trails Feature - West Fork
We LOVE The West Fork Experience
Hiking Sedona AZ. Favorite Sedona Hikes.
The West Fork trail will usher you through a tremendous variety of natural wonders. Here, you can enjoy a "secret and magical forest" feel, as you meander along a shallow and perfectly clear creek that runs at the foot of towering canyon walls amid emerald evergreens and lush leafy trees.
Among many Sedona hiking trails, this one is the most popular, and suitable for easy forest strolls during all four seasons.
During summer, it's a place to enjoy shade and water. Spring is when you can see the wildflowers bloom and when the most vibrantly colored birds visit and sing.
Autumn leaves create dramatic visual delights from during October and November. And, the brief winter snows create wonderful color contrasts and sparkling icicles.
Favorite Sedona Hikes - West Fork Details
Hiking Sedona AZ. Favorite Sedona Hikes.
| | |
| --- | --- |
| Open | All seasons. |
| Length | 3 miles (6 miles round trip). |
| Rating | Easy. |
| Hiking Time | About 2 to 3 hours total. |
| GPS | N34° 59' 25.3314", W111° 44' 14.244" |
| Access | About 9 miles north of Sedona, and 17 miles south of Flagstaff, off of HWY 89A, between milepost 384 and 385. Entrance is on the west side. Park at Call O' The Canyon Day Use Area. |
| Fees | Parking is free IF you display a Weekly or Grand Annual Red Rock Pass. Daily and Annual Red Rock Pass holders, and all others, are required to pay the day use fee: $10 per vehicle (up to 5 people); $2 per individuals with bikes or per "walk-in." |
Sedona Hiking Trails - West Fork Tips
Favorite Sedona Hikes. Hiking Sedona AZ.
TIPS: Here are a few in-the-know insights from locals and Sedona hiking enthusiasts.
1. During times of high fire danger, the trail is closed. This happens occasionally, during summer. Usually in June. But, not for long. For info, check with the Coconino National Forest - Red Rock District Ranger at 928-282-4119.
2. If you'd like to be on the trail when it's least crowded:
- Start your hike very early.
- Hike on a week day.
- Or, hike off-season.
3. For hikers with a robust constitution, you can continue past the 3 mile point, where the trails is no longer "marked." You can keep going for about 11 more miles, if you like, all the way to the end of the canyon.
Note: If you do this, be ready for lots of wading, and probably some swimming, in order to complete the full length of this journey.
4. Zane Grey's novel, Call of the Canyon was indeed inspired by this Sedona area, which then led to the filming of Sedona's first movie, by the same name. This setting became the "set" for the 1923, Victor Fleming, silent movie classic.
You are the reason SedonaHappy.com exists, so we hope you'll accept our ATTITUDE of GRATITUDE for your interest in this site and in our beloved hometown.
Click here to return to the list of Top 5 Hikes on the MAIN Hiking Sedona page.
To go to the SedonaHappy.com HOME page from this Sedona Hiking Trails page, click here.
Sedona Hiking Trails - Where's West Fork?
Hiking Sedona AZ. Favorite Sedona Hikes.
West Fork Trail Location Courtesy of © Coconino National Forest - Red Rock District

The Real Sedona AZ
Red Rock Heaven On A Down-to-Earth Site
Sedona AZ Hiking Guide. Favorite Sedona Hikes.
Hiking In Sedona. Sedona Hiking Trails.
Our Visitors Are Our Motive and Our Power