---
Sedona Car Rental Info: Unique values and ideas from LOCALS and Sedona AZ vacation lovers. Scenic Sedona activities and drives. Sedona rentals for the eco minded. Fun transport options - Full Getting Around & Rental Guide - Enjoy the Ride!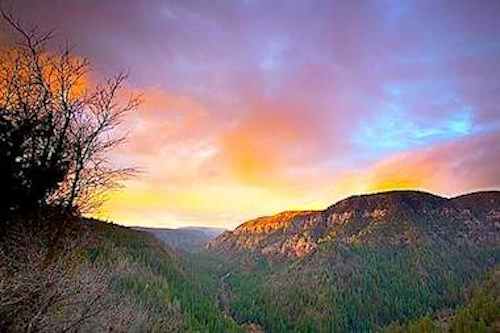 Oak Creek Canyon View | Photo © SedonaCottages.com
Sedona Car Rentals Info & Tips: Getting Around
Sedona AZ Can Be An Awesome Adventure Too!
Rent A Car, Or…
Rentals Sedona. ATV. Jeep. Tomcar. Bike. Harley. 4 x 4. Off Road. Sedona Car Rental.
• Jeep

• Tomcar

• ATV

• Motorcycle

• Moped

• Bicycle

• Electric Car

• Electric Cart

• Budget Car

• Luxury Car




On this page you'll find Sedona Car Rental info & OH so much more! Including our mini-directory of providers and suggestions for how to enjoy your ride.
Would you like to rent transportation? You've got lots of options. Interesting, perhaps, even if you've driven in.
The simple act of getting around, itself, can be so much fun in this town (especially with a little in-the-know guidance), we've included it in our Top 10 Tips list for Things To Do In Sedona.

See a simple Sedona AZ map, with general areas and points of interest? Click here.
---
Top 10 Tip #3: HAVE FUN GETTING AROUND
---

A. OAK CREEK CANYON: However you make your way around, consider experiencing the Oak Creek Canyon Drive. It's one of the most stunningly scenic routes in America.
If you're the driver, keep at least one eye on the road. The views, twists, and turns may be thrilling, but also require focus. Often at speeds as slow as 10 - 15 mph.
You'll be right in the heart of a beautiful Red Rock forest kingdom. The photos on this page give a glimpse of what you can expect.
There are opportunities to enjoy magnificent views like this at various vista stops. There are also restrooms along the way and sweet mom and pop shops.
Watch out for the critters, especially If you happen to be driving at night.

B. PARKING: For the most part, parking your Sedona car rental is easy. Though, it may not seem like it, at first. The main street in Uptown gets crowded, but there are spaces a block or two near. And there are plenty of free parking lots around town.
Note A Few Exceptions: If you're going to Slide Rock during the summer, or to any popular event at the Sedona Creative Life Center, you'll do well to get there early.
These lots fill quickly. The alternatives are far away and the walk can be treacherous.
Some Sedona restaurants' lots are usually full (like the one at Heartline Cafe, a local favorite in West Sedona).
We'll tell how to steer clear of parking challenges where appropriate on this site.
Rentals Mini-Directory
Rentals Sedona. ATV. Jeep. Tomcar. Bike. Harley. 4 x 4. Off Road. Sedona Car Rental.
Fun Transport & Sedona Car Rental Providers
C. SERVICE DIRECTORY AND SUGGESTIONS: For when you plan to tour Sedona unguided we can wholeheartedly recommend some folks to rent from and/or talk with. They're all ready to share maps (usually free) and directions. Plus, warm and friendly info and answers to your particular questions.
To see all Top 10 Tips for things to do in Sedona, click here.
JEEP
Rent a Jeep. Get free trail info and maps, plus an ice chest (including the ice!).
Barlow Jeep Rentals
3009 W Rte 89A
Sedona (West)
928-282-8700 | 888-928-5337

---
TOMCAR
Rent a Tomcar or ATV. Both unguided and guided options available.
Sedona Off-Road Center
211 Rte 179
Sedona
928-282-5599
---
ATV (Unguided)
These folks can pick you up or deliver the ATV to you!
ATV Rentals of AZ
3009 Rte 89A
Sedona (West)
928-204-2288
---
MOTORCYCLE
Rent a Harley-Davidson motorcycle. Electra Glides, Road Kings, and Heritage Softtails. Both unguided and guided options available.
UPDATE NOTE: Sorry to inform you, Eagle Rider of Sedona is no longer in business.
Eagle Rider of Sedona
6560 Rte 179
Ste 100
Sedona (VOC)
928-284-3983 | 866-392-0747
---
MOPEDS AND SPECIALTY VEHICLES
Mopeds and more. Ask about their current selection of
specialized offerings, like vans and off-road-ready rides.
We love this option so much, we created a mini-review page.
Click here for more photos and more info.
Scoot Around
2900 Rte 89A
Sedona (West)
928-282-7529
---
BIKES
Rent a bike. And get really friendly, info for road and trail riding:
Mountain Bike Heaven
1695 Hwy 89A
Sedona (West)
928-282-1312
---
Bike and Bean
6020 Hwy 179
Sedona, AZ 86351 (VOC)
928-284-0210
---
Absolute Bikes
6101 Rte 179
Suite C
Sedona (VOC)
928-284-1242
---
ELECTRIC CARS AND CARTS
A small, but intriguing selection of electric rides.
Sedona Electric Cars
2540 Rte 89A
Suite B
Sedona (West)
928-203-8789 | 928-301-1999
---
BUDGET CAR, MID-LUXURY, SUV
2 Sedona car rental sources. Ask about convertibles, vans, sports cars, and current luxury selection. Note: Both will pick you up and drop off. Both closed on Sundays.
Enterprise Rent-a-Car
2090 W Hwy 89A
Sedona, AZ 86336
928-282-2052
---
Hertz Car Rental
3009 W Hwy 89A
Sedona, AZ 86336
928-282-0878
---
Life is a Journey…
- Ralph Waldo Emerson
THANK YOU for your interest in Sedona-Happy.com and in this Sedona Car Rental page. Remember, while you're getting around this beloved hometown of ours, enjoy the ride!
Rentals Sedona. ATV. Jeep. Tomcar. Bike. Harley. 4 x 4. Off Road. Sedona Car Rental.
Looking for SEDONA LODGING Info? Click here for unique tips and tops picks: SEDONA CABINS, RESORTS, B & B's, HOTELS, and MOTELS.
How about letting an expert GUIDE escort you into a remote and thrilling Red Rock adventure? To see our favorite SEDONA JEEP TOURS, click here.
To go to the HOME page, from this Sedona Car Rental page, click here.


The Real Sedona AZ
Red Rock Heaven On A Down-to-Earth Site
If you'd like to "share-it-forward," and help more people get this Sedona goodness, remember to mention this site to some people. Bookmark it. Share it. Fave it. Link to it. Keep this site growing strong! Thanks all.
Sedona Car Rental
Our Visitors Are Our Motive and Our Power