---
Sedona camping enthusiasts share INFO. Best camping in Sedona Arizona. Camping primitive? Showers? Fishing? Swimming? Hiking Sedona? Campgrounds guide. Coconino National Forest. Red Rock Sedona.
Sedona Campgrounds That Rock! Naturally…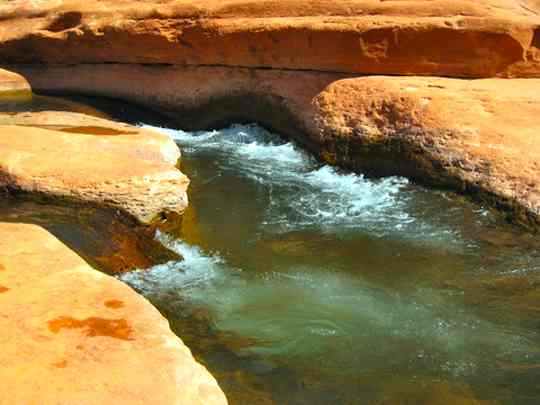 Slide Rock State Park in Oak Creek Canyon © Carl Givens
Sedona Camping: How to Find
YOUR Kind of Creekside Canyon Adventure
Have you heard of the world famous Oak Creek Canyon drive? It's known as one of the most scenic delights America has to offer. I mention it here, because…
When you're camping in Sedona, you'll have an up-close insider's experience of this famous natural beauty. The 4 Sedona area campgrounds are all in Oak Creek Canyon, right on the banks of its clean water stream, where you can fish, swim, and slide…
Slide?! Yup. At the nearby day-use Slide Rock State Park location, you'll find Sedona's funnest way to get wet. Along with some of the most amazing scenery in all of Sedona. This is one of the places my family has enjoyed the most.
Life Magazine calls this "one of the nation's best 10 swimming holes." It has a chute-like groove with a super-slippery bottom, creating a natural water slide. And a whole lot of fun.
Finding great activities like this will be easy, and, with a touch of in-the-know guidance, you can also find one of the sweetest camping spots along this route… Your own personal little piece of a truly great outdoors retreat.
Jump to List of The Sedona Arizona Campgrounds? Click Here.
It's a Red Rock and evergreen forest. A wildlife wonderland. Nestled into towering canyon walls. It's pristine… stunning… The air is fresh, and the colors and layers offer breathtaking visuals…

Camping In Sedona AZ - Coconino National Forest
As You Can See… The Views Are Magnificent!
You'll see sandstone, limestone, lava, and basalt… A sparkling trout-filled stream… Trees that appear to go on forever… and, seem to have been around for at least that long.
Ponderosa pines, alders, and juniper. Sycamores, willows, and walnut trees. Up a bit higher, you'll see aspens, oaks, and red maples.
You'll be a guest in the home of Sedona's original locals --the wild critters-- who, aren't at all shy about sharing it with us. The most gregarious of all are the squirrels, jackrabbits, skunks, and quail… and a huge variety of other birds.
You will likely also see javelinas. And, from a little more distance, maybe deer, antelope, and even a bobcat or coyote.
How's The Camping In Sedona?
No Rooms. No Frills. All Nature & Views.
Trees, rocks, water, critters, and stars…
Honestly, I don't think my humble little words can prepare you for how beautiful it really is.
It's ALL glorious, especially the clear and spectacularly starry nights.
And all the spots for camping in Sedona are near water activities and some fantastically scenic Sedona hiking trails.
In Sedona camping offers picnicking areas, barbecues, and fire rings. And they all have restrooms… but, here's what some people do find this surprising…
Coconino National Forest Camping Guide
There's A Big Difference In The Small Details
The diversity in Sedona camping is found among the available amenities, or lack thereof. Some Sedona Arizona campgrounds might be described as downright primitive. Which, for some will be thrilling!
But, let's make sure your outdoor adventure isn't spoiled by an unwanted lack of something… Here's a look at some key Sedona camping details:
Mostly, camping spots are found on a first-come, first-served basis. NOTE: THEY FILL UP QUICKLY.
A few sites are reservable in advance. In fact, this is how to make sure you get one of the sweetest locations, nearest the creek.
And, did you know, if you're looking for Sedona Arizona campgrounds with a shower, you've got ONE way to go: Cave Springs (Pine Flat offers showers too, but is currently closed for construction).
Two Sedona camping sites (Bootlegger and Manzanita) only allow tents and small sleeper vehicles. But, not RVs or trailers.
If you've got a trailer, or an RV that's less than 30 feet long, you can park it (without hookups) at a couple of campgrounds. Check out our charts to see which.
NONE of Sedona camping sites have RV hookups.
All developed Sedona Arizona campgrounds have a 7 day stay limit.
If you're looking for dispersed Sedona camping options (camping on your own), you've got plenty. Contact the Red Rock Ranger's office for more details.
Unofficially, it's not hard to find a quiet backpacking night under the stars.
Since ALL of the developed Oak Creek Canyon campgrounds are on the creek, your access to fishing and swimming is only a few steps away. Some sites are right on the creek's edge. And everyone can enjoy the soothing sound of moving water.
Campsites In Sedona AZ - Coconino National Forest
Sedona Camping Grounds
To see more detailed charts, you can click any of the following links.
Or, scroll on for the brief highlights.
Here are 5 ways to go camping in Sedona AZ.
Bootlegger Campgrounds | Pine Flat Campgrounds

Cave Springs Campgrounds | Manzanita Campgrounds

Chavez Crossing Campgrounds (For Large Groups)
A. BOOTLEGGER CAMPGROUNDS
SPECIAL NOTE: BOOTLEGGER IS CURRENTLY CLOSED DUE TO CONSTRUCTION. THE FOREST SERVICE HAS NOT YET INDICATED A RE-OPENING DATE.
Bootlegger is one of the smallest campgrounds. There are 18 single-unit campsites here, with allowances for up to 8 campers per site. You can buy firewood onsite.
Fees are currently at about $20 per night. For an additional vehicle, it's $10 more. Open all year.
Jump To Bootlegger Campgrounds Page.
B. PINE FLAT CAMPGROUNDS
SPECIAL NOTE: PINE FLAT IS CURRENTLY CLOSED DUE TO CONSTRUCTION. THE FOREST SERVICE HAS NOT YET INDICATED A RE-OPENING DATE.
Pine Flat is a popular first choice for Sedona camping enthusiasts. It has coin operated showers, and accepts some advance reservations.
There are 56 site, 18 of which can be reserved. And these are the choice locations closest to the creek. Firewood can be purchased onsite.
Small motor homes and trailers under 36 feet are permitted (no hookups).
Fees are about $20 per night ($10 more for an additional vehicle). Open from early March to mid November.
Jump to Pine Flat Campgrounds Page.
C. CAVE SPRINGS CAMPGROUNDS
Cave springs is also a popular choice. It has 78 single-unit sites. 11 of which are closest to the creek, and can be reserved. Coin operated showers are available.
Motor homes and trailers under 36 feet are allowed, but there are no hookups. Firewood available onsite.
Fees $20 per night for up to 8 people per site. Season: Early April to Mid October.
Jump To Cave Springs Campgrounds Page.
D. MANZANITA CAMPGROUNDS
Here's another small campgrounds area, offering 19 single-unit sites for up to 8 people. 11 of these sites can be reserved.
Tents and small sleep-in vehicles are allowed, but not trailers or RVs please. Firewood available onsite.
Fees $20 per night. Open all year.
Jump To Manzanita Campgrounds Page.
E. CHAVEZ CROSSING CAMPGROUNDS (FOR LARGE GROUPS)
Chavez Crossing is a large group Sedona camping ground, located in Sedona proper, outside of Oak Creek. It's surrounded by a Sedona golf resort, and some high-end homes, but it still has a nice "foresty" feel. And Oak Creek itself runs nearby.
Trailers and small RVs can park here, but there are no hookups.
Fees: From $75 to $225 per night, for up to 110 maximum capacity on a total of 3 group sites. You can reserve the smallest one (capacity 30) for $75 per night. Season: All year.
Jump To Chavez Crossing Campgrounds Page.
Coconino National Forest - Red Rock Sedona
Making Reservations
To make reservations for a Sedona camping site call:
The National Recreation Service
877-444-6777
TDD 877-833-6777 (For Hearing Impaired)
Hours: 10am to 12 midnight Eastern Standard Time
Advance reservations can be made as late as 48 hours in advance, and as early as 240 days in advance.
TIP: Did you know... You can rent an very unique and historic cabin at Crescent Moon Ranch Recreation site? For $200 per night, up to 10 people can be a guest or our National Forest Services at this very scenic spot.
Formerly called, Red Rock Crossing, this is one of the most photographed spots in all of America. Reservations required. Sorry, no pets. For more information, and to reserve it, call the number above.
Coconino National Forest - Red Rock Sedona
Red Rock Ranger Service
At the Coconino National Forest - Red Rock Sedona Ranger Station, you can find even more Sedona camping information, if you like. It's also the place to buy your Red Rock Pass, which comes with a simple (but good) trail map.
You can buy in-depth maps here too, like the plastic coated Beartooth topographic Sedona map.
This is the best resource for info on dispersed camping in Sedona (camping on undeveloped land), including some need-to-know requirements, like hiking Sedona trails at least one mile from the trailhead, before fire building is permitted.
To get plenty of friendly in-person answers to all your question, visit these folks at their new location 2 miles south of the Village of Oak Creek:
US Forest Service
Red Rock District
Coconino National Forest
8375 State Route 179
Sedona, AZ 86351 (VOC)
928-282-4119

NOTE: Formerly located on Brewer Rd. Here's how to find the current location:
We hope this guide will prepare you well for a wonderful Sedona Arizona camping adventure.
At SedonaHappy.com, you are our inspiration for creation. So, we hope you'll accept a big ATTITUDE of GRATITUDE for your interest in this guide and in our beloved hometown. Enjoy the beautiful Sedona Arizona campgrounds! And, all the natural wonders in Red Rock Country's Coconino National Forest and Oak Creek Canyon.
HIKING SEDONA TRAILS? See our list of five phenomenal hikes, including the West Fork Wet Trek, near the areas for camping in Sedona.
Considering SEDONA CABINS? Click here to see another naturally blissful way to stay, ranging from high-luxury to very affordable options.


The Real Sedona AZ
Red Rock Heaven On A Down-to-Earth Site
If you'd like to "share-it-forward," and help more people get this Sedona goodness, remember to mention this site to some people. Bookmark it. Share it. Fave it. Link to it. Keep this site growing strong! Thanks all.
Coconino National Forest & Oak Creek Canyon
In Sedona Arizona Campgrounds Rock!
Find Your Kind of Sedona Camping Bliss.
Our Visitors Are Our Motive and Our Power