---
Sedona Resorts offer romance, family fun, or quiet retreats. Sedona resort and spa venues? Best in the world! Sedona AZ resorts lovers share tips, info and top picks. There are many resorts in Sedona Arizona, but these are the real stand outs.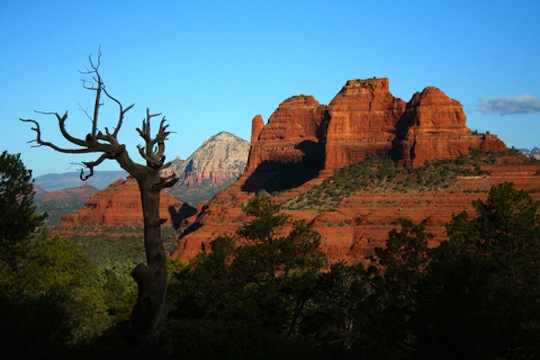 Photo © Linda Baronoskie
Find Your Kind of "Divine."
Sedona Resorts Are Great For...
Spas | Romance | Golf | Events | Family Fun
In Sedona Arizona, resorts are significant. My dictionary defines Sedona as "a resort city." As you peruse our Top Picks & Reviews you'll see why. There are a lot of them.
And not just plain old generic resorts. Resorts with real character. Each one, unique in its own way. This page aims to show you how and where to find the kind of place that's just right for you.
What's Your Idea of Sedona Resorts Heaven?
Luxury and Budget Resorts In Sedona Arizona. Top Sedona Resort and Spa Choices.
The resorts of Sedona are globally recognized and recurrently reviewed by the likes of Conde Nast, Travel & Leisure, and The Travel Channel. Etc! Included… on just about every Best Of Lodging List in existence…
What's so special about Sedona Arizona Resorts?
Well, for starters, they all offer phenomenal views. For example, take these Sedona pictures…
Sedona Arizona is famous for its good looks, and these photos give you just a glimpse at the kind of scenery you can expect to enjoy when you visit Sedona AZ.
Click on them if you'd like to see them larger.
On the Picks List, you'll find our tips for what you can see right outside your resort bedroom window.
And here are some highlights of the kinds of Sedona Resorts qualities you can find…
Truly world class resorts
Or upscale, but a bit more affordable
With a variety of fine onsite Sedona spas
Plus…
Family-oriented fun resorts
Stunningly brilliant golf resorts
Resorts for Tennis lovers
Havens for spiritual seekers
Excellent venues for:
And…
The perfect accommodations for your blissful wedding celebration
Top 6 Sedona Resorts Picks
Top Sedona Resort and Spa Choices. Luxury and Budget Resorts In Sedona Arizona.
Sedona offers so many wonderful ways to stay,
we hope our reviews and this list of our Top Picks…
…will make it simple and easy for you
to find the BEST of what you're looking for.
A. ENCHANTMENT RESORT SEDONA
Finest Sedona Arizona Resorts
On 70 secluded acres, nestled into 1500 vertical feet of red rock in Boynton Canyon, Enchantment Resort is easily one of our top 3 ALL Sedona lodging picks.
Enchantment Sedona is globally celebrated for its extraordinary beauty and warm, luxurious homestyle resort offerings. Affirmed with the recent recognition from Travel & Leisure magazine's World's Best awards.
Stand Out Qualities Include:
Mii Amo Spa (undoubtably, one of the finest in Arizona).
Yavapai restaurant, which has been AAA 4 Diamond rated.
Plus, the best tennis in Sedona (maybe in all AZ).
And a variety of rustically elegant accommodations from which to choose.
Click here for the full review, including very unique Enchantment Resort characteristics and offerings.
$$$$+
Enchantment Resort Sedona
525 Boynton Canyon Road
Sedona, AZ 86336
928-282-2900 | 800-826-4180
B. LAUBERGE DE SEDONA
Finest Sedona Arizona Resorts
What happens when France makes a home away from home in the most scenic place in America?
You get a fine combination of many worlds for your stay.
Luxury…
Charm…
Comfort…
All In the World Class…
Lush Creekside Green…
and Red Rock Rough.
L'Auberge is a delightful Sedona Lodging gem. By Conde Nast standards, LAuberge de Sedona is "one of the best places to stay in the world."
AAA rates it with 4 Diamonds. And it is certainly one of our favorite Sedona resorts choices.
What's so world class about LAuberge de Sedona. Divine Food & Wine, Serenite Spa, The Cabins, The Amenities… Click here for the full review.
$$+ to $$$$+
L'Auberge de Sedona Resort
301 L'Auberge Lane
Sedona, AZ 86336
928-282-1661 | 800-272-6777
C. HILTON SEDONA RESORT AND SPA
Top Popular Resorts In Sedona Arizona
At Hilton Sedona, you'll find stunning Red Rock formations and the 4 star rated 18 hole course of adjacent Sedona Golf Resort. This property is also home to one of our Top Sedona Spas Picks.
If you already know and trust Hiltons, you are in for an extra treat. Here's everything you expect, plus a spa, golf, and views that are as beautiful as your wildest dreams.
To see the full review along with photos, rates and directions, click here.
$$+ to $$$+
Hilton Sedona Resort Spa & Golf
90 Ridge Trail Dr
Sedona, AZ 86351
928-284-4040 | 877-273-3762
D. ADOBE GRAND VILLAS RESORT
Luxurious Sedona Resorts - Top Picks.
Here's my personal favorite among Sedona bed and breakfast resorts. Absolutely one-of-a-kind.
Staying here feels like… you are the honored guest of your own "ga-zillionaire" relative… who not only loves you very much, but secretly treats you like the family favorite… You will be presented with the finest of everything.
Click here to see just what's so grand about Adobe Grand Villas Sedona Bed and Breakfast Resort.
$$$$+
35 Hozoni Drive
Sedona, AZ 86336
928-203-7616 | 866-900-7616
E. RED AGAVE RESORT
Fun & Affordable Resorts In Sedona Arizona
Red Agave Resort is a favorite Sedona Lodging pick for people (especially families) looking for a more affordable way to enjoy unique Sedona resorts accommodations with the kind of astounding views that usually go for higher premium elsewhere.
If you're looking for "posh" this is not the place. But, its charms definitely make up for what it might lack in design and amenities.
If you're looking for budget friendly family fun, click here to see how this is a real stand out among resorts in Sedona Arizona.
$ to $$
Red Agave Resort
120 Canyon Circle Dr
Sedona, AZ 86351
928-284-9327 | 877-284-9237
BONUS PICK: LOS ABRIGADOS RESORT AND SPA
Sedona AZ Resorts For Family Fun & Romance On A Budget
Los Abrigados Resort and Spa and Los Abrigados Lodge, are "ownership" destinations. THEREFORE… If you don't mind being… um… enthusiastically encouraged to buy… then this may be your perfect way to enjoy a family resort vacation at a very affordable cost.
If you're a family, and considering vacation ownership, this is highly recommended. If you're just looking for a high quality vacation for a discount price, here's one creative way to get it.
If you can't stand the idea of a sales pitch, this is not for you.
COST: Here's the deal. You allow Los Abrigados Sedona the opportunity to try to convince you to buy. In exchange, you'll receive a bargain, like: $99 per night for up to four people. Plus, you'll get a $100 credit to spend on gas, onsite restaurants, or their spa.
If you're interested, click here to see the many fun Los Abrigados Resort offerings along with one more tip for how to save even more.
And, if you are looking to own a little piece of Sedona timeshare heaven, this is definitely one of our favorites.
$ to $$+
Los Abrigados Resort Sedona
160 Portal Lane
Sedona, AZ 86336
928-282-1777 | 800-521-3131
We hope you'll accept a big ATTITUDE of GRATITUDE for your interest in this guide and in our beloved hometown. YOU are the reason SedonaHappy.com exists.


The Real Sedona AZ
Red Rock Heaven On A Down-to-Earth Site
If you'd like to "share-it-forward," and help more people get this Sedona goodness, remember to mention this site to some people. Bookmark it. Share it. Fave it. Link to it. Keep this site growing strong! Thanks all.
Sedona Resorts Overview & Top Picks
Our Visitors Are Our Motive and Our Power