---
Adobe Grand Villas of Sedona AZ is truly UNIQUE. Delicious, romantic beauty. Abundant amenities. Functional art furniture. A Sedona bed and breakfast that is truly world class, way beyond four stars. It feels like the best kind of Sedona resorts. Intimately.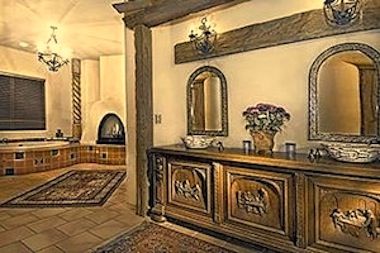 Photo Courtesy of © Adobe Grand
When you visit Sedona AZ, would you like accommodations with a fireplace? In your bedroom and…
…In your bathroom?!
With a giant jetted-tub right next to it…
Oh, and a waterfall shower?!!
Adobe Grand Villas is a family owned Sedona Bed and Breakfast Resort that goes…
…
way beyond AAA 4 star standard
expectations. Stuart and Irene Berman would love for you to feel at home in one of their 15
mansion
-style villas.
Staying here feels like… you are the honored guest of your own "ga-zillionaire" relatives… who not only love you very much, but secretly treat you like the family favorite…
You will be presented with a bounty of thoughtful and surprising amenities and the finest of Sedona resorts luxury accommodations.
Sedona Resorts. Villas of Sedona AZ
Accommodations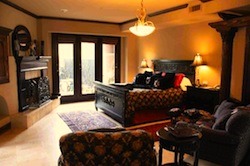 Courtesy © Adobe Grand
Let's start with the joyful doorways. Each of these private entrances are masterfully crafted by artist, Steve Berman (the owners' son), and inspired by the unique decor of what's inside.
Irene Berman's stunning interior designs, range in influence from American Southwestern, to Tuscan, to Provençal.
These phenomenal West Sedona villas are like self-contained resorts with generous portions of everything, including the views.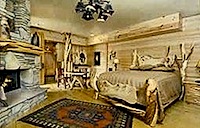 Courtesy © Adobe Grand
You can see various red rock formations, like Thunder Mountain, the tallest of our local peaks.
Rooms range in size from 850 - 2000 square feet, some with 20 foot ceilings, and all with custom hand-made furniture (the beds are gallery quality), and one-of-a kind lighting and bath fixtures.
Top Sedona Bed and Breakfast Picks & Stand Out Villas of Sedona Arizona
Delicious Beauty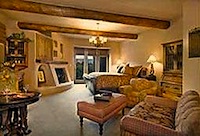 Courtesy © Adobe Grand
There's nothing "corporate" about this place. Everything about Adobe Grand Villas feels sumptuously organic.
From the building materials, to personalized spa treatments (so pure you could eat them), to, of course, the breakfast table.
Daily, your five course gourmet breakfasts are prepared by Executive Chef, Michael Merilli, who is also ready on call to be your own personal chef.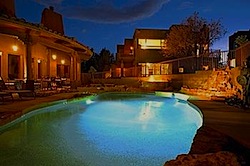 Courtesy © Adobe Grand Villas
Adobe Grand is perfect for romantic getaways, honeymoons, and intimate weddings.
And, generally, for all who are fortunate enough to reward themselves with one of the finest possible Sedona lodging options available.
THE finest of Sedona resorts? Well, for its interiors, it's my favorite. And undoubtably… utterly… unique.
Sedona Resorts & Sedona Bed and Breakfast Standouts
Notes & Directions
Per night, per couple, rates at Adobe Grand Villas range from the $400's to the thousands.
CURRENTLY, THERE IS A BIT OF CONSTRUCTION GOING ON NEAR THE PROPERTY.
It doesn't seem noisy, and it doesn't interrupt the view, but I thought I should tell you about it. Past this visual street clutter, Adobe Grand itself is still pristine. I'll update this page again, after the adjacent street construction is completed.
Adobe Grand Villas Resort
35 Hozoni Drive
Sedona, AZ 86336
928-203-7616 | 866-900-7616
Click Here To See The Website.
Book A Room Online? Click Here.
Sedona Resorts. Villas of Sedona AZ
We hope you'll accept a big ATTITUDE of GRATITUDE for your interest in this guide and in our beloved hometown. YOU are the reason SedonaHappy.com exists.


The Real Sedona AZ
Red Rock Heaven On A Down-to-Earth Site
If you'd like to "share-it-forward," and help more people get this Sedona goodness, remember to mention this site to some people. Bookmark it. Share it. Fave it. Link to it. Keep this site growing strong! Thanks all.
A Sedona Bed and Breakfast With An Intimate Sedona
Resorts Feel - Adobe Grand Villas of Sedona AZ
Our Visitors Are Our Motive and Our Power