---
Sedona Jeep Tours Rock! Best things to do in Sedona AZ. Pink Jeep Tours? Sedona AZ land by Hummer? Sedona activities TIPS from locals and visitors. A Day In The West? Classic off-road fun.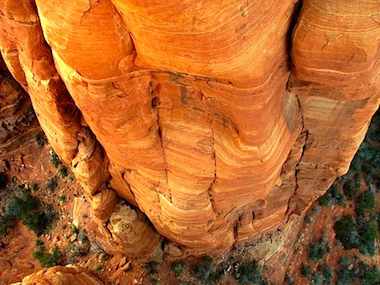 Photo © Pancake Tom
Jeep Tours Sedona AZ
Red Rock Your World
Best Sedona Activities
A Top 10 Pick

Jeep Tours… Sedona Arizona, deep inside the heart of the Red Rock Country.
Thrilling…
High-Energy…
Bone-Rattling…
Fun!
Certainly among the best things to do in Sedona.
Following is a brief overview.
Why Take A Jeep Tour?
Sedona Jeep Tours Rock! Especially These…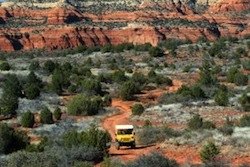 © A Day In The West Sedona AZ Tours
Would you like to experience the outdoor beauty of Sedona AZ land?
I mean, really experience it… From the inside and up close.
To take in the greatest views, from those remote sweet spots? But without the treachery and risk of getting lost? And, hey, how about the one at the wheel, who has to keep at least one eye on the path, and can't gaze at anything for long…
Well, never mind the worries and forget the missing out… Let yourself be guided into the heart of things…
---
Top 10 Tip #5: GO OFF ROAD. TAKE A JEEP TOUR.
---
Our guides are super savvy. They know how to keep you safe and on the edge of your seat!
They'll navigate and narrate, as they coax your Jeep up and down super steep trail grades and bends. Inside the canyon, within inches of towering walls… go ahead, feel free… you can reach out and touch.
You can practically feel the pulse of these glorious Red Rocks.
And the drivers know when and where to stop. So you can stretch your legs (and spine). Or simply stand in awe of some of the most phenomenal viewing possible in Sedona.
SPECIAL BENEFIT: Sedona Jeep Tour service providers have access to some awesome places that are otherwise absolutely restricted to self-driving-public.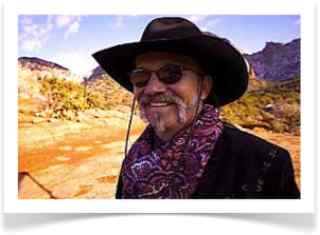 Photo © Tara Golden
Sedona Jeep Tours Rock
And So Do The Guides!!
Revved up and ready to ride the trails? Which Sedona Jeep Tour will you pick?
There are lots of providers around town. From start up companies to 2nd generation, locally owned stand outs.
3 OUTSTANDING Sedona Jeep Tours
Here are the ones we enthusiastically recommend:
A. A DAY IN THE WEST
Absolute Classic. A family owned and operated company and local favorite. These guys really know the unbeaten path. And the best photo spots.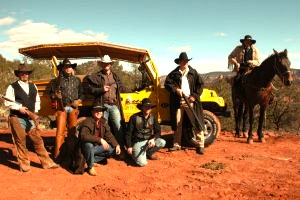 © A Day In The West Sedona AZ Tours
They've served as guides since the days of the great Hollywood westerns that were filmed here, and many of the postcard and calendar pictures around town were taken by them.
And they're the most affordable option! Tours range from 1.5 - 3 hours, $45-$75.
TIP: For fun with kids, ask for Ms. Lynn, aka "Snake Lady." She's got lots of experience (more than 10 yrs) and LOVES children.
Or, for good-natured adults-only style sarcasm, go with Mario Blackwolf, if you can. He's a real original, with great historical knowledge and driving skills. Lots of locals would tell you, he's the best guide in Sedona.
A Day In The West
252 Hwy 89A
Sedona, AZ (Uptown)
928-282-4320 | 800-973-3662
B. PINK JEEP TOURS SEDONA AZ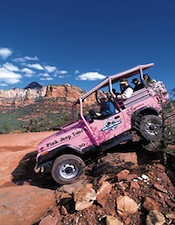 © Pink Jeep Tours Sedona AZ
Popular. We recommend their "Broken Arrow" offering for steep and bouncy thrills. 2 hours, $75. Touristy, yes, but in a really good way.
Click here to SEE the fun in this collection of 5 short Pink Jeep Tours Sedona videos.
Pink Jeep Tours Sedona AZ
Hwy 89A
Sedona, AZ (Uptown)
800-873-3662
C. SEDONA OFF-ROAD ADVENTURES
Bigger & Greener. Would you prefer to take your thrill-ride in a Hummer?! Here's a smoother way to ride. Unlike jeeps, these have bucket-seating that holds the body a bit more comfortably. But, make sure you get an "aisle" seat for the best views.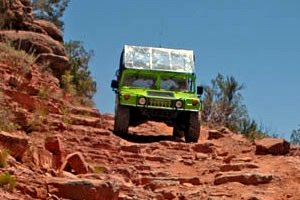 © Sedona Off-Road Adventures
Sedona Off-Road Adventures also offers Jeep tours with all "aisle" bench seats, and these cost a few dollars less.
For
the most ruggedly EXTREME 4 x 4 experience
in Sedona, take their
The Jeep Eater
tour. It lasts 2.5 hours and costs about $100 per person.
Other tours range in price from about $40 to $80, and last from 1 to 2 hours.
Special notes: Kids ride for $10 less. And these folks are devoted to green practices too!
Sedona Off-Road Adventures
273 N Hwy 89A
Suite C
Sedona, AZ 86336
928-282-6656
ALL Hummer Tours, and Jeep Tours Before 10am meet at the location above.
All Jeep tours AFTER 10AM MEET At:
Tlaquepaque Sedona Arts & Crafts Village
336 Hwy 179
Suite F-103


Notes



For all our blustering about the bone-rattling nature of Sedona Jeep Tours, there are also gentle options available. If you're interested, ask A Day In The West to tell you about their easy-going Sedona jeep tours.

By The Way... If you plan on mountain biking Sedona, or four-wheeling on your own, you can click here to check out our mini-directory of recommended rental providers. You don't have to spend any money. They'll gladly share their passion with you for free. And if you are looking for a Sedona ATV, Tomcar, Bike, or Jeep… these folks will steer you right.

Thanks very kindly for your interest in this page and in our site. We hope you'll have an AWESOME ADVENTURE with Sedona AZ Jeep Tours.




Would you like some Tips & Picks info for HIKING SEDONA TRAILS? Click here.

Click here if you'd like some unique SEDONA LODGING insights.

To go to the HOME page, from this Sedona Jeep Tours page, click here.


The Real Sedona AZ
Red Rock Heaven On A Down-to-Earth Site

If you'd like to "share-it-forward," and help more people get this Sedona goodness, remember to mention this site to some people. Bookmark it. Share it. Fave it. Link to it. Keep this site growing strong! Thanks all.
Sedona Jeep Tours
Our Visitors Are Our Motive and Our Power