---
Sedona AZ Weather, Maps, Reviews. Sedona Pictures. Sedona Arizona Hotels, Sedona Activities. Locals and visitors share INFO and TIPS. Sedona Tourism. Sedona Lodging. Things To Do In Sedona.
We Are Sedona-Happy… And this is a homegrown "dot com," where locals & Sedona vacation lovers aim to share-it-forward… So YOU can find your kind of HAPPY when you visit Sedona AZ.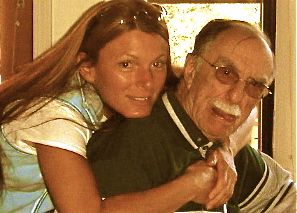 This photo was taken in 2008, when Dad came to visit me for
my 38th birthday. He passed on a few months later. This site
is dedicated in gratitude for his generous, kind, & joyful life.
In loving memory of Ralph Fredrich Kapphahn 1930 - 2008.
Hi, I'm MJ. A Sedona local. And "ABSOLUTELY GLORIOUS" is my favorite way to describe my hometown.
If my keenness for this place seems a bit "over-the-top," let's blame it on the guy in the photo…
…Meet my dad, a.k.a., Ralph… who taught me, by example, to really appreciate my life…
…And with
whatever
is available… to try to be discerning
and
as wholeheartedly loving as possible.
Don't always live up to all this -whew!- but it's always my aim.
Sedona AZ... Me, You & Us
Much More Than Just Me, It's About We...
About Us
Sedona Tourism - Things To Do In Sedona - Lodging Finds
Welcome to my website. Well, actually… Welcome To Your Website.
The reviews, photos, and personal experiences you share here (cheers. you rock!) are what make SedonaHappy.com truly unique.
Your diverse interests, and your happiness with what you find on this site, give it zest, and keep it fresh. Essentially, this is a "grass roots" kind of Sedona AZ Travel Guide.
My job is to keep things tidy… I like to think of myself as the SedonaHappy.com "temple" steps-scrubber. Along with my own experiences, I collect… and "meditate" on… insights from "us." Meaning, from other locals, friends, family, and you.
I read mail. I edit. I write. And I do my best to arrange a cleanly polished presentation for you… a guide that's simple (easy to navigate, easy to read), and useful.
…but enough about me. Let's talk about you.
YOU Are Who This Site Is Really About
Sedona Tourism - Things To Do In Sedona - Lodging Finds
THE FOCUS
YOU… Effortlessly finding the info you're looking for.
YOU… Being in-the-know and maybe even inspired.
So YOU can… Enjoy your very own BEST Sedona experiences.
HOW?
You'll find easily scannable, info-packed pages.
With the unique characteristics and benefits of everything we suggest.
Plus an eyeful of Sedona's photographic nature.
To see these Sedona pictures bigger, click on them.
1. © Maxfx; 2. © Hukuta; 3. © Oljampus; 4. © Greg Epperson; 5. © Martin Crowdy; 6. © Loma Chevsky
Our motivation? Well, we're already Sedona-Happy, so here's our full vision:
YOU - IN SEDONA - AND FANTASTICALLY HAPPY ABOUT IT TOO
This Site & What You Will See in Sedona AZ
Sedona Tourism - Things To Do In Sedona - Lodging Finds
Here, you can find plenty of (real) Sedona lodging info (without a sales-pitch), and get lots ideas for things to do in Sedona AZ. I hope you'll get a good sense of what's possible and easily find what appeals to you most.
---
I love to work on this site from my sun deck in West Sedona, where the vista (if you'll pardon a bit of bragging) is as pretty as a postcard. And javelinas and quail are my frequent companions.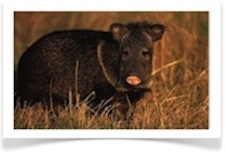 Javelina | Photo © Twildlife
You'll likely see these critters, too (and not just on the trails, but all around town!) because you'll be right in the heart of Red Rock Country, a wild life wonderland, nestled into Coconino National Forest, and Oak Creek Canyon.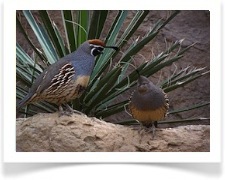 Quail | Photo © Valerie Everette
Keep still, and you'll probably also see deer and coyotes. These have come near me within about 20 feet. Roadrunners, squirrels, and bunnies come right up onto the deck furniture… And humming birds "hang out" within inches.
Seem like a Disney movie? If you doubt it, all I can say is:
Come SEE IT to believe it… Then you'll agree, "absolutely glorious" is not an exaggeration.
Outdoor Sedona activities, like the following (click to jump)…
Hiking | Camping | Golf | Ballooning | Trolley Rides | Jeep Tours
…are enhanced by the phenomenal natural surroundings.
Welcome to the emerald and evergreen desert forest. To cacti and bushes, with rainbow-vibrant blooms. With unlimited hues of vast sky blues. Where golden sun bathed earth radiates deep shades of orange… honey-russet… and cinnamon…
…Welcome to Sedona AZ Land: The IMAX of REAL LIFE!
---
OK. Enough with the unreserved bubbling… But you really will see simple wonders and astounding views everywhere. And Sedona Arizona Weather is moderate enough to enjoy the outdoors during all "four mild seasons."
Well, that's the cliché, anyway. Of course, for your visit, it's how you see it that counts. Here's the current Sedona AZ weather. Plus, links to Sedona weather charts and photos:
Jump To:
Sunrise & Sunset Times | Monthly Temperatures & Precipitation

Main Sedona Arizona Weather Page: Four Mild Seasons?
Sedona activities are just as great indoors, as out. There are world class restaurants and spas. Galleries and boutiques. There are lots of excellent "cheap eats." And an interesting array freebies and discount options.
Whether you're looking for lavish luxury, or budget-friendly glee, you CAN find real value and comfort when you visit Sedona AZ. This site will show you how.
Sedona AZ Is... What?
Sedona Tourism - Things To Do In Sedona - Lodging Finds
Sedona is many different things to many different kinds of people. It's a charming, cosmopolitan vacation haven and quaint town of about 17,000 residents (greater area). It's where FOUR MILLION visitors enjoy four million distinctly personal experiences, every year.
Whatever you choose to do in Sedona, you'll be doing it in a stunningly lovely place. Sedona is considered by many (not just USA Today) to be "the most beautiful place in America."
"What is Sedona?" According to the TV game show, Jeopardy, it is the correct question to this clue: The spiritual capital of the United States.
My dad (a man of few words and lots of wisdom), didn't say anything about Sedona when he visited me in 2008. He just looked happy… content, joyful, radiant… All the time.
Site Dedication
Dad did say one thing… to my friend… about me, living in Sedona… "This is the happiest I've ever seen my daughter look." Yes. It felt true. And still does.
So, this is how the name, SedonaHappy.com, was inspired. By my Dad. And, in gratitude, I'd like to dedicate this site to the memory of one vibrantly living human, and to the loving spirit of Mr. Ralph Fredrich Kapphahn, 1930 - 2008.

I'd also like to dedicate this site to SBI!, (Site Build It!), and the SBI! community. Thanks to them, homegrown website-building becomes successful business, and FREES PEOPLE, like me, and thousands more, to make their own dreams into reality. You know the phrase, "get a life…" SBI! gave me a way to "get" a lifestyle I love.
Finally, and most especially, I DEDICATE THIS SITE TO YOU… Thanks to your interest, my "job" is doing something I truly enjoy… I get to share my passion and celebrate Sedona with you. Sweet! I hope you'll accept my appreciation, and find lots of goodness for yourself on this site and… in Sedona.
If you haven't seen it yet, you might jump to this popular page:
A VISUAL CELEBRATION OF SEDONA AZ LAND - Our Favorite Videos.
If you're looking for SEDONA LODGING insights, click here.
You'll find unique, in-the-know Tips & Top Picks Lists.
THINGS TO DO IN SEDONA? Click here to a list of our Top 10 Tips.


The Real Sedona AZ
Red Rock Heaven On A Down-to-Earth Site
If you'd like to "share-it-forward," and help more people get this Sedona goodness, remember to mention this site to some people. Bookmark it. Share it. Fave it. Link to it. Keep this site growing strong! Thanks all.
Sedona AZ Vacation Guide
Our Visitors Are Our Motive and Our Power




Solo Build It! helped me, and it can help you, too. However, those fake reviews called SBI Scam are just an attempt by competitors to use the good name of SiteSell to steal customers. Read that site to get the other side of the story and to find out what SBI! is really about. Scam, it's not!