---
SEDONA Map of Sedona Arizona arrivals routes. Drive times. Easy turn by turn directions. Several Sedona Arizona maps for getting around, finding Sedona campgrounds, and Sedona hiking trails. This page: Arrivals Info. Links to more Sedona AZ maps.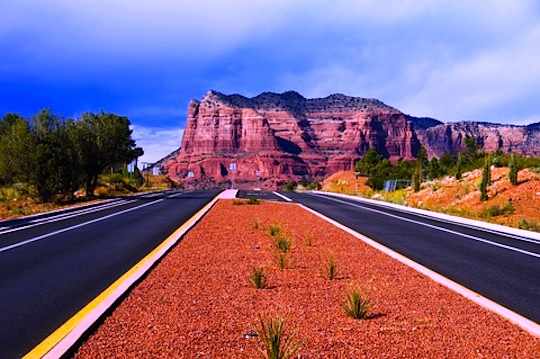 Hwy 179, A New ALL AMERICAN ROAD | © Up The Banner Photography
Sedona Map and Everything You Need To Know About...
How To Get To Red Rock Heaven
Jump To The MAIN Sedona AZ Maps Page?
Click Here For Info On The Areas & Getting Around.
Click On Any of the Following to
Get to "The-Getting-to-Sedona" Facts:
Get to Sedona Map & Sedona Tourism Guide
3 Things You Might Find Interesting
Here are three insights you might find quirky, fun and/or illuminating.
Tip #1: Arrive By Daylight
If you're visiting Sedona for the first time, try to arrive during daylight hours. Personally, my first drive --coming in from the south, on Hwy 179-- is still one of my most memorable life moments.
I was utterly amazed. No description could have prepared me for this stunning visual introduction. WOW! Are we still on earth?!
Since I became a local, whenever I find myself behind an out-of-state plate going 10 mph in a 35 mph zone, I only smile… I get it… Then, usually, I speed past thinking, "Hey, friend, how about taking a tour!"
Tip #2: Enjoy An All American Scenic Drive
Hwy 179 is a National Scenic Byway… recognized by the US Department of Transportation for these qualities:
Archaeological
Cultural
Historic
Natural
Recreational
Scenic
It's also a new All American Road, which celebrates only the most scenic drives in the country.
Tip #3: What About Sedona Airport?!
Sedona has an airport, right?! Yes. It functions as a small aircraft facility devoted to tours and the few fortunate private jet-set. And my tongue ain't in my cheek when I say this. One out of every 17 Sedona residents is (reportedly) a millionaire… at least.
Lots of successful business, arts, and entertainment folks come here for the same things the rest of us do, but especially for Sedona's willingness to give them some peace and quiet… so…sorry, I'm not dropping any names. Well, maybe some dearly departed ones. Some former Sedona AZ residents:
Lucille Ball
Max Ernst
Orson Welles
Israel Regardie
Jack Frye
Walt Disney
Sedona Arizona Maps & Arrivals Info
Flying Into The Area
If you're not "Learjetting" in, there's going to be a bit of driving involved before you arrive in Sedona AZ.
You CAN fly into the area.
Click here for more info including a map of Sedona and surrounding areas with the nearest airports. Plus fare info, flight times, and more. Links to "all-things-arrival."
Sedona Tourism Arrival Guide - Sedona Map
Flagstaff Airport and Sedona Phoenix Shuttle Services
There are a three kinds of shuttle services to Sedona from Sky Harbor International Airport in Phoenix, AZ and from Pulliam Airport in Flagstaff.
Click here for these details:
Fare info
Service types
Vehicle types
Drive times
And more.
Sedona Tourism Arrival Guide - Sedona Map
Directions & Estimated Driving Times
Looking for full, printer-friendly turn by turn directions for how to arrive to Sedona from any address? Click here.
Phoenix, AZ: 2 Hours
Tucson, AZ: 3.5 Hours
Las Vegas, NV: 5 Hours
The Grand Canyon: 2.5 Hours
Albuquerque, NM: 6 Hours
Los Angeles, CA: 8 Hours
Flagstaff, AZ: Under an Hour
Sedona Tourism Guide - Arrivals Info - Sedona Map
Interactive Sedona Map by Google
Click Here to GO to the MAIN Sedona Maps Page.
How To Use The Interactive Features
of These Sedona Arizona Maps
In case you're not yet familiar with how Google maps work:
The map's contents can be enlarged by clicking on the plus sign (+).
The map itself can be moved around, too.

Just hold the "click" and move the mouse at the same time.

When you click on the blue marker, you'll see:

A brief comment
Links to get directions "To Here" and "From Here"

To get directions, just type your address into
the little box that pops open, and this map will
highlight your route!
Arrivals Info - Sedona Map - Sedona Tourism
Here's hoping you find your way well. Travel safely and enjoy the journey!
We hope you'll accept a big ATTITUDE of GRATITUDE for your interest in this guide and in our beloved hometown. YOU are the reason SedonaHappy.com exists.


The Real Sedona AZ
Red Rock Heaven On A Down-to-Earth Site
If you'd like to "share-it-forward," and help more people get this Sedona goodness, remember to mention this site to some people. Bookmark it. Share it. Fave it. Link to it. Keep this site growing strong! Thanks all.
Sedona Map & Full Getting To Sedona AZ Guide
Our Visitors Are Our Motive and Our Power