---
SEDONA RESTAURANTS In Sedona, locals and visitors love to talk about favorite Sedona AZ restaurants. Get the full scoop: Picks, prices, reviews, menu samplings. A bounty of deliciously useful info about the best of restaurants in Sedona Arizona. Restaurants abound in this town.
Skip the intro? Click here to jump to the highlights and favorite restaurants in Sedona.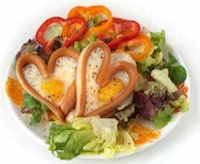 Photo © Elena Moiseeva
From 4-star-fine to franchise "fast," the food in Sedona can satisfy just about every pallet.
Wherever you happen to be standing on Sedona AZ land, there's likely a good restaurant nearby. Probably a bunch of them.
To make it as a restaurant in Sedona, even as a "cheap" eatery, the food has got to be really good.
Why? Because Sedona itself draws exceptional people to live in the area. So, our restauranteur standards are set by some truly talented, passionate, and financially able people.
Photo © Dmitry Myakishev
You might think it's competitive. I guess, that's how a restaurant of average quality would experience things. But, then, it wouldn't be in business for very long.
More accurately, with food in Sedona, you'll find a synergistic vibe. One great idea leads to another. The menus evolve. The food and the décor stay fresh.
The people in Sedona who make food their business, are completely "into it"…
…And, so, they deliver a variety of experiences that keep the clientele --vacationers and locals alike-- coming out… For dinner… And lunch… And breakfast…
For coffee, herbal teas, pastries, and snacks. For prepared picnics on-the-go…
You get the idea, yes? In Sedona, you won't go hungry… but you'll likely find satisfaction for more than just your appetite.
The Stand Out Qualities of Sedona Restaurants
SEDONA Restaurants In Sedona AZ. Restaurants Overview.
Best Red Rock View With Food? Shugrue's Hillside Is A Stand Out! | Photo Courtesy of © Shugrue's
At Sedona restaurants, you can find wonderful ways to gratify all you senses, according with your particular tastes.
Here is a look at some of the things you can enjoy at restaurants in Sedona Arizona.
Restaurants In Sedona AZ. Restaurants Overview.
Cafés & Outdoor Dining
Cafés and restaurants with open air dining during 3 seasons

With stunning Red Rock views

Patio © Heartline Café

Or on the lush green banks of Oak Creek
By a large open outdoor fireplace or fire pit
In a garden atmoshere, with graceful bamboo or vibrant flowers
The Finest Sedona Arizona Restaurants.
Fine Dining
Photo © Evegeniy P.

A glorious bounty of fine Sedona restaurants choices

AAA 4 Diamond rated
With a variety of inspirations, such as:

Authentic Italian dishes prepared in a style that honors the chefs' mothers and grandmothers traditions
Finely French influenced creations with a bit of Southwestern charisma

Pestle With Fresh Herbs & Spices
Photo © Kamil Rauf

Gourmet style American "comfort foods" that are meant to nourish body and soul

Widely acclaimed wine selections, recognized for excellence, for example, by the Wine Spectator Awards
With talented sommeliers who are ready to personally offer suggestions for your wine selection
Sedona Arizona Restaurants. Vegetarian Restaurants In Sedona.
Vegetarian Dining
An impressive variety of vegetarian offerings

As inclusions on Thai and Indian menus, for example
Or, all vegetarian eateries, where you can get great tasting meatless burgers, creative salads, soups, and flourless sweets

Natural Thai Food
Photo © Pavalache Stelian

A delicious variety of vegan dishes
Vibrant live and raw dishes
Smoothies and high-power natural energy drinks
More Sedona Restaurant Options.
And Much More
You can find great steakhouses
Super fresh fish

Chicken Kebab
Photo © Serghei Starus

Down-to-Earth Bar & Grille venues
Intimately romantic bistros
Lodge-style gourmet creations
Comfy casual family restaurants
A few lively bars and nightclubs
Sandwich shops and pizzerias
A variety of International inspirations:

Mexican
Japanese

Photo © Serghei Starus

Thai
Italian
Chinese
French
Korean

And... Classic American
Californian
And, of course, lots of Southwestern style influences
SEDONA Restaurants In Sedona AZ. Restaurants Overview.
Fast Food
And for those times when all you're hungry for is something intantly-fast, cheap, and familiar, you can find these franchises:

Burger King
Dairy Queen

In Sedona The Golden Arches
Have Gone Turquoise!

Kentucky Fried Chicken
McDonald's (look for the first-ever turquoise arches)
Subway Sandwiches
Quiznos
Dominos Pizza
Taco Bell (coming soon to West Sedona)
Tips
Restaurants In Sedona AZ. Sedona Restaurant Overview.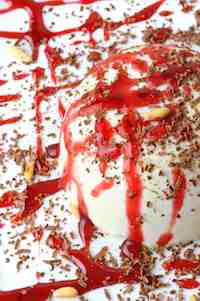 Panna | Photo © Serghei Starus
TIP: CALL AHEAD for a table on any weekend, and any day during "high-season," which starts in early Spring and runs though late Autumn. This applies to all the finest dining venues, and to most of the casually sophisticated places as well.
TIP: Most places welcome casual "vacation attire," but some of the finest Sedona restaurants do encourage "non-athletic" dress. Gentlemen will be more warmly welcomed in a collared shirt and slacks.
TIP: The variety of fine dining choices is very impressive for a town this size. And here's another sweet piece of news: The prices are far less than in bigger cities.

You are the reason SedonaHappy.com exists. We hope you'll accept our ATTITUDE of GRATITUDE for your interest in this site and in the abundant food choices offered here in our hometown Sedona restaurants.
More ideas for THINGS TO DO IN SEDONA? Click here for some savvy insights.
To see some very unique SEDONA LODGING tips, click here.
Or, go to the HOME page from this FOOD SEDONA AZ Sedona Restaurants page.


The Real Sedona AZ
Red Rock Heaven On A Down-to-Earth Site
If you'd like to "share-it-forward," and help more people get this Sedona goodness, remember to mention this site to some people. Bookmark it. Share it. Fave it. Link to it. Keep this site growing strong! Thanks all.
Sedona Restaurants
Our Visitors Are Our Motive and Our Power