---
Yavapai Restaurant at Enchantment Resort is among the finest Sedona restaurants. BEST VIEW with dinner. Menu samples, prices, reservations info, more.
Yavapai at Enchantment Resort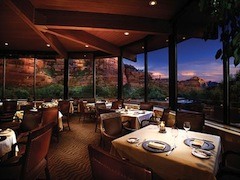 Photo © Enchantment Resort Sedona
This AAA 4 Diamond rated restaurant is known for more than just phenomenal food and wine. Views from the dining room are astounding, with 180° of curved panoramic windows.
Chef Steven Bernstein joined Enchantment Resort in 2001, where he oversees all three onsite dining venues, as well as catering to large groups and special events.
At Yavapai, he offers wonderful signature dishes including buffalo tenderloin in a blackberry chipotle sauce, and seared breast of duck with blackeyed pea ragout, dandelion greens and a mustard sage demi-glace.
Dinner entrées range in price from $28 to $42. Wine Spectator Award for Excellence. Reservations? Yes.
More about Enchantment Resort Sedona? Click here.
Yavapai Restaurant at Enchantment Resort Sedona
525 Boynton Canyon Rd
Sedona, AZ 86336
928-204-6000
We hope you'll accept a big ATTITUDE of GRATITUDE for your interest in this guide and in our beloved hometown. YOU are the reason SedonaHappy.com exists.


The Real Sedona AZ
Red Rock Heaven On A Down-to-Earth Site
If you'd like to "share-it-forward," and help more people get this Sedona goodness, remember to mention this site to some people. Bookmark it. Share it. Fave it. Link to it. Keep this site growing strong! Thanks all.
Enchantment Resort - Best Views With Dinner
Our Visitors Are Our Motive and Our Power