---
Sedona Art Galleries. Sedona Arts Center. Locals share insight into the depth and brilliance of Sedona art. Find stand-out Sedona galleries and artists. First Fridays offer new presentations, monthly. Free trolley.
Photo © Mikhail Palinchak
Sedona - The Art In Context
Sedona Galleries & The Sedona Art Center
Art collectors and creators feel naturally called to Sedona AZ land, sharing an appreciation for the offerings of this bountiful visual feast. Sun and moon perpetually transfigure the landscape and wild life, illuminating new hues and shifting the apparent texture and vibrancy. Nurturing and nourishing the spirit.
Here, a kindred affinity is captured and shared at more than 50 art galleries. Hundreds of artist have heeded inspiration to live and be challenged… to create, and evolve themselves… in the art of Sedona, Arizona.
Skip ahead to a list of favorite Sedona art galleries? Click here.
Top 10 Tip #9: FIND INSPIRATION IN THE ART

Sedona art galleries showcase an abundant diversity of creative perspectives. Here, local artists are also drawn out, to stand with collectors and visitors.
The Fine Art Galleries present the best of our local community's work as well as that of other internationally recognized artists. You can also find a substantial collection of 20th Century Modern Masters works.
When you visit Sedona AZ galleries, you will be welcomed and encouraged to join in. Feel the emotional stir. Feel free.
Even the most sophisticated venues are warm and easy-going. You won't encounter much stuffiness around here. So you can relax into this town's friendly and charming cosmopolitan way, and really get into the art of Sedona.
A Few Useful Facts
Sedona Galleries & The Sedona Art Center
Where and what should you explore? Go with whatever catches your eye and touches your heart...
Here are some facts: The Sedona Arts Center in Uptown is known for local emphasis, offering a gallery and workshop opportunities. The galleries put on a wealth of events from which to choose, including openings, receptions, and demonstrations.
Monthly "First Fridays" are a way to experience all these, from 5pm - 8pm. During that time, the free Sedona Roadrunner Trolley stops at every participating gallery along the way.
In general, keep your eyes open around Uptown, Tlaquepaque, Hozho, and Hillside (see above: Sedona trolley map-link). And while you're enjoying your food, notice that many Sedona restaurants double as informal galleries, where you will find the work of up-and-comers (and good-strugglers).
You Will See…
Things To Do In Sedona - Art Galleries
As you tour Sedona Art Galleries, you will likely enjoy many discoveries that resonate with your particular tastes.
There are superb examples of modern realism, cutting-edge contemporary, and Native American expressions. Intriguing abstract representations, and unswerving traditional styles. You will see…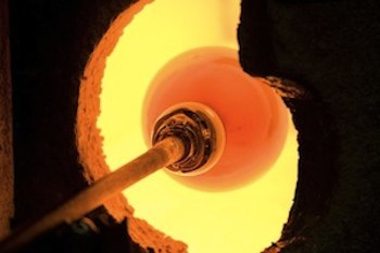 Kiln | Photo © Alexey Stiop
• oils
• lithographs
• hand blown glass
• sculptures
• jewelry
• pottery
• photography
• furniture
• fine rugs
• woven textiles
• multimedia creations
Sedona Art Galleries
Things To Do In Sedona - Galleries Picks
Here are our Sedona art galleries recommendations. None of these has paid to be listed here. We suggest them because (according with your interests) we believe you'll be glad not to have missed these stand outs:
A. GOLDENSTEIN GALLERY
Local art lovers and visiting collectors say this
the
must see gallery for eclectic expressions of the Southwest and of Native American cultures. Lovely Linda Goldenstein (owner), is a local expert queen. She represents well known artists and empowers promising up-and-comers as well. Artists painting in residence.
Goldenstein Gallery
390 N Hwy 89A, Suite One
Sedona, AZ (Uptown)
928-204-1765 | 866-361-7964
B. SEDONA ART CENTER
New exhibits monthly. Showcases the work over 120 local and regional artists. Also offers instruction. Visitors might attend a half day session or a full 5 day immersion.
Sedona Arts Center
15 Art Barn Road
Sedona, AZ (Uptown)
928-282-3809 | 888-954-4442
C. GALLERY OF MODERN MASTERS
Find works of the 20th Century Modern Masters. One of the largest collections in Arizona. Good gallery for finding investment quality art. Mind some name dropping?
Appel - Calder - Chagall -Dali - Francis - Miro - Chagall
Gallery of Modern Masters
671 Hwy 179
Sedona, AZ (Hillside)
928-282-3313 | 888-282-3313
D. EL PRADO GALLERY
Including art you can sit on… this gallery offers fascinating and exquisite fun. Rock furniture, fountains, and kinetic sculptures. Plus heirloom bronzes, romantic figurative works, and more. If you're looking to interest a grumpy kid in the art world, this is a place to start. Anyway, your own inner-child will likely surface.
El Prado Gallery
336 Hwy 179
Sedona, AZ (Tlaquepaque)
928-282-7390 | 800-498-3300
E. LANNING GALLERY
This is the stand out gallery for classic and contemporary excellence, with a long, well-established history.
Lanning Gallery
421 Hwy 179
Sedona, AZ
928-282-6865
F. ECLECTIC IMAGE GALLERY
Fne art photography. Include this in your Tlaquepaque exploration. Also good for getting inspiration for where you'd like to visit and what you'd like to see in Sedona.
Eclectic Image Gallery
336 Hwy 179, Suite A-109
Sedona, AZ (Tlaquepaque
928-282-4333
G. EXPOSURES INTERNATIONAL
Largest fine arts gallery
in the Southwest
. If you don't mind that it feels a bit like an
art-amusement-park
(we don't), you might discover an every-man treasure at a relative fraction of prices elsewhere.
Exposures International
561 Hwy 179
Sedona, AZ
977-472-2836
NOTE: For more singular, intimate, and shamanic experiences, you might consider seeing BEARCLOUD'S GALLERY (W Hwy 89A & Dry Creek Road) and CHER LYN'S MYSTIC ART MEDICINE (Stone Age Gallery, Hwy 89A.) Each of these artists offers unique expressions of the sacred and universal.
So. Are Sedona Art Galleries Truly World Class?
Enjoy Sedona Galleries - Top Things To Do In Sedona AZ
Elsewhere on this site, we've called Sedona, "The IMAX of REAL LIFE." But when it comes to art, it's your movie. Come see it and feel it to decide.
Ultimately (and metaphorically) we'll leave that answer in your hands. For what it's worth, yes, we rate Sedona Art Galleries as world class. With two big clay-caked thumbs up!
At SedonaHappy.com, YOU are our motivation for creation. So, kindly accept our ATTITUDE OF GRATITUDE for your interest in this Sedona Art Galleries page, and in our beloved hometown.
"A beautiful thing never gives so much pain as failing to hear or see it."
- Michelangelo
Enjoy Sedona's photogenic nature? Click here to see our gallery of SEDONA PICTURES.
Looking for SEDONA LODGING with an inspiring view? Click here for suggestions and info.
To go to the HOME page, from this Sedona Art Galleries page, click here.


The Real Sedona AZ
Red Rock Heaven On A Down-to-Earth Site
If you'd like to "share-it-forward," and help more people get this Sedona goodness, remember to mention this site to some people. Bookmark it. Share it. Fave it. Link to it. Keep this site growing strong! Thanks all.
Sedona Art Galleries & The Arts Center
Our Visitors Are Our Motive and Our Power