Sedona Balloon Rides - Fun Sedona AZ Tours by Air - 4 Ways to Let Yourself Soar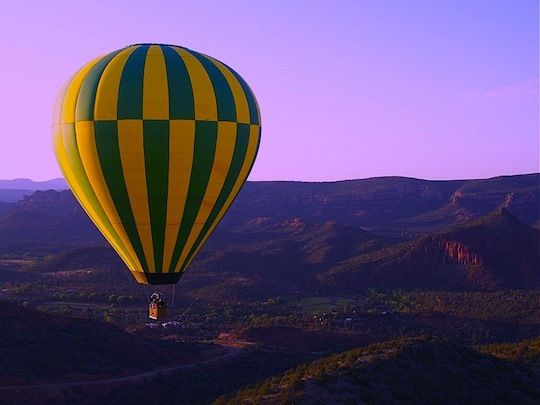 Photo Courtesy of © Northern Light Balloon Adventures - Our Top Ballooning Sedona AZ Tours Pick
Sedona hot air ballooning is a stunningly beautiful way to see the Red Rock Sedona splendor. The soaring heights make for one-of-a-kind sights, and the smooth gliding flow creates a quietly blissful way to experience Sedona AZ land… quite literally and, perhaps energetically also… you will be uplifted.
For many Sedona AZ vacationers, it's a real once-in-a-lifetime adventure. It's a popular choice from among hundreds of Sedona AZ tours, especially for families and retirees. For girl getaways and for couples in love… For honeymoons, anniversaries, and also Sedona wedding ceremonies.
Even folks on a budget --with the money they've savvily saved elsewhere-- often splurge on this Sedona tour… I mean, if you're going to balloon just one time… Red Rock country is the place to do it.
8 Tips - Important Details For Sedona Balloon Rides
Splash 'n' Dash © Sky High Balloon Adventures
Following are some in-the-know and need-to-know tips to guide you well on your way.
1. All Sedona hot air ballooning is a glorious SUNRISE experience. This time of day is most favorable with regard for wind conditions.

2. Cost per person ranges from about $170 to $200, depending on where and with whom you fly.

3. RESERVATIONS ARE REQUIRED with all 4 Sedona Balloon Tours.

4. The minimum height requirement is 48 inches.

5. BRING A HAT in the summer to protect your head from intense radiant heat during the initial ascent.

6. Wear comfortable shoes. You'll be standing for a long while.

7. All companies offer a light champagne breakfast directly after landing.

8. Dress according to the weather on the ground. Contrary to popular belief, the fact is, since you're moving with the wind the temperature in a Sedona balloon is about the same. Wearing layers is a good idea.
4 Ways To Take Sedona Balloon Rides
© Red Rock Balloon Adventures
Rumor Has It: They Fly A Little Closer
There 4 companies from which to choose. All are listed on this page. And each offers its own kind of sky-high magical moments.
To see which one appeals to you most, have a look at the following list.
From there, you can click to see more info, if you like.
Peruse the details and rates, or just enjoy an eyeful of more phenomenal Sedona photos, all of hot air ballooning Sedona and the surrounding areas.
Northern Light Balloon Expeditions
Flying directly over Sedona AZ land, this company was the first to offer Sedona AZ tours ballooning the Red Rock area. It's also our Top Pick among all Sedona ballooning tours.
We're partial to these folks out of respect for their long-standing presence. We appreciate that they have "blazed-the-air-trail" for everyone else.
Click here to see more info. Plus, see a sweet collection of their balloons in action, along with rates and reservations info.
Red Rock Balloon Adventures
Also holding the required Coconino National Forest permit, this is the second, and only other company that actually floats directly above Sedona.
Red Rock Sedona Balloon Adventures has been around for quite a while too. And we think they're also a very good choice. Their equipment is a newer, and their pilots, from what I hear, fly in a way that seems a bit more daring… but rest assured, their safety record is excellent.
Click here to see details, photos, and rates.
Sky High Balloon Adventures & Arizona Balloon Works
These two companies do not fly directly over Sedona, but you can still see the Red Rocks from the adjacent area above Prescott National Forest.
They're both a bit more budget-friendly, and I've heard they fly a lot higher.
The overall experience is very different, in ways that might surprise you. I think these two companies are worth considering.
Click here to see more about Sedona AZ tours ballooning the outskirts areas with Sky High or Arizona Balloon Works.
We hope you'll accept a big ATTITUDE of GRATITUDE for your interest in this guide and in our beloved hometown. YOU are the reason SedonaHappy.com exists.


The Real Sedona AZ
Red Rock Heaven On A Down-to-Earth Site
If you'd like to "share-it-forward," and help more people get this Sedona goodness, remember to mention this site to some people. Bookmark it. Share it. Fave it. Link to it. Keep this site growing strong! Thanks all.
Sedona Balloon Rides
Our Visitors Are Our Motive and Our Power