Hot Air Balloon Sedona - Classic Sedona AZ Tours - Northern Light Sedona Balloon Rides

Photo © Northern Lights Balloon Expeditions
We Love Northern Light Balloon Expeditions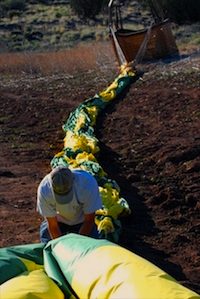 Photo © Northern Lights Balloons
There are only two companies offering Sedona tours that balloon directly over Sedona AZ land. Northern Light is one of them.
As you can see in the photo above, the views of Red Rock Sedona are spectacular.
Northern Lights is a tried and true original. They've been ballooning in Sedona for more than 30 years, and they were the first to offer Sedona hot air ballooning Sedona AZ tours.
Their long-standing service is known to be courteous, reliable, and a whole lot of fun.
Each balloon ride adventure starts just before sunup, when one of their 4 x 4 Suburbans picks you up at your Sedona lodging venue…
The pre-dawn in Sedona seems magical. It's so quiet. The stars are often visible in abundance. There's so much promise. Just before the wildlife wakes up…
The Adventure of Soaring & Floating With The Breeze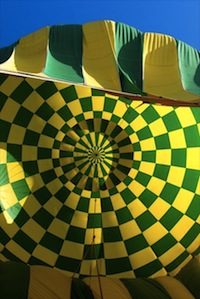 Photo © Northern Lights Balloons
The balloon ride is often described as serene, inspiring, joyful, memorable, and… yes, uplifting… in more ways than one.
Air time lasts about an hour... sometimes a bit more, depending on wind-conditions.
After a gentle landing, you'll be treated to a light champagne breakfast (a big hit with guests) while the crew packs up the gear.
Then, they'll return you to where you're staying.
From pick up to drop off it's about 3 hours or so. Then, you'll have the whole day ahead of you to enjoy more Sedona activities, food, shopping, galleries, hiking… whatever you like… all with a delightfully energized "high" from your Sedona balloon experience.
By the way, if you like snapping Sedona pictures, be sure to bring your camera with you for some rare and wonderful shots.
Check out the following photo collection to have a good gander at what you can expect when you hot air balloon Sedona with this company.
Photos of Sedona Balloon Rides by Northern Lights
All Photos On This Page Thanks To
© Northern Light Balloon Expeditions
Rates & Reservations
Current rates are $195 per person.
Northern Light Balloon Expeditions
P.O. Box 1695
Sedona, AZ 86339
Reservations by Phone Only:
928-282-2274 | 800-230-6222
Includes Hotel Pick-Up
We hope you'll accept a big ATTITUDE of GRATITUDE for your interest in this guide and in our beloved hometown. YOU are the reason SedonaHappy.com exists.


The Real Sedona AZ
Red Rock Heaven On A Down-to-Earth Site
If you'd like to "share-it-forward," and help more people get this Sedona goodness, remember to mention this site to some people. Bookmark it. Share it. Fave it. Link to it. Keep this site growing strong! Thanks all.
Hot Air Balloon Sedona AZ
Our Visitors Are Our Motive and Our Power