---
SEDONA CABINS Sedona AZ Vacation lovers share USEFUL INFO. Find YOUR kind of cozy: Lofts, fireplaces, private outdoor jacuzzis, huge decks. Creekside luxury Sedona villas. Budget values. Quiet stays.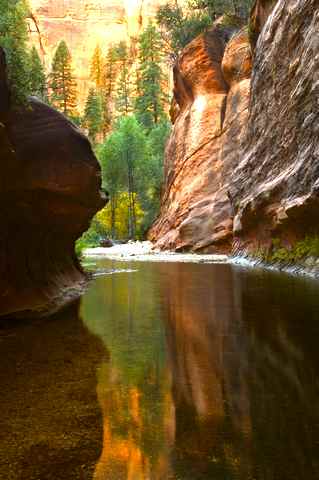 Photo © Ron Adcock
Secluded Sedona Cabins
Reviews, Tips & Top 6 Picks
Skip the intro? Click here to
jump to the Top Picks List.
Sedona lodging offers a haven for cabin lovers of all kinds.
You can find everything from AAA 4 Diamond high-luxury standards, to more affordable-upscale, and even a few good buget-values.
This page shares a touch of in-the-know guidance, so you can feel perfectly accommodated and in harmony with Sedona's scenic nature and wild life.
Because Sedona is nested into Coconino National Forest, your secluded resting spot will be situated right in the heart of a vibrant critter kingdom.
From your private outdoor space, you'll see squirrels, rabbits, quail, and fantastic variety of other birds… all busy about their own wild lives.
You might also see deer, coyotes, bobcats, antelopes, and javelinas.
In case you're wondering, javelinas (pronounced "have-uh-lean-uhs" if you don't have a Spanish accent) are gregarious, hairy, pig-like creatures that migrated to the Southwest US, all the way from South America.
They often travel as families, so you might see darling itsy-bitsy ones. But, don't try to pet them, the mamas are fiercely protective.
Click here for a little pop-up picture of a couple of sleepy javelinas.
Favorite Oak Creek Canyon Cabins In Sedona AZ
Nestle Yourself Into Comfy-Cozy Creekside Forest Bliss
All of our top picks for Sedona cabins are located on (or within a stone's throw of) Oak Creek.
Here you'll find a clear mountain stream stocked with rainbow and brown trout, inside canyon walls that are 900 - 2000 feet high. It's a dazzling display of colors and layers.
You'll see sandstone, limestone, lava, and basalt. Up high you'll see red maple, aspen, and oak trees. Nearer the canyon floor, you'll find sycamores, willows, alders, and walnut trees. And, during the spring, brightly blooming shrubs and wildflowers.

Would you like to immerse yourself and your Sedona AZ vacation life into a real picture of natural beauty?
Cabins Sedona AZ - Top Sedona Cabin Picks
What's YOUR Kind of Cozy?
Whether you choose a creekside villa, cabin, or cottage you'll be privy to your own personal wilderness retreat, with conveniences… just the way you like. All come with kitchens and private outdoor areas. And here's a glimpse at what else you can find (we'll show you how):
Open loft spaces.
Private outdoor jacuzzis.
Total solitude. No televisions. No phones.
Or totally "plugged in," with multiple flat screen TV's and Wi-Fi.
And most come with… fireplaces.
Nothing says comfy-cabin like the warmth and ambience of a real wood burning fireplace. And you can enjoy them even on a summer evening.
Did you know that Sedona's temperature often drops 30 degrees from its warmest daily peak? Meaning, you'll get the best of two worlds in a single day. Have fun in the warm sun for your daytime outdoor activities, and then snuggle up fireside at night.
Cabins Sedona AZ - Top Sedona Cabin Picks
Reviews & Top 6 Picks
Ready to tuck yourself away from the bustling buzz of other areas? And tuck yourself into your own heavenly ideal of comfort?
Here are the Sedona cabins, villas, and cottages we wholeheartedly recommend:
Cabins Sedona AZ - Top Picks
A. GARLANDS SEDONA OAK CREEK LODGE
For more than 30 years, Gary and Mary Garland have loved welcoming guests to each of their 16 Sedona cabins.
Many people who visit Sedona AZ return here again and again, for warm homestyle hospitality, creekside serenity, and their divine restaurant, which offers one of the most memorable food experiences available in Sedona.
Among the many Sedona lodging choices, Garlands Sedona on Oak Creek is our favorite "unplugged" way to stay.
Click here to see why this place might be a perfectly natural inspiration for your Sedona AZ vacation.
$$+ to $$$
Up to Sedona Cabins List: Click here.
Cabins Sedona AZ - Top Picks
B. THE CANYON WREN CABINS
Here's a perfect canyon forest spot for romantic getaways. Also a good choice for "unplugged" solitude, if you like.
This is one of our favorite Sedona cabin picks for the truly hospitable welcome and service offered here. The owners have been hosting satisfied guests for more than 20 years.
We absolutely love Canyon Wren, and we think you might too. Click here to see the details, plus some photos and directions.
$+ to $$-
Note: The intimate size of this property is not a good fit for large groups.
Up to Sedona Cabins List: Click here.
Cabins Sedona AZ - Top Picks
C. THE BRIAR PATCH INN SEDONA
This is another great place for finding total peace and quiet on the creek. These are finely decorated Sedona cabins, with an warm, inviting, and easy-going vibe. All, with truly elegant and simple style.
To see more about the unique qualities of Briar Patch Inn, and how different parts of the property might be the perfect fit for romance, serenity, or nature-inspired family fun, click here. Find photos of the interiors, more rates info, and turn by turn directions too.
$$+ to $$$+
Up to Sedona Cabins List: Click here.
Cabins Sedona AZ - Top Picks
D. LAUBERGE DE SEDONA CABINS
Sedona cabin lovers looking for a truly world class experience can find it at LAuberge de Sedona. This French inspired, traditional European resort hotel includes several private creekside and mountain cottages, ranging from 800 - 1200 square feet.
All come with exceptionally furnished indoor and outdoor spaces, large covered patios, and fireplaces. You can select a cottage with a private outdoor cedar shower, or an indoor jacuzzi tub.
At LAuberge de Sedona you can enjoy a quiet, secluded feeling, and conveniently enjoy many luxurious onsite offerings. Serenite Spa offers creekside cabana treatments, and LAuberge de Sedona Restaurant on Oak Creek is a delectable, multi-award winning place to dine.
Click here for LAuberge de Sedona pictures, rates details, and directions (full review article).
$$+ to $$$+
Note: If you're looking for a fine fit for reunions or group getaways, inquire about the spacious 5 bedroom Creek House.
Up to Sedona Cabins List: Click here.
Cabins Sedona AZ - Top Picks
E. JUNIPINE RESORT SEDONA
Junipine Resort Sedona is offers a high-end secluded cabin-like feel with all the human creature comforts. For a relatively affordable price.
These privately owned villas offer individually decorated interior designs, with spaces ranging from 900 - 1400 square feet. Some with scenic mountain and Red Rock vistas.
$$ to $$$
To see some savings tips and read the full review for Junipine Resort Sedona Villas and Cabins, click here.
Up to Sedona Cabins List: Click here.
Cabins Sedona AZ - Top Picks
F. FOREST HOUSES RESORT
Built right on the banks of Oak Creek, into 20 of the most picturesque acres in the canyon, Forest Houses Resort offers 15 unique ways to enjoy cabins in Sedona Arizona.
Up to 10 people can stay at one of these charming, historic houses. Or, a couple can find a tiny studio hideaway for romance at a sweet budget price.
This is our top pick for cozy cabins in Sedona AZ at discount prices.
Click here to see pictures of the houses. See why we love Forest Houses Resort so much... and think you will too!
$ to $$
Up to Sedona Cabins List: Click here.
Cabins Sedona AZ - Top Sedona Cabin Picks
BONUS PICK: ENCHANTMENT RESORT SEDONA AZ
Enchantment Sedona is about 10 miles away from Oak Creek, built into 1500 feet of vibrant Boynton Canyon red rock walls. The property rests on what is believed to be sacred land. In honor of this belief, you'll find a careful observation of harmony with nature and Native American Culture.
Relative to the cabins listed above, Enchantment offers cabin-like suites and houses that are a little closer to neighboring guests. It's more of a resort feel than your own secluded hide away. But I wouldn't call it a draw-back, just a difference. The property itself is rather remote. It's near some great hiking, and a famous Sedona vortex spot, and it offers world class everything.
Mii Amo Spa, Yavapai Restaurant, and the Resort accommodations are all globally acclaimed for excellence. The cabins are divinely designed, by Gluckman Mayner Architects, a firm known for superior minimalism and celebrated museum creations from Tokyo to Malaga to New Mexico.
You'll find bee hive fireplaces, wood beam ceilings, and your own covered outdoor spaces along with perfectly balanced casual sophistication.
Per night, per couple, rates start in the $400's and reach into the thousands. Pricey, yes, but for those who can afford it, this is easily one of the finest lodging values and experiences available in the Southwestern United States.
Click here for the full review of Enchantment Resort Sedona, plus direction and lots of pictures property and the surrounding scenery.
$$$$+
Up to Sedona Cabins List: Click here.
"Nature abhors a vacuum…
if I can only walk with sufficient carelessness,
I am sure to be filled."
- Henry David Thoreau

"Nature's peace will flow into you
as sunshine flows into trees.
The winds will blow their own freshness into you…
while cares will drop like autumn leaves."
- John Muir
We hope you'll accept a big ATTITUDE of GRATITUDE for your interest in this guide and in our beloved hometown. YOU are the reason SedonaHappy.com exists.


The Real Sedona AZ
Red Rock Heaven On A Down-to-Earth Site
If you'd like to "share-it-forward," and help more people get this Sedona goodness, remember to mention this site to some people. Bookmark it. Share it. Fave it. Link to it. Keep this site growing strong! Thanks all.
Top Sedona AZ Lodging - Sedona Cabins
Our Visitors Are Our Motive and Our Power