---
Forest Houses Resort CABINS IN SEDONA ARIZONA Vacation homes on Oak Creek. Top discount hotels Sedona pick. Affordable Sedona cabins and Sedona resorts. Scenic, cozy lodging Sedona AZ style. We love forest houses for great canyon views, history, charm, and a comfy vibe.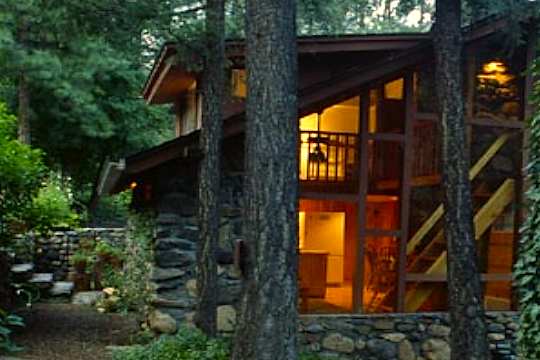 Oak House © Forest Houses
Forest Houses Resort - A Wonderful Retreat
Offering Budget Friendly Cabins In Sedona Arizona
Fantastic Forest Houses - Classic Sedona Cabins
Sweet Budget Finds. Sedona Resorts and Cabins.
Forest Houses Sedona Cabins have a long and unique history. This business has been in the family since the 1930's, when the current owner's father rolled into Oak Creek on one of the first Harley-Davidson motorcycles... Along with his brother, a pet monkey, and a baby coyote.
They bought land and started building. 3 years later, the first house was done. Since then, a variety of houses, cottages, and teensy hideaways have been nestled into 20 acres, resulting in about 15 different ways to enjoy seclusion at Forest Houses Resort.
Oak House Interior © Forest Houses
If you think you'll enjoy being a part of this continued history, and you don't mind that some of furnishings are...well, quite frankly... "dated," (we don't, and neither did National Geographic which recommends Forest Houses) you can enjoy terrific prices for your own comfy Sedona cabin experience.
House offering differ widely, including special touches, like a screened-in outdoor sleeping area, wrap around decks, and wood burning, original stone fireplaces. Some houses hang over the creek. Some are teensy, and some are huge.
Big Family Fun - Nature Inspired Sedona Resorts
Affordable Finds. Sedona Cabins and Resorts.
Are you traveling as part of a large party?
For large families and groups, some of the Forest Houses Sedona Cabins offer a way to get a very high value experience for a nice budget price.
For example, at the Sycamore House, you'll find 5 bedrooms and 4 fireplaces in a multi-level cabin with huge private outdoor areas for a base of only $145! Add $25 per person above 2. This house is right on Oak Creek.
Romantic Hideaways
Sedona Cabins & Resorts for Romance on a Budget.
Or, maybe you'll enjoy the space and seclusion of a large cabin, like Sycamore House or Oak House (pictured above) as a couple.
Sedona brides and grooms can host their guests here at their leisure, and then tuck themselves into solitude as they like.
There are lots of ways to find romance here. One way to canoodle-on-a-budget is staying at Tree House. This tiny studio on stilts is very secluded, has a fireplace and outdoor lounging areas, and is situated near the creek.
For just over $100 per night, this is a wonderful way to afford a honeymoon or anniversary getaway.
Prices Range, Notes & Directions
Affordable Cabins in Sedona AZ
Base prices: $95 - $145 per night, per couple. $25 extra per additional person.
Note: Bring your beloved pet along if you like. This is a very pet friendly Sedona AZ vacation spot.
Forest Houses Resort
9275 N Hwy 89A
Sedona, AZ 86336
928-282-2999
Reservations by Phone Only
Click Here To See The Website.
We hope you'll accept a big ATTITUDE of GRATITUDE for your interest in this guide and in our beloved hometown. YOU are the reason SedonaHappy.com exists.


The Real Sedona AZ
Red Rock Heaven On A Down-to-Earth Site
If you'd like to "share-it-forward," and help more people get this Sedona goodness, remember to mention this site to some people. Bookmark it. Share it. Fave it. Link to it. Keep this site growing strong! Thanks all.
Favorite Sedona Cabins - Forest Houses Resort
Our Visitors Are Our Motive and Our Power