---
GRAND CANYON TOURS Visitors and LOCALS share complete info and savvy tips on tour types, companies, rates. Grand Canyon Railroad, nearby lodging, area attractions, full Sedona Grand Canyon tour guide, and directions and drive times for going on your own. Been There. LOVED That. Hope YOU Will Too!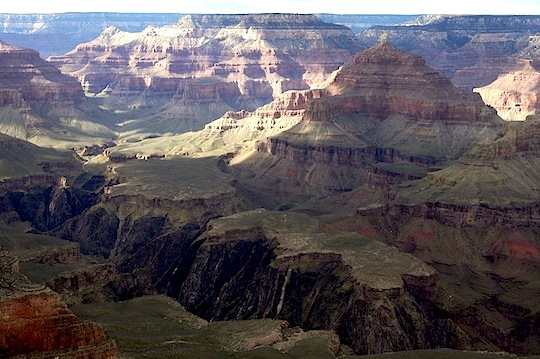 Grand Canyon National Park © Martin Applegate
Glorious Too? Absolutely.
If your travel plans for Sedona include enough time, you might consider visiting Red Rock Country's close "cousin", The Grand Canyon. Did you know… We're practically neighbors.
Skip The Intro & Jump
To The Slideshow? Click Here.
Sedona Grand Canyon Tours
The Grandness Is…
Vast & Deep.
Historically rich. Geologically profound. And, for some, profoundly sacred.
Steep. Relatively narrow. And, also quite broad.
(Depends on how you see it.)
It's many different things, to many (almost 5 million) visitors each year.
Naturally & Certainly…
The Grand Canyon is known as one of the most significant natural wonders on earth. So, naturally, this has led to an abundant variety of tour offerings.
Including everything from simple sightseeing to aerial flight-seeing. Canyon floor hikes and camping excursions. Rafting adventures, horseback, and mule-back rides, and spirit quests. Bus tours, audio tours, and an IMAX movie. And, yes… more, more, more! Interest and demand are high.
You name it. There's likely a guide for it.
Spectacular only begins to describe what you can experience at Grand Canyon National Park.

Most folks see the Canyon from the South Rim, which is most easily accessible, open all year, and offers convenient observation stops for casual sightseers. This, alone, can be an unforgettable once-in-a-lifetime kind of moment.
If you'd just like to get quick directions to the South Rim or North Rim, click here.
For those of you who are considering a more intimate encounter, we hope this guide will point you well on your way.
Grand Canyon Tours Guide & Slideshow
Grand Canyon Slideshow
I don't know how words can possibly represent the beauty to be found here, so, I've put together a collection of photos contributed by various artists who obviously LOVE the Canyon. Enjoy!
Hope this does it more justice. And, maybe even serves to inspire a visit. Consider it an invitation, if you like, to come experience the majesty for yourself.
Sedona AZ Grand Canyon Tours
1. Sedona Grand Canyon Tours
Staying in Sedona? Looking for some good round trip Grand Canyon adventure options? You've got lots to choose from.
Following is a list of ways to explore the magnificent beauty of Grand Canyon National Park, for a day. (Or two. Or, maybe even a few) and then catch your the return to Sedona.
Narrated Motor Coach Day Trips
A. MOTOR COACH TOURS
Taking a motor coach tour means enjoying a very full and satisfying day trip. This is by far the most popular way Sedona AZ vacationers choose to experience Grand Canyon tours.
Cost ranges from about $125 to $175 per person and all include:
About 10 Hours Round Trip
Narrated By A Knowledgeable Guide
Drive Through Scenic Oak Creek Canyon
Stops At Multiple Observation Points
A Stop At A Native American Trading Post
A Couple of Hours At The South Rim On Your Own
There are a few add-on choices and distinctions. For example, some give you the option to have lunch as part of the package or on your own.
And, for an additional fee, you can arrange things like guided hiking, helicopter rides to the Canyon floor, and pontoon boating. Most companies are willing to customize tours too. Just let them know if you're interested.
The Companies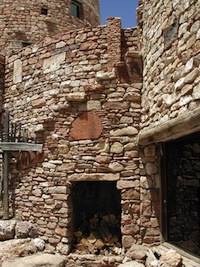 Great West Tours
Great Venture Tours
Redstone Tours

866-473-3786 | 928-203-0396

Silver Spur Tours

800-600-4006 | 928-282-4777
Trips By Train or Plane
B. GRAND CANYON RAILWAY
A day trip is also possible with The Grand Canyon Railroad ($70 and up, depending on class).
This tour starts in Williams, which is near Sedona (under an hour, driving). It can become more than just a day trip if you like. Just arrange one of the hotels near Grand Canyon National Park, and you can stay on for as long as you like, before using the return portion of your Grand Canyon Railway ticket.

C. SKY SAFARI
For a full-power combo Sedona AZ Grand Canyon tour by plane, helicopter, and river boat, you might consider a Sky Safari Tour.
Currently, the cost per person is over $400. So, this tour isn't for everyone. But, folks who take this action-packed adventure tour rave about it! The aerial views are just astounding. And the memories of the day are often called "once in a lifetime" adventures.
Sedona Grand Canyon Touring
2. Driving From Sedona
DRIVING TO THE SOUTH RIM
Prefer to do the driving yourselves? From Sedona AZ to the Grand Canyon South Rim, it takes about 2.5 hours without stops. The distance is about 120 miles / 193 kilometers.
It's a very scenic journey, beginning with the local Oak Creek Canyon drive. Note: If you haven't already done this, you might allow extra time for photos and explorations.
The following gadget will show you (printable) turn by turn directions and a map. Just input the address of your Sedona lodging venue, or, if you don't know that yet, you can type in "Sedona AZ" or the visitor's center address: "331 Forest Road, Sedona AZ 86336."
Would you like to see The Canyon from the north side?
>> For directions to The Grand Canyon North Rim, and a terrific photo of what you can see from this area, click here.
Grand Canyon Adventure Guide
Notes
NOTE 1: Get A Grand Canyon Entrance Pass…
if you need one. Often this is included in the price of the tour. So, check with the operator, if this applies to you. Also, people who already have a pass, such as American The Beautiful and Federal Recreation Lands passes, will not need to buy another.
Fees for the Grand Canyon Entrance Permit are currently $12 per individual or $25 per vehicle (non-commercial). They are very easy to find at surrounding stops, like Chevron Travel Stop, IMAX theater, and several hotels.
NOTE 2: Get more information
For news, events, and more information, have a look at the official Grand Canyon National Park website (opens in a new window).
Get The Grand Canyon Goodness
Tips
TIP 1: See The Movie
Whichever way you choose to do your Sedona - Grand Canyon touring, be sure to see the IMAX feature if you'd like a stunning visual treat along with a good informative narration. It lasts about a half hour and costs about $12.
TIP 2: Enjoy Free Audio Tours by Mobile Phone
As you make your way around the Grand Canyon, keep your eyes open for signs that are marked "Park Ranger Audio Tour." Call the number (always the same: 928-225-2907) from where you're standing, and enter the particular "Stop Number" that is suggested on the sign.
Each of these audio tours lasts about 2 minutes. The topics include things like, geology, Native American history, the night sky, and many more.
TIP 3: Steer Clear of Parking Problems
Parking at Grand Canyon National Park can be a tremendous challenge during high season. Luckily, there's a shuttle bus service (currently free) which runs round trip from Tusayan to the Visitor's Center and back. Every 15 minutes, there's a departure from each of these locations. Note: Stops along the way include:
The IMAX Theater
Gift Shop
The Airport
The Western Discovery Museum
You might try to find parking at any of the above locations, except the museum, which doesn't offer public parking.

Grand Canyon Tours
We hope you'll accept a big ATTITUDE of GRATITUDE for your interest in this guide and in our beloved hometown. YOU are the reason SedonaHappy.com exists.


The Real Sedona AZ
Red Rock Heaven On A Down-to-Earth Site
If you'd like to "share-it-forward," and help more people get this Sedona goodness, remember to mention this site to some people. Bookmark it. Share it. Fave it. Link to it. Keep this site growing strong! Thanks all.
Sedona Grand Canyon Tours & More
Our Visitors Are Our Motive and Our Power