Sedona AZ Tours Sky Safari - Sedona AZ Tours - Combo Sedona AZ Grand Canyon Tours - Sedona Jeep Tours
Sedona AZ tours offer a terrific variety of ways to explore Red Rock Sedona and the surrounding regions. Several local air tours are available for bird's-eye-views of the Red Rocks, Coconino National Forest, Oak Creek Canyon, and nearby sacred Native American sites.
You'll also find lots of choices for combination tours. For example, plane, helicopter, pontoon boat, and 4 x 4 Jeep or Hummer experiences can be put together with with Sedona AZ Grand Canyon Tours, Lake Powell Tours, Monument Valley Tours, etc.
Sedona AZ Tours Sky Safari
Exploring The Red Rocks & Surrounding Areas
There are over 100 tours from which to choose, so we've put together a series of simple pages that highlight the stand out offerings.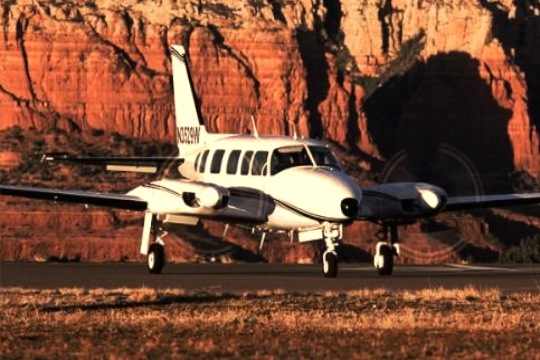 Sky Safari Plane at Sedona Airport | Photo © Sedona Air Tours
Featured On This Page:
Sedona AZ Tours Sky Safari Style
Created by Sedona AZ vacation lovers, following is a look at the 4 favorite tried-and-true fun Sky Safari tour offerings.
We hope these lists make it easy for you to find what interests you most.
Sedona AZ Tours Sky Safari
Local Sky Safari Air Tours
Lost Canyon Tour
MOST AFFORDABLE
20 Minutes
$69 Per Person (Minimum of 2 People)
Fly above:
Sinagua Native American Historical Areas
Devil's Kitchen Area
The Chapel of the Holy Cross
Secret Canyon Tour
ANOTHER AFFORDABLE OPTION
30 Minutes
$89 Per Person (Minimum of 2 People)
Fly above:
West Fork
Slide Rock
Sterling Canyon
Chapel Rock
Secret Canyon
And more
Sycamore Canyon Tour
MOST SCENIC (LOCALLY)
45 Minutes
$109 Per Person (Minimum of 2 People)
Includes aerial views of the areas listed above, plus, the Sycamore Canyon area, also known as "The Little Grand Canyon."
The Regional Sky Safari Air Tour We Love Most
Grand Canyon & Skywalk Adventure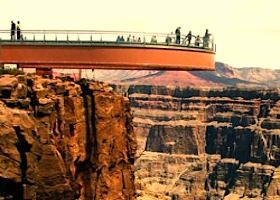 Skywalk © Sedona Air Tours
This is a Sedona AZ Grand Canyon Tours Combo - Plane, Helicopter, River Boat & Skywalk.
FULL-POWER EXCURSION
About 5 Hours
$429 Per Person
After departing from Sedona Airport, you'll fly west and see all Sedona including Sycamore Canyon. From there you'll...
See the Grand Canyon West by plane
Arrive at the Grand Canyon Airport
Hop on a helicopter and be transported to the bottom of the canyon
Take a narrated Pontoon Boat trip along the Colorado River
See more of the canyon via helicopter return
Enjoy lunch prepared by the Hualapai Tribe while enjoying the canyon views
Return by plane and enjoy more Red Rock Sedona views
This tour includes time at the new engineering marvel, the Grand Canyon Skywalk, a glass-bottom pathway suspended 4000 feet above the river, with gorgeous views of the canyon. Wow!
Reservations & Directions
Sedona Air Tours
Reservations are required for Sky Safari Adventures with Sedona Air Tours.
Sedona Air Tours
1225 Airport Road, #14
Sedona, AZ 86336
928-204-5939 | 888-866-7433
We hope you'll accept a big ATTITUDE of GRATITUDE for your interest in this guide and in our beloved hometown. YOU are the reason SedonaHappy.com exists.


The Real Sedona AZ
Red Rock Heaven On A Down-to-Earth Site
If you'd like to "share-it-forward," and help more people get this Sedona goodness, remember to mention this site to some people. Bookmark it. Share it. Fave it. Link to it. Keep this site growing strong! Thanks all.
Sedona AZ Tours Sky Safari
Our Visitors Are Our Motive and Our Power