---
THINGS TO DO IN SEDONA Activities, Galleries, Golf, Hiking. Sedona Spas, Sedona Restaurants, Sedona Shopping. Reviews and Tips: Find YOUR Kind of Fun. Sedona Tourism. Sedona AZ Vacation Guide.
Find Your Kind Of Sedona Activities Fun. Enjoy. Explore…
(Planning Doesn't Have To Be A Chore).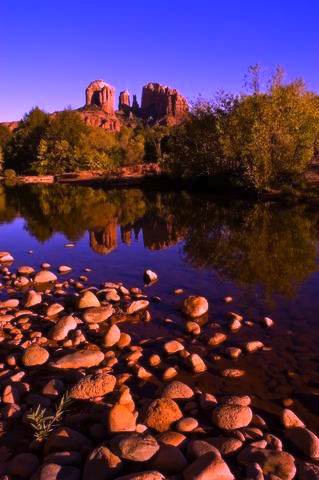 Cathedral Rock & Oak Creek | Photo © Lee Everett Robinson
Get Some "Do" Goodness
For Things To Do In Sedona.
What's Your Kind of Happy?
Reviews, Tips & Picks
Activities, Scenery, Events
An Info-Rich & Simple
Guide to Sedona Activities
…Spas, Tours, Golf…
…Galleries…Shopping…
…Tennis, Hiking, Biking…
…Festivals…Food…
…Necessities…Fun…Etc!

SEDONA IS BOUNTIFUL
AND BEAUTIFUL
It's a desert… It's a forest…
It's a Red Rock wonderland.
And everything you do in Sedona is enhanced by it.
This astounding natural beauty
will be your own personal
ever present backdrop…
whatever you choose to do.
And goodness, yes…
There are a lot of options.
Sedona Arizona Is Many Different Things…

…To Many Kinds Of People.
But, that doesn't have to mean "complicated."
Here's a list, sealed with our "KISS" philosophy (Keep It Super Simple), to point you well on your way.
We hope these tips make it easy for you to find what you love to do in Sedona AZ.
Ready to get the "do" goodness? You can scroll this page, or click on the links to the left to jump to sections.
From there, you can link to more --full articles, schedules, contact info-- about what interests you.
Sedona AZ Vacation - Sedona Tourism
Basics: The Best Firsts
Best First Things To Do In Sedona
Tip #1: INTRODUCE YOURSELF
…to the possibilities. There are visitor's centers all over, but we recommend the official one because it has the greatest resources and a friendly, relaxed atmosphere.
Many of the staff are volunteers who will share excellent, in-person, info and insight. Just for the love of it (not a commission)…
Click here for more about why we think a quick visit here is a really good way to start your Sedona AZ vacation.
Sedona AZ Vacation - Sedona Tourism
Best First Things To Do In Sedona
Tip #2: ORIENT YOURSELF
…with a narrated, visual story. Enjoy an easy going introduction to Sedona, by cruising with our locally owned and operated Sedona Trolley Tour.
For $12, you can get a good overview of where things are, how they look, and why they might be interesting to you…
Click here for more about why we recommend this so highly. Plus: What you can see, SCHEDULES, and an extra tip for how you can enjoy another kind of Sedona trolley ride for FREE.
Sedona AZ Vacation - Sedona Tourism
Best First Things To Do In Sedona
Tip #3: HAVE FUN GETTING AROUND
First, allow us to offer this high recommendation: Drive Oak Creek Canyon (carefully) to enjoy one of the most stunningly scenic routes in America.
Now. Would you like to rent transportation? Doesn't this just mean renting a… c a r ?
Well, sure, that too… but you have lots of notable options:
Click on any of the links above to see the contact info for each of the rental services we recommend. Note: We don't accept money for listing. We suggest each of these because we think they're easy-going and reliable, and each one offers something unique.
For more insights about GOOD GETTING AROUND FUN, click here. This page also includes our mini-directory of Sedona car rental and unique transport providers. Plus a couple of Sedona pictures from the Oak Creek Canyon drive.
Sedona Tourism - Sedona AZ Vacation
Outdoors: Be Guided Into The Heart of Things
Best Outdoor Things To Do In Sedona
Tip #4: TAKE A HIKE
Many Sedona AZ vacation lovers come for the vistas, and hikers are thrilled find unique and unexpected wonders available, as well…
Sedona trails range from very easy to very challenging and are exceptionally well maintained.
Some people visit Sedona AZ (again and again) just for the hiking. And any local will agree, hiking Sedona, there's no end to the possible discoveries (well, if there is, it hasn't been discovered yet).
Sedona hiking trails offer exciting and intimate ways experience the astounding natural beauty of Sedona AZ land.
There's an interesting array of hike types. Have a look at the following video (stills with music), which highlights a lovely sampling of Sedona's diversity:
Contributed by Russ Bergholz, visiting from Oceanside, California. Thanks Russ!
Click here for the full HIKING SEDONA TRAILS Overview, plus our picks for a variety of 5 Phenomenal Hikes.
Sedona Tourism - Sedona AZ Vacation
Best Outdoor Things To Do In Sedona
Tip #5: GO OFF ROAD
Jeep Tours Sedona Arizona: Certainly among the best things to do in Sedona. Very popular and a true classic among Sedona activities. Jeep tours offer a high-energy way to experience the Red Rock outdoors, from the inside and up close.
The Jeep Tour Guides are super savvy. They carry special permits to take you places that are otherwise restricted to the public. And they know some of the sweetest spots for great views. These tours and guides will keep you safe and on the edge of your seat!
For the full scoop on FULL-POWER SEDONA JEEP TOURS, click here.
Looking to rent a Sedona jeep? Tour on your own? We like Barlow Jeep Rental best. You can click here to grab their contact info.
Sedona Tourism - Sedona AZ Vacation
Best Outdoor Things To Do In Sedona
Tip #6: ENJOY MORE GREAT GUIDED THINGS
…to do in Sedona. And above it. And in the nearby surrounding areas.
Jump to the list of most popular Sedona AZ tours? Click here.
Sedona hot air ballooning at dawn is a glorious way to view Red Rock Sedona country. With the sunrise.
To be sure you'll enjoy this experience to the fullest, go with one of the only two companies that have the necessary permits to fly directly over Sedona AZ land, if this is important to you. But, you might have a look at what the other two offer first. There are some unique and surprising perks.
Considering a Sedona BALLOON RIDE? See why these Sedona tours are a popular favorite among Sedona AZ vacationers. Click here for info, rates, and lots of sweet Sedona pictures snapped while ballooning Red Rock country.
You can also tour locally, by helicopter or plane, during any daylight time. The golden evening hours are vibrantly spectacular. And a Grand Canyon round trip is an awesome possible addition.
Interested in motorized Sedona AZ tours by air? Click here for photos, rates and fly areas.
Horseback and Winery Tours can also be arranged. Or you might enjoy a real cowboy style ranch experience, complete with sunset views and a campfire cookout at dusk. Most Sedona AZ tours are available singularly, or in combination.
You can even make something up… invent your own kind of personalized things to do in Sedona tours… all available at your request.
Ready to fly, ride, and taste? Which tour companies will you pick to guide you on a truly excellent adventure?
If you'd like to see a DIRECTORY of which SERVICE PROVIDERS we wholeheartedly recommend, click here.
Sedona Tourism - Sedona AZ Vacation
Best Outdoor Things To Do In Sedona
Tip #7: FIND YOUR KIND OF FUN AND PLAY
Play golf. Play tennis. Camp. Fish. Swim... or "Slide!"
SEDONA CAMPING: Nestled into towering Red Rock canyon walls, and situated right on the green banks of Oak Creek, camping in Sedona is a nature lover's dream come true.
For pictures of what you'll see when camping in Sedona, and a FULL GUIDE to finding your own sweet outdoor spot, click here.
GOLF: In Sedona, resorts are the way to go for golf. Three championship courses offer wonderful play along with a red rock and emerald green adventure story. Their (A-list) designers must have been truly inspired…
To see the Sedona Golf Resort overview page, click here.
PLAY TENNIS: Enchantment Resort (also one of our top lodging picks) is the finest way to play tennis in Sedona. 7 courts, great vistas, and USPTA certified staff. Los Abrigados Resort and Spa, and the Hilton Sedona Resort Spa also offers nice onsite places to play.
Public tennis is also available at the Sedona Posse Grounds Park.
FISH: Go fishing at our local Oak Creek Canyon rainbow trout farm (for a small fee), or let yourself be guided to the best fly fishing spots by the internationally known guide, Jim McInnis.
SWIM, SIT POOL SIDE: Our top picks for poolside views:
The Hyatt at Pinon Pointe (360 degrees of panorama)
Alma de Sedona Inn (especially at sunset)
Enchantment Resort (Set in 1500 feet of red rock in Boynton Canyon)
SWIM AND SLIDE: The funnest way to get wet? Slide Rock! Visit this state park location for hours of thrills or relaxation. This is a great family spot. You can hike along the creek, picnic, swim and play in the water.
And SLIDE! along a natural chute-like groove that has a super slippery bottom. Arrive early during summer, or you might not find parking. Entry $8 - 10 / auto; $2 / bike.
Click here for our Sedona Activities DIRECTORY Info.
Things To Do In Sedona AZ - Vacation Guide
Indoors: Sedona Is Beautiful On The Inside Too
Best Indoor Things To Do In Sedona
Tip #8: NOURISH, REJUVENATE, RADIATE...
…loveliness… at one of our world class Sedona Spas. Each of the ones we recommend offers something unique, but all share the same strength: The staff…
Click here to see our glowing reviews of these STAND OUT SEDONA SPAS:
Enchantment Resort Sedona & Mi Amo Spa
Spa Sedona Rouge Hotel and Spa
New Day Spa
Hilton Sedona Resort Spa
LAuberge de Sedona
Amara Resort and Spa
Things To Do In Sedona AZ - Vacation Guide
Best Indoor Things To Do In Sedona
Tip #9: FIND INSPIRATION IN THE ART
Sedona Art Galleries and Sedona Art Center
If you're a collector, an aspiring creator, or an artist yourself, you'll likely feel at home in Sedona.
Sedona AZ land and wildlife evolves perpetually in the light. Hundreds of artist have heeded a natural calling to live, be challenged, and create (undoubtably) exceptional work.
Their diverse perspectives are revealed at over 50 galleries, which also include large collections of internationally renowned artists and modern masters.
For more insight into the Sedona Art Center and SEDONA ART GALLERIES world, click here.
Sedona AZ Vacation - Sedona Tourism Guide
Best Indoor Things To Do In Sedona
Tip #10: SHOP AND EAT
SEDONA ARIZONA SHOPPING: There are only 4 Sedona shopping areas, but these are remarkably diverse. And most are near good restaurants. Some with awesome views.
All the atmospheres are unique, welcoming, and comfortable for all kinds of people… Enjoyable, for all kinds of tastes and budgets.
From the uber-chic to the bargain barrel, and with lots of middle range...
Click here to see how we think a simple SEDONA AZ SHOPPING trip is likely to become a MAGICAL ADVENTURE.
SEDONA AZ RESTAURANTS: The restaurant choices in Sedona are impressive. A really great variety for such a small town.
You'll find everything from romantic bistros to casual family diners… from very fine dining to laid-back local hang-outs… with a full range of international influences and options to suit every taste and budget.
To see all the HIGHLIGHTS and/or a list of FAVORITE SEDONA RESTAURANTS, click here.
Top 10 Tips - Things To Do In Sedona
Looking For Your Kind of Comfy Sedona Lodging?
Click To Jump To Any of These Pages:
Sedona Resorts | Sedona Cabins

Sedona Bed and Breakfast | High-End Hotels In Sedona

Motels, Inns & Discount Hotels Sedona | Name Brand Ways To Stay

Sedona Arizona Vacation Homes | Main Sedona Lodging Overview
Sedona AZ Vacation - Sedona Tourism Guide
Things To Do In Sedona Pages
Ask what makes you come alive,
AND GO DO IT.
Because what the world needs is
people who have come alive.
- Howard Thurman (emphasis added)
---

---
Thank you for your interest in our beloved home town and in this Things To Do In Sedona page. YOU are the reason we do what we do, at SedonaHappy.com. Cheers. Have Fun!
The VISUAL Sedona Activities presentation? Click here to a SLIDE SHOW of stills. This PICTURES: Sedona Arizona page gives great ideas for things to see and do when you visit Sedona AZ.
Wondering about the SEDONA ARIZONA WEATHER? Here's a full guide, with monthly average temps, sunrise/sunset times, current conditions, and the forecast. Plus lovely seasonal Sedona pictures.
To return to the HOME page from Things To Do In Sedona, click here.


The Real Sedona AZ
Red Rock Heaven On A Down-to-Earth Site
If you'd like to "share-it-forward," and help more people get this Sedona goodness, remember to mention this site to some people. Bookmark it. Share it. Fave it. Link to it. Keep this site growing strong! Thanks all.
Things To Do In Sedona AZ - 10 Tips
Our Visitors Are Our Motive and Our Power