Verde Canyon Railway - Top Sedona AZ Tours, Day Trips, and Nearby Travel in Arizona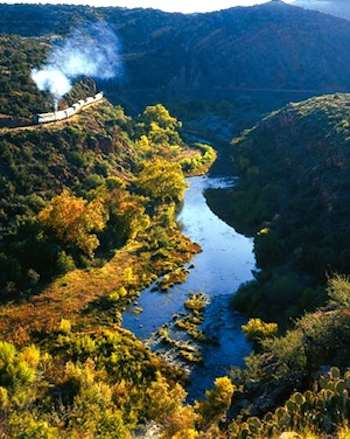 Photo © Verde Canyon Railroad
Verde Canyon by Rail
Here's a day trip we highly recommend… for…
Scenery, History & Mystery.
It's a great way to have a getaway with pals.
A romantic journey.
Or big family fun!
The Verde (Green) Canyon is a historical and scenic wonder.
Did you know it's officially an Arizona State Treasure?
We think a ride on the Verde Canyon Railway offers one of the most enjoyable ways to see it all.
Starting with the train itself, it's a novel experience. With all-access open-air cars, and lots of different ways to enjoy the ride.
The Journey
The Verde Canyon Railroad Depot is about 20 miles from Sedona (see turn-by-turn arrival directions below).
It runs from Clarkdale to the Perkinsville Ghost Ranch, and takes about 4 hours roundtrip.
On the train, you'll journey through towering canyons and wide open vistas. Through a 680 foot long tunnel and over a historic bridge.
You'll see the remains of a centuries-old Native American cliff dwelling, and an old pioneer settlements. And, likely, lots of wild critters, too. Watch for the majestic bald eagles, along the way.
Rates, Notes & Directions
Photos Courtesy of © Verde Canyon Railroad
Daily Departure: 1:00 PM

First Class Fare: $80

Coach Class Fare: $55

Coach Class Kid's Fare: $35

Whole Caboose: $600
(Private Charter For Up to 6)
NOTE: Seniors 65+ qualify for an additional discount.
NOTE: Verde Canyon Railroad also hosts weddings and special holiday-inspired, and themed events.
For example: A Mother's Day celebration, called Throw Mama On The Train. Or, a wine tasting journey, called the Grape Train Escape.
If you're interested, inquire with VCRR directly for their current offering of specialized rides and their rates.
Verde Canyon Railway Depot
300 North Broadway
Clarkdale, AZ 86324
Reservations & Info: 800-582-7245
We hope you'll accept a big ATTITUDE of GRATITUDE for your interest in this guide and in our beloved hometown. YOU are the reason SedonaHappy.com exists.


The Real Sedona AZ
Red Rock Heaven On A Down-to-Earth Site
If you'd like to "share-it-forward," and help more people get this Sedona goodness, remember to mention this site to some people. Bookmark it. Share it. Fave it. Link to it. Keep this site growing strong! Thanks all.
Sedona AZ Tours - Verde Canyon Railway
Our Visitors Are Our Motive and Our Power