Sedona AZ Tours - Most Popular Sedona Activities - Fun Things To Do In Sedona
Following is a list of the most in-demand Sedona Tours pages.
All of the contents are created by locals and Sedona AZ vacation enthusiasts who are simply "sharing-it-forward," so you can get plenty of good, reliable info without a sales pitch.
In order to keep it real, we never accept any money for inclusion on our Top Picks Lists.
We hope this site makes it easy for you to find your kind happy Sedona AZ tours.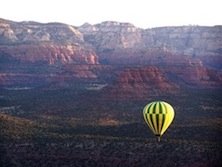 © Northern Light Balloons
Sunrise Sedona hot air balloon rides are a glorious way to experience the Red Rock Sedona splendor.
On this page, you'll find in-the-know and need-to-know tips for Sedona hot air ballooning, plus lots of sweet Sedona pictures from balloon rides.
Rates range from about $170 to $200 per person.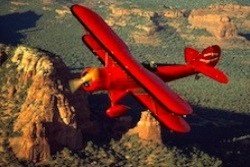 © Sedona Air Tours
Bi-Planes offer a bit of history and fantasy along with phenomenal open-air views of Sedona.
Rates start at about $120 per person for these very memorable Sedona AZ tours.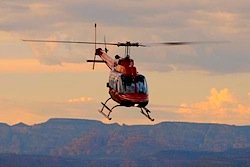 © Sedona Air Tours
Helicopter rides hover closer and go deeper into the canyon areas.
Rates start at $70 per person.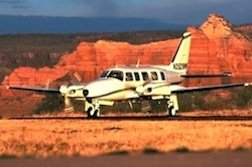 © Sedona Air Tours
On Sky Safari planes rides, every seat is a big window seat.
Rates for these Sedona AZ tours start at about $70 per person.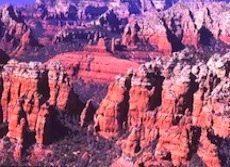 © PhLens
Hiking Sedona can be even more memorable with a bit of in-the-know guidance. Sedona vortex and spiritual guides abound in this town.
And you can arrange customized and highly specialized personal experiences too.
There are lots of "good" guides for hire. But, on this page, you'll find a very short list of the few we think are true stand-outs.
Rates start at about $35 per hour, per person.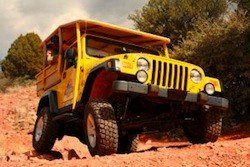 © A Day In The West
This is an overview page of Sedona Jeep tours, along with a list of the companies we think will give you the most fun for your money.
Rates start at about $40 per person.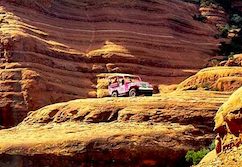 © Pink Jeep Tours Sedona AZ
Pink Jeep Tours Sedona AZ… it's the most popular company, offering a variety of tours.
This page offers a collection of short videos along with our top Pink Jeep tours picks.
Rates start at $45 per person.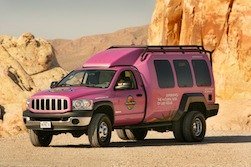 © Pink Jeep Tours Sedona AZ
Thinking of taking a motor coach for a Sedona Grand Canyon Tour? The Pink Jeep Tours Sedona Trekker is our absolute favorite. See why on this page, along with a video of the Trekker in action.
Rates start at $125 per person for a full day adventure.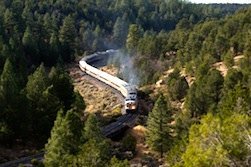 © Grand Canyon Railway
We absolutely adore this tour. You can take it as a day trip, or stay over and hop on the return-train another day.
The train itself is a fun and novel experience. The video on this page is a delightful retro-style telling of what you can expect from the journey.
Rates start at $70 per person (roundtrip).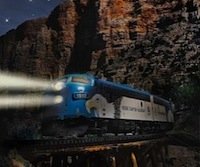 © Verde Canyon Railway
The Verde Canyon Railway offers a 4 hour roundtrip journey through some lovely and historically intriguing territory, with a ghost town stop at the end of the line.
Rates start at $55 per person. Seniors and kids receive a nice discount.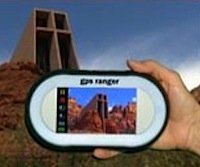 © Sedona.TV
We love this option for people who would like to go at their own pace, on a self-driving tour. Rent a portable GPS at the Visitor's Center, and take a variety of scenic Sedona AZ tours, stopping whenever you feel like it.
Rates for a one-day rental are under $30.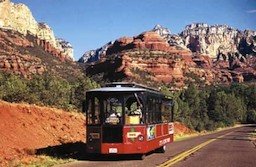 7 Canyons Tour © Sedona Trolley
These fully narrated tours offer a couple of affordable ways to get to know the area. If you do this, do it early during your visit to get a good ideas for other things you might like to do later on.
Rates are about $12 per person for each of the 1 hour tours.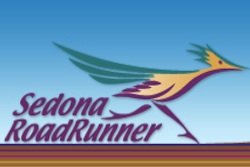 Here's The Symbol At Local Stops © RoadRunner
The RoadRunner isn't narrated, but it's still a fun way to see some sights and get around popular areas that offer lots of shopping, galleries, Red Rock views, and restaurants.
A nice way to get to travel to and from Uptown and Tlaquepaque Sedona Arts & Crafts Village.
Rates: FREE!
We hope you'll accept a big ATTITUDE of GRATITUDE for your interest in this guide and in our beloved hometown. YOU are the reason SedonaHappy.com exists.


The Real Sedona AZ
Red Rock Heaven On A Down-to-Earth Site
If you'd like to "share-it-forward," and help more people get this Sedona goodness, remember to mention this site to some people. Bookmark it. Share it. Fave it. Link to it. Keep this site growing strong! Thanks all.
Sedona AZ Tours
Our Visitors Are Our Motive and Our Power