Sedona Helicopter Tour - Sedona AZ Vacation - Top Sedona AZ Tours Picks
Sedona AZ tours by air include over 100 ways to enjoy the Red Rock Sedona scenery and the surrounding regional beauty. You can customize tours according to your preferences or choose from a variety of combinations.
Sedona AZ Grand Canyon Tours are popular ways to combine sights and experiences. Many people add 4 x 4 off-road thrills or river rafting to the excursion, making a whole day of it!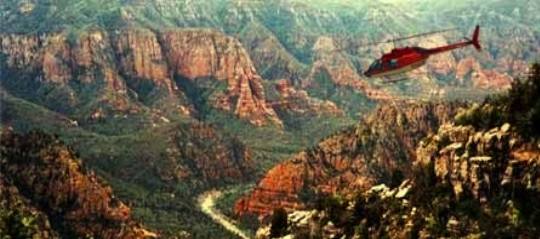 Photo © Sedona Air Tours
Featured On This Page:
Top Sedona Helicopter Tour Picks
A Sedona helicopter tour will take you to eye-level vistas deep inside the local canyons. Jet-powered helicopters offer the most maneuverability among these types of tours, so they get you the closest views possible, by air.
This is a great way to explore areas that are rarely, if ever, encountered by land.
Local Helicopter Rides by Sedona Air Tours
Bear Wallow Run
MOST AFFORDABLE
15 Minutes
$70 Per Person
See:
The east, past Lee Mountain
Three Nuns Red Rocks
Chapel of the Holy Cross
Snoopy Rock
Steamboat Rock
Bear Wallow Canyon
And Schnebly Hill Area
Ancients Way - Signature Tour
EVEN MORE SCENIC
25 Minutes
$116 Per Person
See:
The west, up the Dry Creek area
The depths of Secret Canyon
The outback of Rattlesnake Mesa
Former Native American Commninty, The Sinaguan Cliff Dwellings
Boynton Canyon Area
Fay's Arch
Doe Mesa
And Bear Mountain
Hog Wild Tour
MOST SCENIC OF ALL
35 Minutes
$163 Per Person
See ALL of Sedona, including a combination of every listing in the two tours above. Plus, be visually guided over all the major Sedona vortex spots.
Our Favorite Combination Sedona Helicopter Tour
Ancients Way - Hummer Tour Combo
HISTORICAL & THRILLING
$229 Per Person
See:
The west, up the Dry Creek area
Boynton Canyon
Hover Next to The Sinaguan Cliff Dwellings
Then, land in the western outback
Hop on a Hummer
Be driven along some primitive trails
With narrated, exhilarating 4 x 4 fun
And phenomenal panoramic Red Rock Sedona vistas
Reservations & Directions
Sedona Air Tours
Red Rock Helicopter reservations are required. Call Sedona Air Tours.
Sedona Air Tours
1225 Airport Road, #14
Sedona, AZ 86336
928-204-5939 | 888-866-7433
Fun & Romance With Arizona Helicopter Adventures
Helicopter-Jeep Picnic For Two
MOST ROMANTIC
Would you like to celebrate your relationship with a romantic adventure for two? Then, we highly recommend this stand out among many Sedona AZ tours… Especially for couples on a honeymoon, an anniversary vacation, or just head-over-heals in love with each other.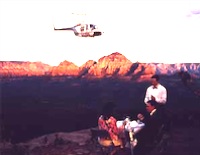 © Arizona Helicopter Adventures
About 3 Hours
$499 Per Couple
Enjoy a private helicopter and Sedona Jeep experience with a fun ride up Schnebly Hill, a very nice picnic lunch (with your own waiter, if you like) and then a helicopter tour of the wonderfully historic Sinagua cliff dwelling and the sacred land at the Boynton Canyon area.
Arizona Helicopter Adventures
Reservations are required. This company also offers very similar tours to the ones listed above for about the same prices.
Arizona Helicopter Adventures
235 Air Terminal Drive, Ste. 7
Sedona, AZ 86336
928-282-0904 | 800-282-5141
Return to the MAIN SEDONA AIR TOURS page? Click here.
We hope you'll accept a big ATTITUDE of GRATITUDE for your interest in this guide and in our beloved hometown. YOU are the reason SedonaHappy.com exists.


The Real Sedona AZ
Red Rock Heaven On A Down-to-Earth Site
If you'd like to "share-it-forward," and help more people get this Sedona goodness, remember to mention this site to some people. Bookmark it. Share it. Fave it. Link to it. Keep this site growing strong! Thanks all.
Sedona Helicopter Tour Feature
Our Visitors Are Our Motive and Our Power