---
SEDONA AZ SHOPPING Locals and visitors REVIEW Sedona Shopping. Outlets, Tlaquepaque Sedona, art galleries. Unique, fine, budget. Sedona restaurants nearby.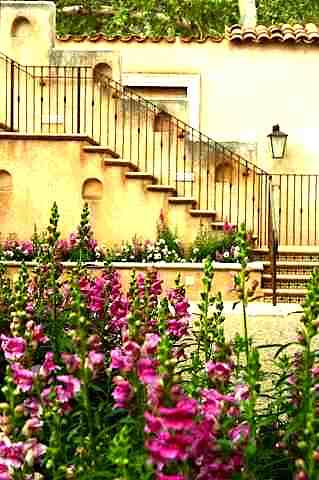 Tlaquepaque Sedona | Photo © Lindsay Baronoskie
Sedona AZ Shopping Tips:
Areas, Scenery & Nearby
Sedona Restaurants
Finding gifts they'll love and keepsakes you'll cherish, is easy in Sedona.
Choosing from so many wonders… well, that may be a challenge… but probably a fun one for shoppers.
A full on treasure hunt… satisfying, for all kinds of tastes and budgets.
And enhanced, perhaps, with a few in-the-know tips. Shopping can be one of the most enjoyable things to do in Sedona.
"Icing on the cake," as they say …and with a jewel-toned cherry to top it off, if you like.
Look around. Take your time. Rest and refresh. Make a day of it. Have a great big shopping adventure.
Sedona AZ shopping is about discovery and one-of-a-kind-ness.
The Best Sedona AZ Shopping Adventures?
They Come With Phenomenal Food, Views & Vibes.
There are only four Sedona shopping areas, but these are remarkably diverse. From the uber-chic to the bargain barrel, and with plenty of middle range…
Following is an overview, and a bit of personal insight. Scroll on… enjoy. Or…
Skip Ahead? Click to Jump to The 4 Shopping Areas Highlights.
Sedona AZ Shopping Is NOT A Trip To The Mall
Sedona Shopping - Top Things To Do In Sedona
As phenomenally high-end as some of these places are (some world renowned, and overall, undoubtably among the finest Arizona shopping) there simply is nothing stuffy about the experience.
As with most Sedona activities, easy-going is the way. Whether you're window shopping or power shopping …you'll receive as much personalized attention as you like.
All 4 areas include, or are near, a range of restaurant options, from casual to very fine. So you can easily find refreshment and a place to rest your feet. We'll tell you where you can find the best (tried and true local favorite) Sedona restaurants, including some with great red rock views.
In Sedona the shopping, food, and scenery all come together, to make a magical kind of outing. For all these reasons, and especially because the atmospheres are welcoming, and comfortable …we enthusiastically include Sedona AZ shopping among our top Sedona activities tips.
---
Top 10 Tip #10: SHOP, EAT, DISCOVER.
---

Sedona AZ shopping begins as a kind of sight-seeing adventure. For example, Tlaquepaque Sedona is a real stand out.…
Pronounced, "T-la-keh-pah-keh," it may twist your tongue a bit, but it will surely make your eyes happy.
There's a quaint cobble stone, hacienda feel. You can stroll in open, old world courtyards, filled with flowers and fountains. Enjoy the shade of stories-tall sycamores.
Shops are so beautifully arranged, the store front windows themselves are like a multimedia gallery showcase.

I like to walk around Tlaquepaque after dark, when the crowd has gone, and the shops are closed, but the windows are illuminated.
My favorite resting spot is in the chapel courtyard. There's a single bench near a large stone sculpture. And there's at least one local guitarist (that I know of) who likes to play there, during the evening hush (side note: great romance-on-the-cheap idea).
4 Glorious Sedona AZ Shopping Areas
Sedona Shopping - Top Things To Do In Sedona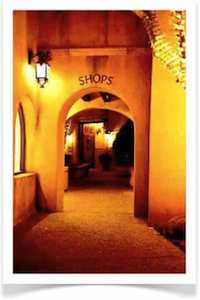 Tlaquepaque Sedona
© Alexey Stiop
A. TLAQUEPAQUE
The name is said to mean, "best of everything." And, yes… this bijou luxe arts and crafts village lives up to its name.
There are about 40 venues, including 5 restaurants, galleries, and clothing and specialty shops. The fine art jewelry is among the best on the planet. And the work of some very well-known artists and artisans can be found here.
RENE AT TLAQUEPAQUE is one of the finest dining experiences available in Sedona. Top 3, easy.
See a full review of Tlaquepaque Sedona? Click here for photos, video, info and insight. See why we LOVE this place. And, maybe, you will too.
B. HILLSIDE
With the stunning views from Hillside your jaw will drop while you shop. But you won't. Rest and refresh at SHUGRUE'S HILLSIDE (magnificent Red Rock Sedona viewing) or JAVELINA CANTINA. Both highly recommended by locals.
As with Tlaquepaque, the highest expectations for quality and innovation are met (and exceeded!) at Hillside shops. These two areas are fine examples of Arizona shopping at it's best.
---
C. UPTOWN
Here, you'll find a broader shopping range. From high end collectibles, to sweet and affordable trinkets and t-shirts. For food in Uptown, 4 star California-Italian inspired fare at HUNDRED ROX and casual mexican at OAXACA are popular, convenient, and good. Or try LAuberge de Sedona's bijou French inspired way to dine, at RESTAURANT ON OAK CREEK.
---
D. VILLAGE OF OAK CREEK
Sedona AZ Shopping may not include a mall, but you can still go name-brand bargain hunting here, at Prime Outlets, in The Village of Oak Creek (VOC), on South Hwy 179. This is currently the only outlet shopping spot in ALL of Northern Arizona. And with the money you save, eat at the DAHL & Di LUCA CUCINA RUSTICA.
Beyond The Areas
Sedona Shopping - Top Things To Do In Sedona
Beyond these 4 areas you'll find shops and boutiques lightly sprinkled throughout town. Following are two noteworthy stand outs in West Sedona.
Both are knowledgeably staffed shops that enchant spiritual seekers and new age lovers. Best of their kind in Sedona. Both shops offer an array of figurines and keepsakes.
CRYSTAL MAGIC (near the edge of town, on Hwy 89A): Has an excellent crystal selection, plus interesting clothing. For good, casual eating, walk next door to THAI SPICES, or go a few more blocks to D'LISH VERY VEGETARIAN.
GOLDEN WORD BOOKS (Central-West Hwy 89A): The best place for new age and spiritually themed books. Walk a few feet to CHOCOLATREE, a very good raw and vegan restaurant. Even if you're not a vegetarian, you might stop here for delectable chocolates and sweets.
Or, cross the street and eat at HEARTLINE CAFE, a definite local favorite (super fresh, incl. meat and seafood).
Treasures & Memories
Sedona Shopping - Top Things To Do In Sedona
You are the reason Sedona-Happy.com exists, so Thank You for your interest in this site, and in our beloved hometown. We hope you'll enjoy Sedona AZ Shopping.
Browse and/or buy whatever catches your eye and touches your heart. Find treasures. Make memories. Have a wonderful time!
"There is always something beautiful
to be found if you look for it."
- White Eagle
For the full scoop on SEDONA RESTAURANTS, click here.
Would you like some insider tips about the best SEDONA LODGING? Click here.
Details about the Sedona ART GALLERIES and Sedona Art Center? Click here for a good overview and a list of our favorites.
To go to the HOME Page, from this Sedona AZ Shopping page, click here.


The Real Sedona AZ
Red Rock Heaven On A Down-to-Earth Site
If you'd like to "share-it-forward," and help more people get this Sedona goodness, remember to mention this site to some people. Bookmark it. Share it. Fave it. Link to it. Keep this site growing strong! Thanks all.
Sedona AZ Shopping Overview
Our Visitors Are Our Motive and Our Power