---
TLAQUEPAQUE SEDONA AZ Shopping, galleries, restaurants, views. Locals and visitors share insight. Unique finds and a wonderful variety of quality offerings.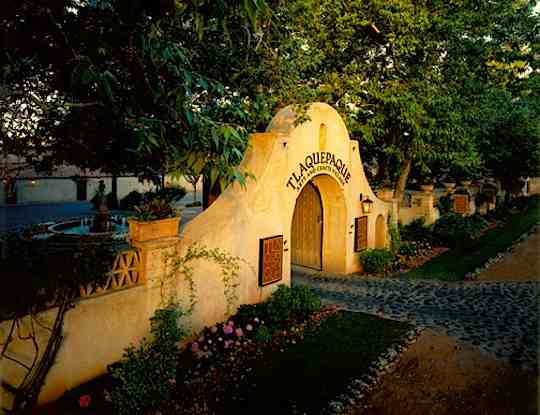 © Tlaquepaque Arts & Crafts Village
Tlaquepaque Sedona AZ... T..la..que?.. Huh?!
An Exquisite Arts & Crafts Village We Absolutely Adore
What's In This Name May Surprise You
For those of us who have not mastered a Mexican (Nahuatl) accent, here's how to pronounce it: "T-la-keh-pah-keh." Literally, it means, "place above clay land." But, according to a variety of sources, including the Tlaq.com website, it has taken on a second meaning. When you say "Tlaquepaque," you are pronouncing a word that implies the...
Best of Everything
Well! That's quite a claim. And certainly a very steep standard to live up to. But, hey, if you're going to set an intention, you might as well aim high… Was it overly ambitious? Let's see.
Things To Do In Sedona AZ - Shopping, Galleries, Restaurants.
Exquisite, Yes. But... The Best?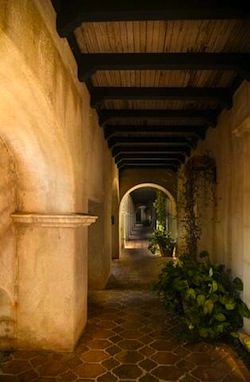 © PhArtisan
Tlaquepaque Sedona is certainly a local landmark. And spending some time (and probably some money) here is on just about everybody's lists of top things to do in Sedona.
It's been around since the 70's, and has long been considered the finest of all Sedona AZ shopping venues.
Lots of folks consider it the "crown jewel" of all Arizona shopping, and some call it the best of the entire Southwest.
Tlaquepaque Sedona is also internationally celebrated for its gallery offerings and tremendously talented artists, many of whom are world renowned in their own right.
Does it really offer "the best?" I'll leave that up to you, but I do suggest you come see for yourself.
Whether or not you agree, you can still enjoy plenty of fascinating, one-of-a kind finds.
And, if you're interested, there are lots of opportunities to see these art-world-heavies at work.
Tlaquepaque Sedona offers a chance for you to meet them, and/or learn about their methods, passions, and inspirations.
And, any way you experience this place, you're in for a phenomenal visual feast.
Things To Do In Sedona AZ - Galleries, Restaurants, Shopping.
Should Folks On A Budget Visit Tlaquepaque Sedona?
There's a local joke floating around that Tlaquepaque means "lock your pockets." Indeed, most of the things for sale here ain't cheap. Which is appropriate, when you consider the exquisite quality of Tlaquepaque's offerings.
So, what about most of the people, who are traveling on a tight or middle-range budget?
Ways To Enjoy Tlaquepaque On A Budget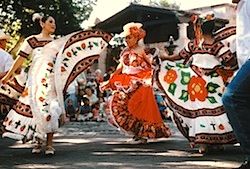 Tlaq Hosts Many Free Events & Entertainments
© Tlaquepaque Arts & Craft Village
In my opinion, based on my actual experience "hanging out" at Tlaquepaque, if you skip it, you'll be missing out. This place has become a significant part of what Sedona is.
There are enough affordable items to keep most budget-minded shoppers content. You may not be in the market for fine art, but you can still find reasonably priced novelty items and gifts.
Personally, I don't spend much money there. Often, nothing at all. I just stroll around and enjoy the beautiful courtyards, fountains, ivy covered walls and cobble stone walks.
Kinetic Sculptures by Artist © Lyman Whitaker
I love to find a quiet bench under a tall old sycamore tree where I can admire some lovely vintage door or an outdoor sculpture.
There are lots of "free public art" pieces (yes, many are for sale, but it's free to see).
Have a look at El Prado Gallery's kinetic sculptures as they move with the lightest of breezes. And, sit in their rock furniture.
Some day, I'd like to bring one of the surprisingly-comfortable rock armchairs home.
Tlaquepaque, El Prado, and all the venues let me (and you) visit, sit, relax, and hang out, for free. There's a very easy-going, friendly vibe.
Things To Do In Sedona AZ - Restaurants, Shopping, Galleries.
What Tlaquepaque's "Everything" Means
There are over 40 venues at Tlaquepaque Arts & Crafts Village, including 5 restaurants.
For smaller budgets or casual tastes, go the Oak Creek Brewery & Grill. For one of the most romantic and fine Sedona AZ restaurants experiences, go to Rene at Tlaquepaque. Or, for delectable homemade chocolates, candies, smoothies, and ice cream, visit How Sweet It Is.
For a list of all the shops and dining possibilities, and more info, click the link to the Tlaquepaque Sedona website, in the section after this video.
A Video That Shows What "Everything" Means Here
Things To Do In Sedona AZ - Shopping, Galleries, Restaurants.
Contact Info & Directions
Tlaquepaque Arts & Crafts Village
336 State Route 179
Sedona AZ 86336
Open Daily from 10am to 5pm
928-282-4838
Click Here To See The Website.
Ultimately, I think Tlaquepaque Sedona is calls for a visit. Even if it twists a funny pronunciation from your tongue. The experience itself, like Juliet's Shakespearean rose, will be "just as sweet."
You are the reason SedonaHappy.com exists, so we hope you'll accept our ATTITUDE of GRATITUDE for your interest in this site and in our beloved hometown.
Return to the MAIN SEDONA AZ SHOPPING overview and areas page? Click here.
Or, click here to jump to the main THINGS TO DO IN SEDONA.
Interested in our phenomenal SEDONA ART GALLERIES? Click here to get an overview and see a list of our favorite local galleries.
To go to the HOME page from Tlaquepaque Sedona AZ page, click here.


The Real Sedona AZ
Red Rock Heaven On A Down-to-Earth Site
If you'd like to "share-it-forward," and help more people get this Sedona goodness, remember to mention this site to some people. Bookmark it. Share it. Fave it. Link to it. Keep this site growing strong! Thanks all.
Tlaquepaque Sedona
Our Visitors Are Our Motive and Our Power