Sedona AZ Vacation? Absolutely Glorious.
Find YOUR Red Rock Bliss In The IMAX of Real Life
How Do YOU Enjoy Sedona AZ?
We Love It
...
…when people, planning to come to our hometown, look to us for insight. We can barely contain our puppy-like excitement. Our moods lift… Our eyes fill with light.
We're brimming, bubbling, almost yelping passion for this place. And it's fun to be a bit of a "know-it-all" sometimes, especially when it's encouraged. For example, your questions have inspired some…
Very Unique Lodging Tips
(Click Here To See Them).
What else can you expect from us?
---
Sedona Hotels, Spas, Food, Tours, Sights & Activities
---
Abundant Information. Simple Presentation.
Beyond the usual tourism attractions (we'll cover these too, of course) we'll highlight the most enjoyable aspects of Sedona AZ, so you can find what interests you most. Easily.
We'll include the basics, and some superbly surprising discoveries as well. From the uber-luxurious to the dirt-cheap. From high energy excitements to quiet contemplations. And everything in between.
In the luxe life or on a budget, you can find real value and comfort. And…
We'll show you how.
---
---
By the way, in case you're wondering… these aren't puffy promises.
This is the same info we give friends and family. If we wouldn't recommend it to our loved ones, it doesn't make the page.
Our aim is to keep it easy-going and highly useful. And we hope you'll feel like a truly honored guest.
Whether you're just dreaming, already planning, or actually standing on Sedona AZ land, here's a real, honest-to-goodness guide.
Welcome
Hotels. Real Estate. Things To Do. Tours. Hiking. Pictures. Weather. Map. Camping. Coconino National Forest.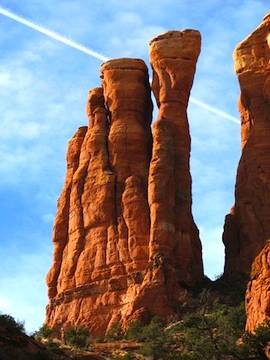 The Mace | Photo © Pancake Tom
Ready to get the goodness? Click on any subject that interests you (top left), or click here to go to the Table of Contents, and see mini-descriptions.
Or… scroll on! For the full introduction and how to get the most from your options.
One Good Guide
All Kinds of Happy
Any way you look at it, Red Rock Country is ABSOLUTELY GLORIOUS. We consider ourselves lucky -and grateful!- to know the area well, and to "share-it-forward" with anyone interested. Hence…
In case you're interested, here's what you'll find on this site.
It is…FULL of Top Picks Lists, insider-tips, and personal stories. Resources, photos, and reviews.


It is…FILLED with specifics for first time visitors and seasoned travelers. For potential residents as well as brides-to-be.


It is…FOR families, retirees, couples and solos. For thrill seekers, spiritual seekers, and nature lovers. It's even for the dog (pet-friendly vacations).


It is…REAL. We'll always do our best to guide you well. We won't sell you a story, but tell you the story. The real story.
Do we really know it ALL?
Tourism. Hotels. Things To Do. Hiking. Pictures. Weather. Map. Camping. Cabins. Resorts.
Nope. But, together, we do know a lot. It's not that we're tourism experts. We're not chamber of commerce reps or Sedona Arizona real estate agents (we know some fine ones, but we're not them).
We're just a bunch of …um…unreserved… people (one local in particular, and all kinds of Sedona enthusiasts) who have been there and loved that, amid the Red Rock splendor… and in a variety of ways. We hope you will too. Find your kind of happy, that is.
And Goodness... Yes, There Are A Lot of Options
For example, from hundreds of Sedona Lodging Choices, and hundreds of Things To Do In Sedona, we'll share our best picks, and give you the scoop on what each one offers. So you can find a perfect fit for your particular needs and preferences.

Sedona is -in a word- BOUNTIFUL. In other words, there's an amazing abundance and diversity of options. Yippee! But, with so much to choose from…
…how do you choose?
Simple
Hotels. Things To Do. Hiking. Coconino National Forest. Pictures. Weather. Maps. Vacation Packages.
At first, we know this might seem overwhelming to some, but, hey, it doesn't have to be. Catch our easy-going vibe. As you look around this site, you can go deep or keep it light.
See what interests you…
Jeep Tours | Hiking | Galleries | Golf | Camping | Spas | Shopping | Restaurants
Sedona Resorts | Cabins | Bed and Breakfast | Budget Finds | Vacation Homes
Or… A List of Our Most Popular Pages
…and we'll keep it simple.
Easy to navigate. Easy to read. One "click" equals one topic. On each page you'll find the kind of specific details you're looking for, along with lots of vibrant Red Rock pictures.
Sedona Arizona
And YOU…
…Are the Reasons We LOVE To Do What We Do
So, we hope you'll accept our ATTITUDE of GRATITUDE
for your interest in this site and in our beloved hometown.
Cheers. You Rock!

Now, find what you're looking for… More?
And, of course, Enjoy…

"…the very purpose of life is to be happy."
-HH The Dalai Lama
Hotels. Real Estate. Things To Do. Tours. Hiking. Pictures. Weather. Map. Camping. Vacation Packages. Top Picks.
---
---
Photos at the top of this page shared by (in order):
1. © Darren Pellegrino, 2. © Baronoskie, 3. © Jason Hindman, 4. © Tracey Taylor
5. © Tom Dowd, 6. © Alexey Stiop, 7. © Lindsay Baronoskie, 8. © Scosens

Red Rocks Slide Show Contributors:
1. © Darren Pellegrino, 2. © Ron Chapple Studios, 3. © Lindsay Baronoskie, 4. Ron Adcock
5. © Mike Norton, 6. © Snehit Design, 7. Ofir, 8. © Alexey Stiop

We Are Sedona-Happiest Including YOU.
Copyright © 2010 SedonaHappy.com. All Rights Reserved. 
Kindly accept our GRATITUDE for your interest.