---
HIKING IN SEDONA Trails, Descriptions, GPS, Red Rock Sedona Pictures. LOCALS and Sedona AZ vacation lovers share: Sedona hikes we LOVE. So Can YOU! Links to Sedona camping, Sedona cabins, and more of our top things to do in Sedona.
Have You Considered Hiking Sedona By Full Moon Light?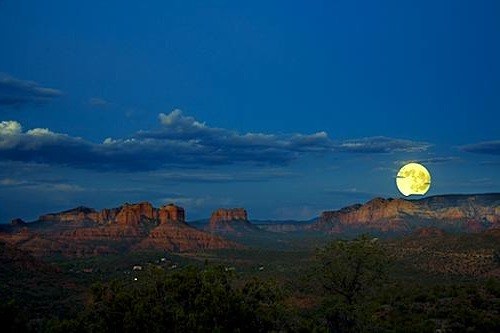 Did You Know You Can Arrange Moonlight Hiking Tours? | Photo © Alexey Stiop
Explore Great Sedona Hiking Trails
& Enjoy Truly Unique Adventures
Featured On This Page: Hiking Sedona With Guides
Following, you'll find our top picks for highly personalized guided hiking experiences amid the Red Rock Sedona splendor. Plus, a list of what we think are the very best books about hiking in Sedona, all created by super-savvy nature-loving locals.
Jump To Main Hiking Sedona Page?

Click Here To See The Overview

The Forest and Visitor's Centers Info & Directions

And Our Top 5 Picks For Unguided Sedona Hikes
Hiking In Sedona…
With A Guide?
Click Here To Skip Ahead To The Favorite Hiking Guides List.
Many locals are ready to share their passions for hiking in Sedona. You can find lots of info just by talking with people around town. And you certainly don't need a guide to enjoy phenomenal Sedona hikes…
So, why hike with Sedona tours or hire a personal guide?
Well, most simply, because the guides know stuff the rest of us don't. So, an outing will certainly be enhanced in their company. It's a way to make your moments even better and take unforgettable memories home with you.
Our guides know the sweetest "secret" spots, deep in the canyons and far-out in the outback areas. They know where to find the best sequestered sights and wide-open vistas. But, it's about more than just the scenic impressions.
For example, if you're interested, while hiking in Sedona with a guide, you can…
Things To Do In Sedona AZ - Hiking Sedona With A Guide
Heighten Your Exposures & Experiences
See, feel, learn about:
The wildlife. Animals, trees, flowers, herbs, cacti, etc.

The geology. How the mountains and monoliths came to be.

The Native American culture and history.

The beliefs about the sacred nature of Sedona AZ land.

And why Sedona vortex sites are so famous.
We locals have a saying about what happens when visitors are open to these experiences:
What Happens in Sedona…
Stays With You Forever
Ultimately it's about this:
What's YOUR Idea of Great Red Rock Forest Adventure?
You don't have to have a spiritual penchant to benefit from Sedona hiking tours. You don't have to believe in "goddess energy" or howl at the moon to have a great time trekking around on a clear and stunningly starry night… (but, hey, feel free if you like).
To fully gratify your interests or just enjoy a fun outing, finding the right kind of guide is key. There are plenty of good ones to choose from in this town. A "good" guide for hiking in Sedona is pretty easy to get. So, for this picks list, we have been particularly selective.
Here's a list of those we think are the few true stand-outs.
Things To Do In Sedona AZ - Hiking Sedona With A Guide
The Short-List of Great Guides - Top 3 Picks
As always on this site, we did not accept any money in exchange for making these suggestions. These are the companies we know and like well enough to recommend to our own friends and family.
We hope this makes it easy for you to find an excellent adventure!
A. SEDONA PRIVATE GUIDES
Hiking Sedona with this tour company is a great value, if a bit pricey (Starting at $225 solo / $275 couple, 2.5-4 hrs). Totally personalized. Exquisite. Truly Unique.
These guys are full of facts, hospitality, and alternatives. You can arrange an extraordinary Sedona vortex experience.
Would you like some science to go with your Sedona Vortex interest? These guys are really in-the-know.
In fact, the owner, Dennis Andres, "wrote the book." Well, books, actually.
While hiking in Sedona, you can be led through amazing trails and also yoga asanas. Or arrange guidance for your own inspired idea.
Favorably mentioned by the likes of Rachel Ray, BBC, and National Geographic.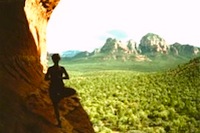 © Sedona Private Guides
Sedona Private Guides
583 Circle Drive
Sedona, AZ 86336
928-204-2201 | 877-273-3762

NOTE Tours MEET At:
Hilton Sedona Golf Resort & Spa
90 Trail Ridge (Off Hwy 179)
Sedona, AZ (VOC)
Click Here To See The Website.
B. SEDONA RED ROCK ADVENTURES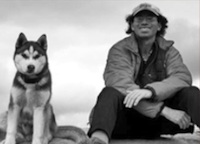 © David E. Stark
This is a Sedona tour company that offers the full range of possibilities, including all the classics and some very unique offerings.
Our favorite is their Full Moon Expedition.
The vibe of this company is just good, plain fun. Very "down-to-earth," and easy going. And they know the territory as if it's all their own back yard. (Seriously. They could probably guide you with their eyes closed.)
Here's what you can expect from the owner, Jim Reich: "...it's your tour, I'm just an interpreter, call me an extension of the red rocks or a limb of the trees in freestanding motion. I'll show you as much or as little... [as you like]. I would be delighted to customize an adventure to met your precise criteria."
Traveling with your dog? Pooch pals are welcome to join along while hiking in Sedona with these guides!
Rates are about $35 per hour, per person.
Sedona Red Rock Adventures
Sedona, AZ
866-445-3732 | 928-282-6592
Click Here To See The Website.
C. Sedona Red Rock Tours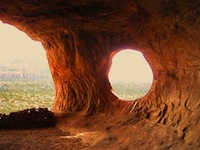 See Shaman's Cave With
© Red Rock Sedona Tours
Looking for a full-power, divinely-focused Sedona vortex experience?
This kind of tour is not for everyone, but if you think you'd like to be guided by people who have devoted their entire lives to spiritual studies and metaphysical evolution, consider these folks.
The owners, Iala and Akal, absolutely love what they do. They don't just give tours… they live these practices themselves. They have cultivated a highly intuitive way of being, and if you've got questions, they're kind, light-hearted, and also just plain educated.
Interested? Have a look at this video to see if you resonate with the vibe this company offers. Here's a virtual mini-tour of the Sedona vortex sites with guided suggestion.
Rates for Sedona vortex tours start at about $170 for 1.5 hours and up to 4 people.
Sedona Red Rock Tours
Sedona, AZ
928-282-0993
Click Here To See The Website.
Things To Do In Sedona - Top Sedona Hikes
Best Books For Hiking In Sedona
You can find all of these (with discounted prices) at Amazon.com.
Sedona's Top 10 Hikes
What Is A Vortex?
Sedona Hikes (130 Day Hikes)

By Richard and Sherry Mangum

Great Sedona Hikes (Published April 2010)

By William Bohan and David Bulter
You are the reason SedonaHappy.com exists, so we hope you'll accept our ATTITUDE of GRATITUDE for your interest in this site and in our beloved hometown. Enjoy hiking in Sedona!
Return to the MAIN HIKING SEDONA PAGE? Click here.
Or, jump to the MAIN SEDONA TOURS PAGE by clicking here.
SEDONA CAMPING? Click here for up-to-date info and savvy tips.
Interested in finding secluded SEDONA CABINS, near hiking trails in Oak Creek Canyon? Click here.
To go to the HOME page from Hiking In Sedona AZ page, click here.


The Real Sedona AZ
Red Rock Heaven On A Down-to-Earth Site
If you'd like to "share-it-forward," and help more people get this Sedona goodness, remember to mention this site to some people. Bookmark it. Share it. Fave it. Link to it. Keep this site growing strong! Thanks all.
Hiking In Sedona With A Guide
Our Visitors Are Our Motive and Our Power