Sedona Flights - 3 Ways To Enjoy Aerial Red Rock Sedona Views On Your Sedona AZ Vacation
Looking For Arrival Info? Click Here to See How to Fly Into the Area.
Red Rock Sedona and the surrounding regions offer a phenomenal variety of vistas from the air. There are over 100 different kinds of tours available, ranging from 15 minute local jaunts to full-day combo excursions.
Sedona tour rates start at about $70 per person for helicopter, sky safari planes. Bi-planes start at about $120.
All of these can be extended and/or combined with other kinds of adventures, and even customized according with your specific requests.
For example, you can enjoy a full day of off-roading and flying. Or combine Sedona AZ Grand Canyon tours, with a Skywalk experience, helicopter ride into the canyon, and a pontoon boat ride.
Because there are so many tours to choose from, we've created a series of simple pages that highlight the tours that stand out most according to feedback from Sedona AZ vacationers and locals.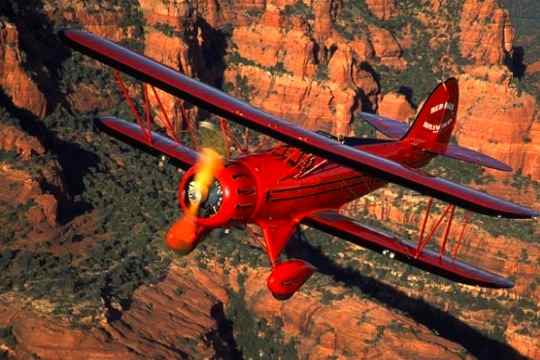 Local Bi-Plane Tour | Photo Courtesy of © Sedona Air Tours
Featured On This Page:
Bi-Plane Sedona Flights
Flying in a bi-plane means flying in open-air! You'll sit up front in a new reproduction model of a historical classic double-winged aircraft with an expert aviator guiding the plane from the seat behind.
Local Bi-Plane Rides by Sedona Air Tours
The Classic Tour
MOST AFFORDABLE
20 Minutes
$119 Per Person (for Two)
$190 For A Single Passenger
See:
Bell Rock
Chapel of the Holy Cross
Lee Mountain
Wilson Mountain
Mund's Canyon
Devil's Kitchen
And Thunder Mountain
The Mystic Canyon Tour
MORE SCENIC
30 Minutes
$149 Per Person (for Two)
$250 For A Single Passenger
See:
Broken Arrow
Chapel Rock
Bear Wallow Canyon
Mount Wilson
The Three Nuns Red Rock Formation
And the north, up Oak Creek Canyon
The Grand Adventure Tour
MOST SCENIC
45 Minutes
$199 Per Person (for Two)
$325 For A Single Passenger
See:
The Verde Valley
The Ghost Town Area of Jerome
The Former Sinagua Native American Cliff Dwellings
And EVERYTHING Else Listed Above
Reservations & Directions
Sedona Air Tours
Reservation required. All bi-plane adventures are arranged by contacting Sedona Air Tours.
Sedona Air Tours
1225 Airport Road, #14
Sedona, AZ 86336
928-204-5939 | 888-866-7433
Return to the MAIN SEDONA AIR TOURS page? Click here.
We hope you'll accept a big ATTITUDE of GRATITUDE for your interest in this guide and in our beloved hometown. YOU are the reason SedonaHappy.com exists.


The Real Sedona AZ
Red Rock Heaven On A Down-to-Earth Site
If you'd like to "share-it-forward," and help more people get this Sedona goodness, remember to mention this site to some people. Bookmark it. Share it. Fave it. Link to it. Keep this site growing strong! Thanks all.
Sedona Flights - Top Sedona AZ Tours
Our Visitors Are Our Motive and Our Power