---
BRIAR PATCH INN SEDONA CABINS In Sedona Arizona find serene retreats, romantic hideaways, and family fun. Sedona AZ vacation lovers share. Best places for creekside stays.
Photo © Briar Patch Inn
Briar Patch Inn Sedona
Quiet Creekside Cabins in Sedona AZ
The Briar Patch Inn - Fine Cabins On Oak Creek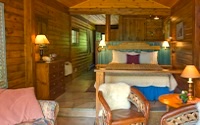 Creekside Grounds © Briar Patch Inn
Nestled into 9 lush acres, on the banks of Oak Creek, The Briar Patch offers 19 cabins. Some big enough for families, like the Ponderosa Cottage (pictured above) and others perfectly suited for two.
The Deck House (pictured at the right) is one of these romantic hideaway spots, perched on stilts over the creek.
Most of these have full kitchens. None of them have telephones. And only the three large cabins have (19") televisions. Overall, Briar Patch is a place to enjoy unspoiled retreat serenity with elegant style.
Briar patch in a great place for bird watching, wild life loving, and total peace and quiet.
Sedona Cabins - Sedona AZ Lodging Picks.
Unique Qualities
Almost all of these spaces offer wood burning fireplaces. There are a couple of cabins with fireplaces out on the patio! The décor is a wonderfully eclectic mix of Southwestern and Native American styles.
In the afternoons, you can enjoy the Briar Patch's offerings of cinnamon-cider or iced tea, depending on the weather, along with freshly baked cookies.
In the summer, locals make reservations in advance to join the guests of The Briar Patch Inn Sedona, for something that is already included with their stay: A creekside breakfast with excellent live classical music and sometimes, a bit of jazz.
Here, Maryanne Kremer-Ames and Allen Ames have delighted guests with their guitar and violin talents every year since 1989.
Sedona Cabins - Sedona AZ Lodging Picks.
Rates & Directions
Rates range from just over $200 - $300 per night, per couple. $25 extra per each additional person. There are two exceptional cottages also available for $395 per night, one of these has 4 bedrooms and can accommodate up to 9 people.
The Briar Patch Inn Sedona Cabins
3190 N Hwy 89A
Sedona, AZ 86336
928-282-2342 | 888-809-3030
Click Here To See The Website.
Book A Room Online? Click Here.
Sedona Cabins - Sedona AZ Lodging Picks.
We hope you'll accept a big ATTITUDE of GRATITUDE for your interest in this guide and in our beloved hometown. YOU are the reason SedonaHappy.com exists.


The Real Sedona AZ
Red Rock Heaven On A Down-to-Earth Site
If you'd like to "share-it-forward," and help more people get this Sedona goodness, remember to mention this site to some people. Bookmark it. Share it. Fave it. Link to it. Keep this site growing strong! Thanks all.
Briar Patch Inn Sedona AZ
Our Visitors Are Our Motive and Our Power