---
Garlands Sedona cabins are classic. Sedona bed and breakfast with gourmet dinner included. Unplugged retreat feel at these cozy cabins in Sedona AZ.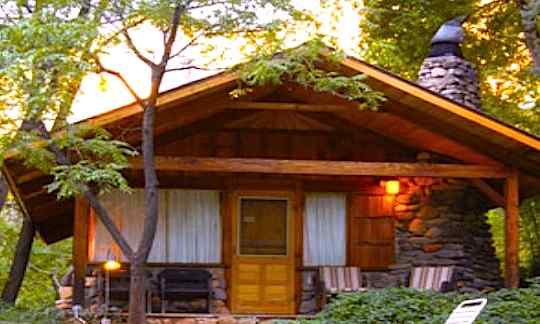 Photo © Garland's Lodge
Enjoying Oak Creek At Garlands Sedona Cabins…
In Sedona AZ Lodging Can Be A Treat For All The Senses
For more than 30 years, Gary and Mary Garland have loved to let guests feel at home in each of their 16 Sedona cabins. Locals love to recommend Garland's Lodge to friends and family who are looking for casually elegant simplicity and a totally "unplugged" Sedona AZ vacation.
Most cabins have wood burning fireplaces. Some have wide porches perched right on Oak Creek. But, you won't find telephones or televisions in these comfortable spaces.
As the buzz of a normal technology-saturated existence fades, you may just find your senses coming even more alive.
Connecting With Mother Nature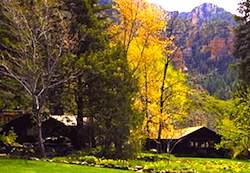 Photo © Garland's Lodge
You might wake to the sounds of the many
songbirds
around Garlands Sedona.
Breathe the sweet freshness of forest air hiking the Sedona trails.
Go for a stroll through their lovely nearby organic gardens, or through the grounds of the apple orchard.
Enjoy the serenity of the creek, maybe go fishing for rainbow trout, or have a picnic on the banks.
You might like to take a yoga class with a view, offered in the open-air pavilion throughout the week. Have an holistic facial or a massage.
Camaraderie and Delectable Treats for the Pallet
People come here to relax, enjoy the peaceful quiet, and to be energized and nourished by all things natural.
Loyal Sedona AZ vacation lovers return here again and again, for all these reasons… and for the warm hospitality, the kindred traveler-spirits, and so much more.
Perhaps, most especially though, people remember Garlands Sedona for the phenomenal food.
Included with every day of your stay here, you can enjoy:
Hearty breakfasts
Afternoon tea
AND four-course gourmet dinners
The restaurant is an absolute favorite of locals and visitors alike, offering sumptuously fresh dishes made with organic fruits and vegetables that are grown right on the property.
Reservations are necessary. And, for those who are not guests of Garland's, they can be kind of hard to come by.
Every dinner is a divine experience. A very intimate gathering, that starts out on the lawn with cocktails and conversation, then continues in the dining room when the dinner bell rings each evening at 7pm.
Notes & Prices
NOTE 1: If you love the food like we do, you can buy the delightful cookbook, Sharing the Table at Garland's Lodge, created by chef Amanda Stine and Mary Garland.
NOTE 2: Open Seasonally, from April - November. Closes from 12 noon on Sunday - 3 pm on Mondays (except Memorial and Labor Day).
PRICES range from about $250 - $300 per night, per couple. $65 additional for each additional guest.
Garland's Oak Creek Lodge
8067 N Hwy 89A
Sedona, AZ 86336
928-282-3343
Click Here To See The Website.
Book A Room Online? Click Here.
We hope you'll accept a big ATTITUDE of GRATITUDE for your interest in this guide and in our beloved hometown. YOU are the reason SedonaHappy.com exists.


The Real Sedona AZ
Red Rock Heaven On A Down-to-Earth Site
If you'd like to "share-it-forward," and help more people get this Sedona goodness, remember to mention this site to some people. Bookmark it. Share it. Fave it. Link to it. Keep this site growing strong! Thanks all.
Garlands Sedona Cabins
Our Visitors Are Our Motive and Our Power