Sedona Hot Air Ballooning - Views from Nearby Prescott National Forest
Arizona Balloon Works and Sky High Balloon Adventures
Why Fly Nearby? Should You Consider It?
For starters, have a look at the following photos… these folks don't seem disappointed at all. And, if you end up going with a Prescott Forest balloon flight, I don't think you'll be sorry either, but, let's start this story from the beginning.
3 Photos Above Thanks To © Arizona Balloon Works
Hot Air Ballooning Sedona
Only Two Give You A Close Up Red Rock Sedona View
Sedona hot air ballooning presents 4 possibilities. There are two Sedona AZ tours that fly directly over Red Rock Sedona. And there are another two companies that fly over adjacent Prescott National Forest. These offer wide panoramic vistas of Sedona AZ land from a distance.
Let me be perfectly clear here: If you fly with either of the two companies featured on this page, YOU WILL NOT FLY OVER THE RED ROCKS.
So, if you have your heart irreversibly set on a soaring directly above Sedona, click the following links:
Northern Light Balloon Expeditions (Our Favorite)

Red Rock Balloon Adventures (Another Good Choice)
But, hey, before clicking-onward…
You might be interested in…
…How Underdogs Do It Better!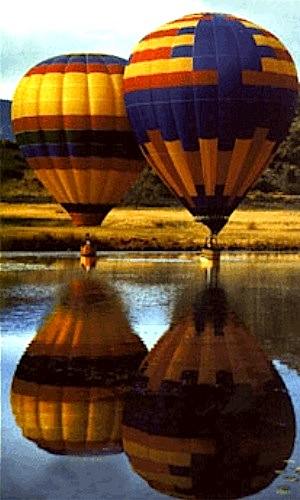 Signature © Sky High Balloon Adventures Splash 'n' Dash
Most of the folks that fly with these two "underdog" companies are absolutely thrilled with the experience.
Sedona hot air ballooning with these neighboring Sedona AZ tours, is amazing in its own way.
The vistas are wider, more open. And, you'll see the wildlife of Prescott National Forest, along with more water, and more of Northern Arizona in general.
It's all lovely, just different… you won't be seeing as much red.
More Stand Out Qualities
1. It's a bit more affordable (You can save $15 to $25+ per person)

2. You'll likely fly higher

3. There's a chance for a special Splash 'n' Dash* experience

4. The equipment is newer

5. There may be much less waiting
* Splash 'n' Dash (pictured above) is offered exclusively on the Prescott Forest tours, not over Sedona.
What is it? A mid-flight descent to the water, then, after a bit of gentle splashing, the pilot expertly guides you on another ascent.
Fun! But, also rare. Only 1 or 2 out of every 10 balloon rides is treated to the experience, depending on the wind and weather conditions.
Sedona Hot Air Ballooning - Fun Sedona AZ Tours
Which of These Two Is Best For You?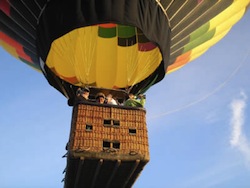 © Arizona Balloon Works
All of the benefits listed above are available with Arizona Balloon Works, making them our top pick for hot air ballooning Sedona outskirts.
Sky High Balloon Adventures is still a very good option, depending on your preferences.
The main differences between these two companies are the pick-up location and the waiting time.
If it's important for you to get a ride from your hotel, go with Sky High.
If you can conveniently meet Arizona Balloon Works at the West Sedona pick up location, Java Love Café (which is also a favorite local hang-out, by the way) then, this may be a better choice. They will have sent the crew ahead to prepare everything for you, meaning, you won't have to wait the 45 minutes to an hour that all of the other Sedona balloon rides require.
Verde Valley & Sedona Hot Air Ballooning
Rates & Reservations
Getting married? Both companies can host a heart-soaring and completely airborne wedding ceremony.
Both can also accommodate special privacy requests, like balloons reserved exclusively for couples or intimate group celebrations. These cost quite a bit more, but may be worth it for some.
Sky High Balloon Adventures
$180 per person in a shared basket.
105 Canyon Diablo Road
Sedona, AZ 86351
Reservations by Phone Only:
928-284-1760 | 800-551-7597
Includes Hotel Pick-Up
Arizona Balloon Works
Rates: $169 per person in a shared basket. Family discounts are available. Inquire with ABW for details.
928-399-9833 | 800-849-8026
Pick Up at Java Love Cafe
in West Sedona
Click here to return to the MAIN SEDONA BALLOON RIDES page.
We hope you'll accept a big ATTITUDE of GRATITUDE for your interest in this guide and in our beloved hometown. YOU are the reason SedonaHappy.com exists.


The Real Sedona AZ
Red Rock Heaven On A Down-to-Earth Site
If you'd like to "share-it-forward," and help more people get this Sedona goodness, remember to mention this site to some people. Bookmark it. Share it. Fave it. Link to it. Keep this site growing strong! Thanks all.
Sedona Hot Air Ballooning
Our Visitors Are Our Motive and Our Power