Sedona Balloon Rides - Flying Directly Over Red Rock Sedona - Favorite Sedona AZ Tours
Rise Up High... Let Yourself Soar Above Sedona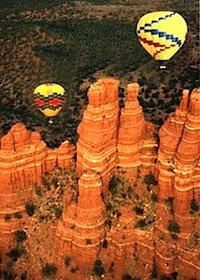 Photo © Red Rock Balloons
Red Rock Balloon Tours will whisk you away from wherever you are staying. The adventure begins just before the sunup, on a short pre-dawn drive to the launch site.
Just as the sun begins to rise, so will you, ascending high above Sedona. Bring your camera, if you like, to capture some unique shots of Red Rock Sedona vistas as the light changes their apparent colors and shapes, and the backdrop sky evolves into brighter and brighter blue hues. Wow!
You'll likely also see birds and wildlife, as you gently float along, since they are also early risers. Red Rock Balloons calls the experience an "Aerial Nature Walk."
You get the idea, yes? It's fun and maybe even inspiring. And it will likely energize the rest of your day as you continue to play, hike, shop, eat, and find more fun things to do in Sedona.
To get a eyeful of the kind of flying you can enjoy with Red Rock balloons, check out these sweet photos of Sedona balloon rides with them. Rumor has it: These guys go higher and get closer than anybody else.
Hot Air Ballooning Sedona In True Red Rock Style
All Photos On This Page Thanks To
© Red Rock Balloon Adventures Sedona AZ
Notes, Rates & Reservations
Red Rock Balloons is one of only two Sedona tour companies that have the necessary permit to fly directly over Red Rock Sedona AZ land.
Currently, rates are $195 per person for a shared basket. You can arrange a private tour for an additional fee, which is pretty steep for two, but, for larger parties, it may work out to an overall discounted price. Inquire with Red Rock Balloons for more info.
Getting married in Sedona? For $2500, you can host a very intimate and awe-inspired party of up to 6 people. Have a completely airborne wedding ceremony and when you're back on Sedona AZ land, you can enjoy a lovely celebratory gathering, complete with wedding cake. How romantic!
Red Rock Balloons
105 Canyon Diablo Road
Sedona, AZ 86351
Reservations by Phone Only:
928-284-1760 | 800-258-3754
Includes Hotel Pick-Up
Click here to go to the MAIN SEDONA BALLOON RIDES page.
We hope you'll accept a big ATTITUDE of GRATITUDE for your interest in this guide and in our beloved hometown. YOU are the reason SedonaHappy.com exists.


The Real Sedona AZ
Red Rock Heaven On A Down-to-Earth Site
If you'd like to "share-it-forward," and help more people get this Sedona goodness, remember to mention this site to some people. Bookmark it. Share it. Fave it. Link to it. Keep this site growing strong! Thanks all.
Sedona Balloon Rides
Our Visitors Are Our Motive and Our Power