---
Rene at Tlaquepaque is a long time Sedona restaurants favorite. Locals and visitors share insight. Menu samples, prices, signature dishes, directions.
René at Tlaquepaque Sedona
Serving Continental fare and classic American dishes, there's a French inspiration to be enjoyed here, along with a delightful touch of Southwestern charm.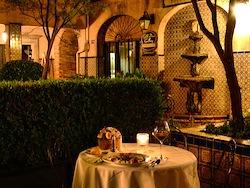 René © Vibhas Kendzia
René at Tlaquepaque balances a true sophistication with a friendly, down-to-earth vibe.
The house specialty is rack of lamb, and Fodor's adds, "the tender antelope in juniper sauce is a worthy competitor. Service is formal, as befits the room and menu, but you won't feel uncomfortable if you come in your shopping duds."
Open since 1977, René is another long-time local favorite. And so is the owner. The lovely Deborah Leatherwood is present and available to offer her effortless and joyful hospitality. Your experience here will likely continue as a wonderful memory long after you've savored your meal. Perhaps, with the vibrantly sweet ending… of René's cherries jubilee.
Locals have voted this Sedona restaurant "the best place to celebrate a special occasion."
Dinner entrées range from about $20 to $40. Wine Spectator Award for Excellence. Reservations? Yes.
René at Tlaquepaque Sedona
336 Hwy 179
Sedona, AZ 86336
928-282-9225
We hope you'll accept a big ATTITUDE of GRATITUDE for your interest in this guide and in our beloved hometown. YOU are the reason SedonaHappy.com exists.


The Real Sedona AZ
Red Rock Heaven On A Down-to-Earth Site
If you'd like to "share-it-forward," and help more people get this Sedona goodness, remember to mention this site to some people. Bookmark it. Share it. Fave it. Link to it. Keep this site growing strong! Thanks all.
Sedona AZ Vacation Guide - Rene
Our Visitors Are Our Motive and Our Power