---
Reds Restaurant is a favorite among Sedona restaurants. Locals gather here often. The food and ambience make for many loyal return to Sedona Rouge.
REDS Restaurant at Sedona Rouge Hotel and Spa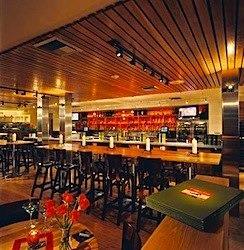 Photo © Sedona Rouge Hotel
Locals love REDS. This stylish bistro and bar has become something of a local "hang out" spot for appetizers and cocktails. Here, you'll find a casually sophisticated vibe.
Ron Moler, like Dahl & DiLuca, is another chef whose recipes have been influenced significantly by the elder women in his family. He learned to cook from his mother and grandmother, and his dishes, while markedly gourmet, are also a kind of soul nourishing "comfort food."
REDS is known for a menu of American fare, complemented by an extensive wine list. For a taste adventure, try the mussels & chorizo, or savor the natural wagyu beef. Vegetarian? You will be delighted by the vegetable spanakopita.
Dinner entrées range from about $18 to $32. Reservations? Yes.
REDS at Sedona Rouge Hotel and Spa
2250 W Hwy 89A
Sedona, AZ 86336
928-304-5321

More info on Sedona Rouge Hotel and Spa? Click here.
We hope you'll accept a big ATTITUDE of GRATITUDE for your interest in this guide and in our beloved hometown. YOU are the reason SedonaHappy.com exists.


The Real Sedona AZ
Red Rock Heaven On A Down-to-Earth Site
If you'd like to "share-it-forward," and help more people get this Sedona goodness, remember to mention this site to some people. Bookmark it. Share it. Fave it. Link to it. Keep this site growing strong! Thanks all.
Sedona Restaurants Guide - Reds at Sedona Rouge
Our Visitors Are Our Motive and Our Power