Weather Sedona Arizona Monthly Average Sunrise Times and Sunset Times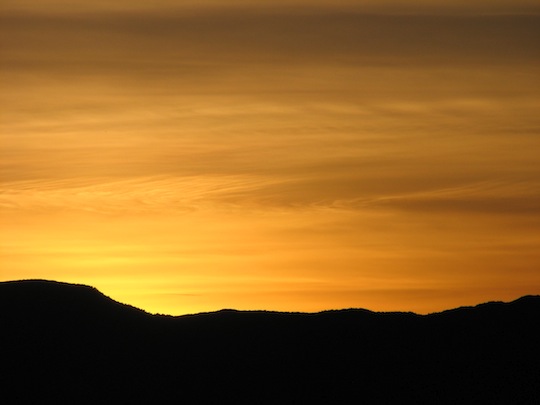 Silhouetted Red Rock Sedona - Golden Sky © Tara Golden
Jump To:
Current Conditions & Forecast | Average Monthly Temperatures

Main Sedona Arizona Weather Overview Page

Sedona Sunrise & Sunset Times
Month
Sunrise
Sunset
January
7:32
5:31
February
7:25
5:59
March
6:58
6:25
April
6:17
6:48
May
5:40
7:11
June
5:20
7:38
July
5:22
7:42
August
5:40
7:28
September
6:02
6:55
October
6:22
6:33
November
6:46
5:37
December
7:14
5:20
Do you have a favorite sunset spot? Did you have a fantastic sunrise or sunset view from where you stayed?
Other visitors to this site would love to hear about it what you've enjoyed during your Sedona AZ vacation. Click here to email us your suggestion and comments.
Or… If you'd like to share a story… or show off a picture, you can do that by filling out this nifty little form.
NOTE: We respect your option for privacy, so, don't have to give us your email address if you don't want to.
And, if you like, can get you're own full page on this site, anonymously, or with full credit. Your choice.
Share YOUR Happy Sedona Story
Your Favorite Sedona Lodging, Food, People, Places? We'd love to hear about it... and
see
about it...
So, if you've got Sedona Arizona photos to show off and stories to tell, here's where to do it. Post it all here, and we'll give you
your very own page
on this site.
See What Other Visitors Have Said About This Post
Following, you can see how others have shared. Helpful, Inspiring, Funny? Let's see...



Winter In Sedona Not rated yet
....................................................................................................
We hope you'll accept a big ATTITUDE of GRATITUDE for your interest in this guide and in our beloved hometown. YOU are the reason SedonaHappy.com exists.


The Real Sedona AZ
Red Rock Heaven On A Down-to-Earth Site
If you'd like to "share-it-forward," and help more people get this Sedona goodness, remember to mention this site to some people. Bookmark it. Share it. Fave it. Link to it. Keep this site growing strong! Thanks all.
Weather Sedona
Our Visitors Are Our Motive and Our Power