---
Los Abrigados Resort and Spa: Reviews and Full Sedona Hotels Guide. Get tips from locals and visitors on the sweetest Sedona lodging finds, including views, location, rates, amenities, what is nearby.S
NOTE: Los Abrigados Resort Sedona, The Inn, and Los Abrigados Lodge, are timeshare "ownership" destinations.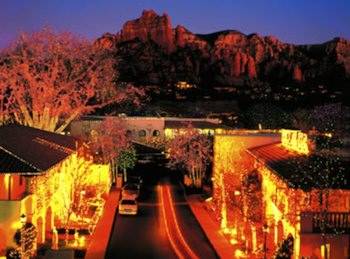 Photo © ILX Resorts
If you're a family, and considering vacation ownership, this is highly recommended.
If you're just looking for a high quality Sedona AZ vacation for an affordable price, this is a creative way to get it.
If you're not looking invest, and can't stand the idea of a sales pitch, this is not for you.
That being said, among the many timeshares among Sedona Lodging, Los Abrigados Resort and Spa is our absolute favorite for families.
What You Can Expect Los Abrigados Sedona
Top Sedona Resorts
Expect lots of family fun! And… maybe some romance…
Los Abrigados Sedona offers 185 Suites on 22 acres, perfectly positioned right on the banks of Oak Creek with some sweet Red Rock views. Here, you'll find ambling walkways, fountains, hidden nooks, and a sculpture garden.
Los Abrigados is a popular wedding and banquet location too. It has 2 onsite restaurants, including a definite local favorite, Joey Bistro where you'll be warmly welcomed, and likely remembered by name if/when you return. Joey Bistro serves up excellent, fresh Italian dishes and divine desserts.
The most basic accommodations include: A large patio / balcony, at least 550 square feet of living space, 2 large televisions, and a mini-kitchen.
Upgrades include 710 - 900 square feet, full kitchens, 2 full bathrooms, and 3 televisions. Plus your own private washer and dryer.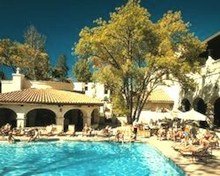 Photo © ILX Resorts
There are also 3 free standing houses (1200 - 1800 sq. ft.) with fireplaces and beds for up to 6. One has a jacuzzi in the master bedroom.
There's a good full service, onsite Sedona spa. Two swimming pools, one with a bar, and one for kids (nice touch!).
Plus, creekside miniature golf, tennis courts, basketball court, fitness center. Barbecues and bocce ball. There's even a little farmer's market! And good meeting and banquet facilities too.
Price, Tip, Note & Directions
Favorite Sedona Hotels
COST: For first-time visitors, here's the deal: You allow Los Abrigados Resort and Spa the opportunity to try to convince you to buy. In exchange, you'll receive something like this: $99 per night for up to four people. Plus, you'll get a $100 credit to spend on gas, onsite restaurants, or their spa.
TIP: I've heard of savvy net surfers finding 2 nights at Los Abrigados Resort and Spa for as little as $40. You might have to hunt a bit, but it may be worth your while. I'd try eBay first.
The cost for owners varies and is determined at the time of the initial arrangement. A good "ballpark" range is 1 week for $700 to $950.
NOTE: SedonaHappy.com does NOT accept any payment for inclusions, like this one, on our Picks Lists. This is our way of always "keeping it real," on this site.
Los Abrigados Resort and Spa Sedona
160 Portal Lane
Sedona, AZ 86336
928-282-1777 | 800-521-3131
Click Here To See The Website.
Book A Room Online? Click Here.
Standout Sedona Resorts
We hope you'll accept a big ATTITUDE of GRATITUDE for your interest in this guide and in our beloved hometown. YOU are the reason SedonaHappy.com exists.


The Real Sedona AZ
Red Rock Heaven On A Down-to-Earth Site
If you'd like to "share-it-forward," and help more people get this Sedona goodness, remember to mention this site to some people. Bookmark it. Share it. Fave it. Link to it. Keep this site growing strong! Thanks all.
Los Abrigados Resort and Spa Sedona AZ
Our Visitors Are Our Motive and Our Power