---
Resorts In Sedona Arizona. Unique qualities and insider tips from locals and Sedona AZ vacation lovers. Find your kind of heavenly Sedona Resorts. Featured on this page is one of our Sedona lodging favorites for families and adventure travelers: Red Agave Resort.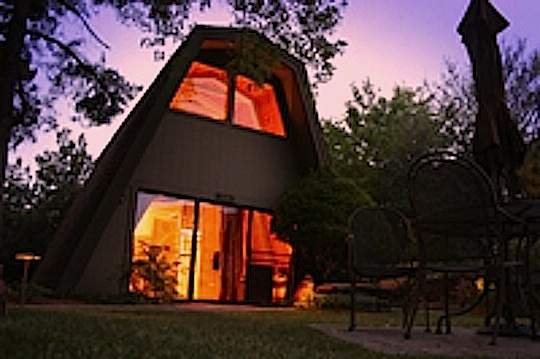 Chalet © Red Agave Resort
Red Agave Resort Is Simply Charming.
A Unique, Family Friendly, Fun Resort
Sedona Hotels We Love
Red Agave is one of our favorite Sedona resorts for people (especially families) looking for an easy-going, more affordable way to enjoy unique Sedona resorts accommodations with the kind of astounding views that usually go for higher premium elsewhere.
The 9 A-Frame Chalets are simply charming… the only ones of their kind in all Sedona. With open loft-style bedrooms, and space for up to four people. And the family dog if you like.
Among the many resorts in Sedona Arizona, this one is a stand out for its location, nearby attractions, and fun vibe. It's also a place where mountain bikers, hikers, rock climbers and other adventure travelers like to stay.
Onsite, there are grills, a small pool, and a jacuzzi. The fire ring is popular with guests. You can enjoy outdoor evening warmth of open flames, and story-swapping with other Sedona AZ vacation lovers. Or find your quiet spot and relax while the kids play together.
During the day, you can walk a few steps from your chalet door through Red Agave's private gate that leads to some excellent Sedona hiking trailheads.
If you're looking for "posh" this is not the place. There's nothing particularly designer about the interiors. They are comfortable and clean, and include full kitchens and flat screen televisions. There's also Wi-Fi throughout this Sedona resort.
The cost per night, per couple is about $200. If you're a party of 1 or 2, and don't mind having to walk a few steps outside for your view, you can save $100 per night by staying in one of the 5 studios.
Red Agave Resort
120 Canyon Circle Dr
Sedona, AZ 86351
928-284-9327 | 877-284-9237
Click Here To See The Website.
Book A Room Online? Click Here.
Favorite Sedona Hotels For Families & Adventure Travelers
We hope you'll accept a big ATTITUDE of GRATITUDE for your interest in this guide and in our beloved hometown. YOU are the reason SedonaHappy.com exists.


The Real Sedona AZ
Red Rock Heaven On A Down-to-Earth Site
If you'd like to "share-it-forward," and help more people get this Sedona goodness, remember to mention this site to some people. Bookmark it. Share it. Fave it. Link to it. Keep this site growing strong! Thanks all.
Resorts In Sedona Arizona - Red Agave
Our Visitors Are Our Motive and Our Power