---
HILTON SEDONA RESORT Spa lovers, Golfers, Couples and The Girls.. can all enjoy a magical Sedona AZ vacation here. A favorite pick among Sedona hotels and one of the most popular Sedona resorts.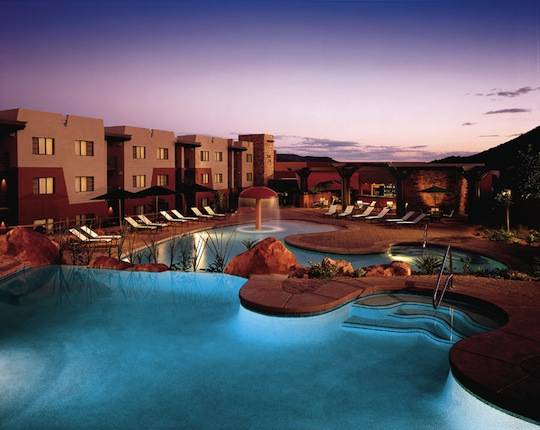 Photo Courtesy of © Hilton
Sedona Hotels - Standout Sedona Resorts
Hilton Sedona Golf Resort & Spa
Photo © Hilton
The Hilton in Sedona AZ offers 219 Rooms and Suites directly adjacent to stunning Red Rock formations and the perfectly manicured emerald greens of nearby Sedona Golf Resort.
This property is also home to one of our Top Sedona Spas Picks.
Every room includes: A private patio / balcony, a fireplace, and a flat screen television. Basic accommodations are 350 - 400 square feet.
Available upgrades include: Suites with separate living rooms, 2 flat screen televisions, and wet bars. These range in size from about 580- 680 square feet. Some rooms with a jacuzzi in the bedroom area.
There's a good onsite restaurant, The Grille at Shadow Rock. And, if you enjoy Italian and Mediterranean cuisine, be sure to dine at nearby Dahl & DiLuca Cucina Rustica. There's also a poolside café.
The onsite spa is divine and the facilities are huge, including 3 swimming pools, and a full fitness center with racquetball, and tennis courts. Plus an onsite salon.
This is a perfect place for girl getaways or romance on a Sedona AZ vacation.
The Hilton Sedona Resort Spa also offers the largest total function space in the area, for meetings, ballrooms, and banquets. And, of course, wonderful wedding parties.
Great Golf & A Top Sedona Resort and Spa
Sedona Golf Resort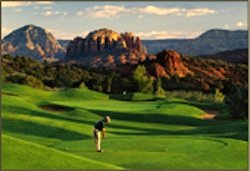 Photo © Hilton
As a guest of Hilton Sedona, you will be steps near the renowned Sedona Golf Resort, an 18 hole championship course that is on just about everybody's "best of" and "top" lists.
Golf Digest continuously rates it with 4 stars. It's also rated as one of the top public courses in the country, though, it feels like your own private and vibrant sanctuary.
The views are absolutely brilliant. Especially at the 10th hole. You might like to have a camera handy.
Bird Golf School hosts multi-day in-depth instructional courses here too. Whether you take a lesson or not, you might happen upon some real golf "heavies," including PGA Masters and US Open Champions.
Favorite Sedona Resorts & Hotels
Prices & Directions
If you already know and trust Hiltons, you are in for an extra treat. Here's everything you expect, plus a two stand outs among Sedona spas and golf courses… all with views that are as beautiful as your wildest dreams. Maybe even beyond.
Prices range from about $200 - $280, per night, per couple.
Hilton Sedona Resort Spa & Golf
90 Ridge Trail Dr
Sedona, AZ 86351
928-284-4040 | 877-273-3762
Click Here To See The Website.
Book A Room Online? Click Here.
Sedona Hotels - Favorite Sedona Resorts
We hope you'll accept a big ATTITUDE of GRATITUDE for your interest in this guide and in our beloved hometown. YOU are the reason SedonaHappy.com exists.


The Real Sedona AZ
Red Rock Heaven On A Down-to-Earth Site
If you'd like to "share-it-forward," and help more people get this Sedona goodness, remember to mention this site to some people. Bookmark it. Share it. Fave it. Link to it. Keep this site growing strong! Thanks all.
Hilton Sedona Resort Spa
Our Visitors Are Our Motive and Our Power