Coconino National Forest - Hiking Sedona - Camping - Red Rock Pass - Sedona Map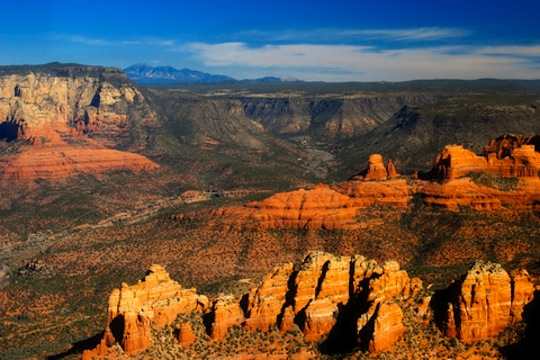 Photo © DB Peterson
Skip the into? Click here to jump to contact info and driving directions.
Lots of folks, not just USA Today, consider Sedona AZ land "the most beautiful place in America."
And The Red Rock District of Coconino National Forest is devoted to keeping it that way.
What these folks accomplish often goes unnoticed. But, goodness, it is so very, very significant to the preservation of the natural wonders that draw about 4 million visitors to the area, each year. "High impact?" That's an understatement.
If you're interested in more specifics about what they do, click the link to their site at the end of this page. The short description? Preservation, conservation, maintenance, creation, rehabilitation and information. Whew!
Looking for info on hiking in Sedona?
Click here for our overview and our top 5 favorite Sedona hikes.
Why Visit the National Forest Service Center?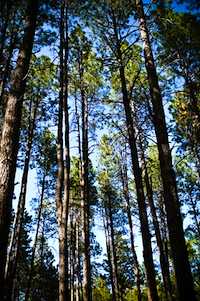 © Dimitrii
All this makes it possible for Sedona AZ vacation lovers and locals to effortlessly experience a multitude of natural amazements.
Here's a look at how you can benefit from visiting the Service Center in the Village of Oak Creek.
The most common reason people stop at the Service Center is to buy a Red Rock Pass (click for more info), which is required for parking at the many Coconino National Forest areas.
But, then, once they're there, visitors are often extra-impressed by the new facility, which sports Red Rock views from its large windows, and, also, the wonderfully friendly, in-person, expert info that's available.
This Visitor Center is a great resource for getting to know the natural side of Sedona, and finding more out about the things you can enjoy, when you visit Sedona AZ land.
Resources & Ideas
© J Semmelman
You can get info on the area's archaeology, botany, historically significant Native American sites, wildlife, and geology.
Get advice for how to stay safe and be fully prepared, as you venture out into the magnificent Red Rocks and Coconino National Forest areas.
If you have specific questions, like which hikes to do during a short stay, or perhaps, about the levels of difficulty or ease and the lengths of trails, the staff will offer you excellent insights and opinions.
Which trails are best for hiking, mountain biking, horseback riding? They'll let you know. And, you can also find out which areas you can explore with your own vehicle, and which ones are so thrillingly bouncy, you'll enjoy them more with one of the local Sedona Jeep tours.
There's also some useful free stuff, like a the basic (but good) guide to Sedona hikes and the Sedona hiking trails map.
You can also buy more sophisticated maps there, if you like. Plus select books and other items of relevant interest.
Contact Info & Directions
© Red Rock District National Forest Ranger's Station
US Forest Service
Red Rock District
Coconino National Forest
8375 State Route 179
Sedona, AZ 86351 (VOC)
928-282-4119
Click Here To See The Website.
NOTE: Formerly located on Brewer Rd. Here's how to find the current location:
We hope you'll accept a big ATTITUDE of GRATITUDE for your interest in this guide and in our beloved hometown. YOU are the reason SedonaHappy.com exists.


The Real Sedona AZ
Red Rock Heaven On A Down-to-Earth Site
If you'd like to "share-it-forward," and help more people get this Sedona goodness, remember to mention this site to some people. Bookmark it. Share it. Fave it. Link to it. Keep this site growing strong! Thanks all.
Coconino National Forest - Red Rock Sedona
Our Visitors Are Our Motive and Our Power