Sedona Car Rentals With Style - A Variety of Ways To Explore Sedona AZ Land and Scenery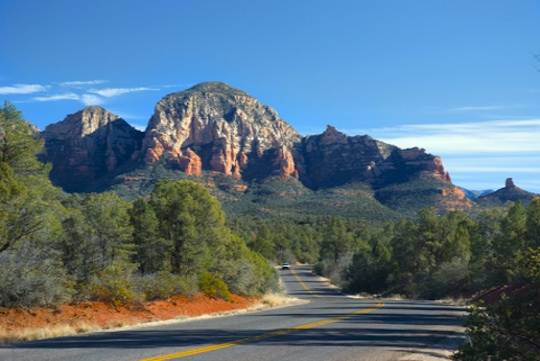 Photo © Tose
Glorious Sedona AZ land... it's an evergreen high desert forest where the simple act of "getting around" can become a spontaneous adventure. The views are astounding from everywhere around here. So, naturally, all this Red Rock Sedona splendor makes for fun explorations.
Unique Ways To Enjoy The Ride
You'll find the full range of local car rental and unique alternative transport possibilities. Plus, a directory of service providers we know and trust. Like the one featured on this page.
Have You Considered Motoring Around Sedona On A Moped?
We Love Scoot Around Sedona Rentals
Here's a local stand out offering we highly recommend: Family owned and operated…
Scoot Around Rentals
We love this place for its easy-going and reliable service, and especially, for the fun selection of mopeds. They come in every color of the rainbow, with a full range of engine sizes and types.
What a great idea!
Inspired by an Italian vacation years ago, the owners, Mark and Jill, decided to offer Sedona AZ vacation lovers (and locals) some…
budget friendly

fuel efficient

eco-friendly

and super cool
…ways to get around.
You can find everything from classic Vespas to Kawasakis. Plus electric and gasoline powered bicycles. And lots more.
You can even rent full-power off-road-ready Jeeps and quads.
Meet these folks and you'll see… they love what they do. My personal experience with them has been awesome.
They're ready share their friendly in-the-know insights with you so you can drive, bike, or scoot well on your way to discovering the parts of Sedona that offer the best views and vibes.
Ask them how to find the sweetest spots. They know. Find your kind of Sedona AZ vacation fun. From the bumpiest, bone-rattling off-road trails, to the most visually stunning and easy-riding paved ways… however you do it… enjoy the ride!
Contact Info & Directions
Scoot Around Rentals
2900 W Hwy 89A
Sedona, AZ 86336
928-282-7529
Click here to return to the Directory of Transport Rental Providers on the Main Sedona Auto Rental page
We hope you'll accept a big ATTITUDE of GRATITUDE for your interest in this guide and in our beloved hometown. YOU are the reason SedonaHappy.com exists.


The Real Sedona AZ
Red Rock Heaven On A Down-to-Earth Site
If you'd like to "share-it-forward," and help more people get this Sedona goodness, remember to mention this site to some people. Bookmark it. Share it. Fave it. Link to it. Keep this site growing strong! Thanks all.
Sedona Car Rentals - Scoot Around & More
Our Visitors Are Our Motive and Our Power