Sedona Rouge Hotel and Spa - Finest Lodging Sedona AZ - Sedona Resorts - Top Sedona Arizona Hotels Picks
Sedona Rouge... Divine?
© Sedona Rouge Hotel and Spa
I say, YES. And, depending on how you see it, perhaps in many ways. But certainly in this regard:
Sedona Rouge Hotel feels like the finest of Sedona Resorts. This is one place where your lodging in Sedona is more than just a place to stay…
Sedona Rouge aims to nourish your spirit, as well as your body, and of course, your Sedona AZ vacation experience. And, without being intrusive, I'd say they're accomplishing this goal, one stay at a time.
But don't just take it from me…
About Sedona Rouge, Deepak Chopra says, "My rooms and accommodations were fantastic, but more importantly, it was great to see a resort that has so successfully implemented consciousness based principles in both the business and wellness aspects…"
Lovely, Inside and Out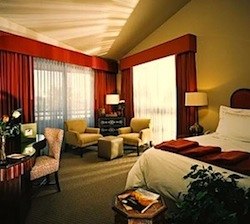 Photo © Sedona Rouge Hotel
Sedona Rouge is sophisticated. The design sense elegantly balances the colorfully-ornate with the high-quality simplicity.
I daresay the décor appears divinely inspired. It's certainly warm, bold, and luxurious.
There are 77 guest rooms, some of which are spa suites, with large soaking tubs in the living area.
All the 2nd and 3rd floor rooms the bathrooms have separate walk-rain showers, with dual shower heads. And some rooms also have fireplaces.
All the beds… goodness, these heavenly beds… are a call to complete and utter relaxation, with crisp white satin-stitched linens, goose down comforters, and rich red lambswool throws.
Also, every room also has a 32" flat screen television, Wi-Fi, and a small fridge.
Abundant Amenities
The onsite restaurant and lounge bar, REDS, is a local favorite for appetizers and happy hour. Can modern American comfort food can be healing? This is what Reds serves, gourmet style. There's a cozy outdoor bamboo-garden seating area too.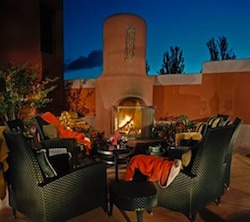 Photo © Sedona Rouge
The Spa at Sedona Rouge is also one of our Top Picks. It's a place for pampered rejuvenation, healing, and bold empowerment.
You'll find a range of alternative therapies and all the traditional modalities, here, with organic products, so pure, you could eat them.
Some real standout qualities of Sedona Rouge Hotel and Spa?
Daily JoYoga instruction, currently offered by renowned yogini, Iala. Deepak Chopra designed, SynchroDestiny™ retreat offerings, and Lifestyle Center of America™ programs. You can even find "conscious nutrition" guidance here.
There's also a a heated swimming pool, a lovely observation terrace. It's great for Red Rock Sedona scenery and star gazing. My favorite spot is the cozy outdoor seating area next to a big fireplace.
Notes & Directions
Tip: Choose a north-facing room, to get a sweet view of Thunder Mountain, Sedona highest Red Rock peak. The location is also central to lots of things to do in Sedona.
Some ground floor rooms welcome your pet. Sedona Rouge shares a partnership agreement with the Bird Golf School, at Sedona Golf Resort.
Room rates range from about $200 - $300, per night per couple.
Sedona Rouge Hotel and Spa
2250 W Hwy 89A
Sedona, AZ 86336
928-203-4111 | 866-312-4111
Click Here To See The Website.
Book A Room Online? Click Here.
Find What You're Looking For? There's Lots More:
Sedona Resorts | Sedona Cabins

Sedona Bed and Breakfast | High-End Hotels In Sedona

Motels, Inns & Discount Hotels Sedona | Name Brand Ways To Stay

Sedona Arizona Vacation Homes | Main Sedona Lodging Overview

List of All Top 5 World Class Sedona Accommodations
You are the reason SedonaHappy.com exists, so kindly accept our ATTITUDE of GRATITUDE for your interest in this site and in our beloved hometown.
Looking for THINGS TO DO IN SEDONA? Click here for our Top 10 Tips.
Or, get the visual story for the kinds of things you can see and do in Sedona pictures: SEDONA ARIZONA PHOTOS, a slide show!
To go to the HOME page from Sedona Rouge Hotel and Spa page, click here.


The Real Sedona AZ
Red Rock Heaven On A Down-to-Earth Site
If you'd like to "share-it-forward," and help more people get this Sedona goodness, remember to mention this site to some people. Bookmark it. Share it. Fave it. Link to it. Keep this site growing strong! Thanks all.
Sedona Rouge Hotel and Spa
Our Visitors Are Our Motive and Our Power