Sedona Arizona Maps - Sedona Trolley Tour Route
This Sedona Map page shows the route for Sedona Trolley's, SEVEN CANYONS tour. For $12, you can enjoy a one hour, expertly narrated ride.
There are two kinds of Sedona Trolley tours. Both offer phenomenal views, and give great ideas for Things To Do In Sedona during your visit.
Note: Did you know? Sedona AZ offers a non-narrated, but FREE RoadRunner Trolley service too.
Jump To ALL SEDONA AZ MAPS Page?
SEDONA ARIZONA MAP of SEVEN CANYONS Trolley Tour Route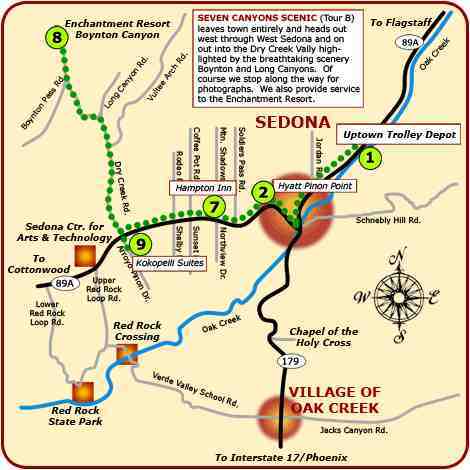 © Sedona Trolley
The Seven Canyons tour takes you west, to the quieter side of things. There's a stop at Enchantment Resort (one of our top sedona lodging picks) in Boynton Canyon, near a famous Sedona Vortex spot.
You'll be visiting what is believed to be sacred earth, and an energetic healing place. The area certainly offers stunningly beautiful vistas.
The other tour, HIGHLIGHTS, will introduce you to the livelier side: The Galleries District, some great Sedona restaurants, and Tlaquepaque, a place for some of the best Sedona AZ Shopping.

Looking for SEDONA LODGING insights? Click here. Real, down-to-earth people "share-it-forward" here, with in-the-know tips and reviews.
Or, let's talk about the weather: Sedona monthly averages, detailed charts, current conditions, and the forecast… plus seasonal Sedona pictures. SEDONA ARIZONA WEATHER GUIDE.
Click here to go to the HOME page from this Sedona Arizona Maps - Sedona Trolley page.
You are the reason Sedona-Happy.com exists, so thank you kindly for your interest. Here's wishing you a wonderful journey.


The Real Sedona AZ
Red Rock Heaven On A Down-to-Earth Site
If you'd like to "share-it-forward," and help more people get this Sedona goodness, remember to mention this site to some people. Bookmark it. Share it. Fave it. Link to it. Keep this site growing strong! Thanks all.
Sedona Map Collection - Trolley Routes
Our Visitors Are Our Motive and Our Power