---
Map of Sedona Trolley Routes, Sedona Camping Sites, Sedona Hiking Trails, and More. A great series of easy-to-use Sedona Arizona Maps. GPS, Turn by Turn Directions, Scenic Areas, Arrivals. Featured Here: Sedona Trolley HIGHLIGHTS - Sedona Tours.
Map of Sedona Trolley HIGHLIGHTS Route
This Sedona AZ maps page shows a Sedona Trolley service route, one of many affordable ways to get oriented when you first arrive in Sedona. The Trolley offers two narrated tours.
Each lasts about an hour and costs $12. Here's a great way to enjoy Red Rock views and get ideas for Things to Do in Sedona during your visit.
Sedona Arizona Maps. Sedona Map Series. Sedona Trolley.
Sedona Trolley HIGHLIGHTS Tour Route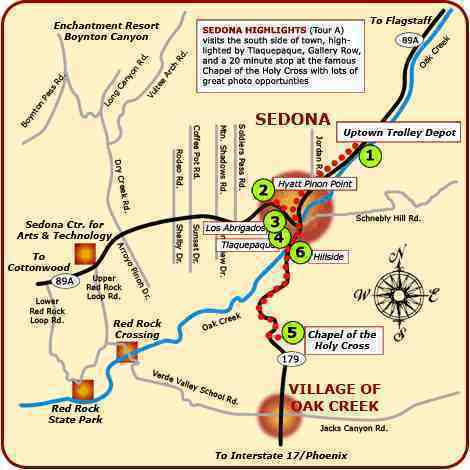 © Sedona Trolley
See the Sedona Map of the SEVEN CANYONS Trolley tour, by clicking here.
Sedona AZ offers a FREE RoadRunner Trolley service too. Extra note: This Trolley offers free service to ALL participating Sedona Art Galleries during the monthly First Friday Events.
If you haven't seen it yet, you can click here for the Sedona Trolley Overview, including SCHEDULES.

Thanks for the interest in our beloved hometown. Sedona-Happy.com aims to inform and inspire you with a little in-the-know guidance, so you can easily find your own kind of best Sedona experiences.
Wondering about the weather? Sedona monthly averages, detailed charts, current conditions, and the forecast… plus seasonal Sedona pictures. SEDONA ARIZONA WEATHER GUIDE.
See a list of the most popular SEDONA AZ TOURS? Click Here.
Click here to go to the HOME page from this Map of Sedona Trolley Route page.


The Real Sedona AZ
Red Rock Heaven On A Down-to-Earth Site
If you'd like to "share-it-forward," and help more people get this Sedona goodness, remember to mention this site to some people. Bookmark it. Share it. Fave it. Link to it. Keep this site growing strong! Thanks all.
Sedona Trolley Route Map
Our Visitors Are Our Motive and Our Power