Wildflower Inn Sedona Arizona Hotels - In Sedona You Can Find Nice Amenities, Even On A Budget
Bell Rock Sedona © Grombo - Wikipedia Commons
Wildflower Sedona - High Value at A Nice Low Price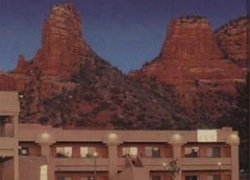 Photo © Wildflower Sedona
Technically, the Wildflower Inn Sedona is a motel, meaning, your room door is accessed from outside the building, not from a hallway.
That being said, everything else about the Wild Flower feels like hotels in Sedona AZ.
Rooms have flat screen televisions, organic bath products, down comforters.
The décor is basic, but good quality. There's a sweet love seat and a mini-fridge. And, you can to upgrade your stay for $20 to $30 additional for one of their rooms with a jacuzzi or with a (gas) fireplace.
Photo © Wildflower Sedona
Onsite, there's a guest laundry room facility. Plus Wi-Fi throughout.
With your stay each day, a very good continental breakfast is included.
The Wild Flower Inn is located in Village of Oakcreek, about three minutes from Bell Rock (pictured at the top of this page).
Note: The rooms have views, but NOT from private balconies or patios. There is a very simple communal viewing deck with a fire pit.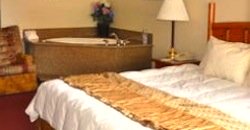 Photo © Wildflower Sedona
Rates range from $70 to about $100 per couple, per night.
Pets are welcome here. Smoking is not (well, parking lot smokers are tolerated).
Wild Flower Inn Sedona
6086 Hwy 179
Sedona, AZ 86351
928-284-3937 | 888-494-5335
Click Here To See The Website.
Book A Room Online? Click Here.
We hope you'll accept a big ATTITUDE of GRATITUDE for your interest in this guide and in our beloved hometown. YOU are the reason SedonaHappy.com exists.


The Real Sedona AZ
Red Rock Heaven On A Down-to-Earth Site
If you'd like to "share-it-forward," and help more people get this Sedona goodness, remember to mention this site to some people. Bookmark it. Share it. Fave it. Link to it. Keep this site growing strong! Thanks all.
Wildflower Inn Sedona AZ
Our Visitors Are Our Motive and Our Power