We Love The Wildflower
by Anne and Doug
(Las Vegas, Nevada)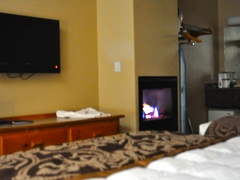 Loved staying here at the Wildflower in Sedona.

The service was great. We love the area. It's so beautiful.

The room was way better than we expected for the money. Nice bedding, a little couch, a flat panel tv, and an interesting little fireplace hung on the wall like a picture. Great value.

Doug came for the hiking and I came for the scenery and outlet shopping, but it turned out to be a very romantic vacation for us too. We would definintely stay here again.

Thank you to Wildflower for making our vacation so great and thank you for this excellent website.
Join in and write your own page! It's easy to do. How? Simply click here to return to Share YOUR Happy Sedona Story.