Sky Ranch Lodge - Budget Sedona Arizona Hotels With Real Charm - Top Discount Hotels Sedona
Photo © Sky Ranch Sedona
Sky Ranch Sedona Lodging - Big Views, Small Price
Photo © Sky Ranch Sedona
Located in the central part of West Sedona, 500 feet above town.
From all the lodging in Sedona AZ, this is where you'll find the biggest views for your bucks. 360° of panorama. WOW! Some of the cottages are even perched right on the mesa's edge.
The interiors are all pretty basic as far as decoration, with 25 inch tube televisions and simple furniture. Plus small refrigerators and microwaves.
The painted wood ceilings add charm, and some rooms at Sky Ranch Lodge have (gas) fireplaces.
Among Sedona lodges, this one also stands out for its easy proximity to lots of popular things, like the Sedona AZ Grand Canyon Tours combo. And there's a nearby major Sedona Vortex (Sedona is famous for vortexes, believed to be healing energy spots).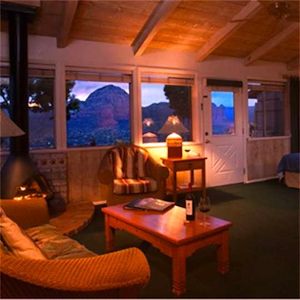 Photo © Sky Ranch Sedona
People, who are staying all over Sedona, make their way to this, Sedona lodging location, especially for the spectacular sunset light on Thunder Mountain, Coffee Pot Rock, Capitol Butte, and Snoopy Rock.
You'll find this collection of "sky-high" cottages sprinkled on 6 acres, with a total of 94 rooms. All on grounds that are well maintained, with pretty landscaping, and a swimming pool.
Sky Ranch is family owned and operated, and feels like it. There's a very easy-going vibe. Your kids and pet are welcome here. And the staff are particularly friendly and ready to offer insights for your Sedona activities.
Rates & Directions
Rates range from about $80 to $170, depending on the room's vista.
People who already know and like Sky Ranch Lodge Sedona, return here again and again, so, if you're interested, book your stay well in advance to enjoy the lowest rates.
Sky Ranch Lodge
1105 Airport Road
Sedona, AZ 86336
928-282-6400 | 888-708-6400
Click Here To See The Website.
Book A Room Online? Click Here.
We hope you'll accept a big ATTITUDE of GRATITUDE for your interest in this guide and in our beloved hometown. YOU are the reason SedonaHappy.com exists.


The Real Sedona AZ
Red Rock Heaven On A Down-to-Earth Site
If you'd like to "share-it-forward," and help more people get this Sedona goodness, remember to mention this site to some people. Bookmark it. Share it. Fave it. Link to it. Keep this site growing strong! Thanks all.
Sky Ranch Lodge Sedona AZ
Our Visitors Are Our Motive and Our Power