---
Sedona Spas 6 - Multi-part spa series, including all the best places for pampering and therapeutic treatments. Find resort and day spa favorites.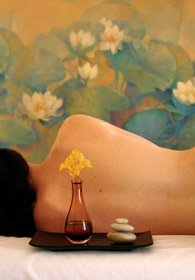 Photo Courtesy & © New Day
SEDONA NEW DAY SPA
Light and Airy-Fresh Day Spa.
Here's a local favorite. It has been voted "best mani-pedi," and offers a full range of traditional massage, facial and body treatments.
Another thing this day spa is known for is the excellent variety of energy balancing sessions and intuitive treatments offered.
Inside, this spa feels like a Sedona resort. The facility is new, but, the staff are seasoned and tremendously talented.
New Day is located in one of the sweetest spots in West Sedona.
Photo Courtesy & © New Day
In this area, you can turn your spa day into a big adventure, if you like.
Right next door, you'll find a New Age shop, Mystical Bazaar with a good crystal selection, spiritually oriented keepsakes, and cool, quirky clothing.
You can enjoy a tasty casual lunch made with all organic ingredients, at New Frontiers, across the street.
Or, go a little further west for great raw food and homemade healthy chocolates at ChocolaTree.
New Day Sedona Spa
1449 W Hwy 89A
Sedona, AZ 86336
928-282-7502 (local)
We hope you'll accept a big ATTITUDE of GRATITUDE for your interest in this guide and in our beloved hometown. YOU are the reason SedonaHappy.com exists.


The Real Sedona AZ
Red Rock Heaven On A Down-to-Earth Site
If you'd like to "share-it-forward," and help more people get this Sedona goodness, remember to mention this site to some people. Bookmark it. Share it. Fave it. Link to it. Keep this site growing strong! Thanks all.
Sedona AZ Guide - Sedona Spas 6
Our Visitors Are Our Motive and Our Power