---
Sedona Spas 4 - Amara Resort and Spa, in conjunction with Serenite. Sedona's best in this multi-part review series. Locals and visitors share insight.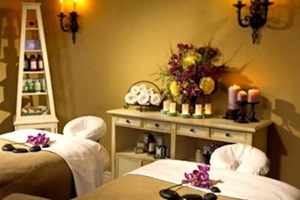 Photo Courtesy of © Serenitē Spa
AMARA RESORT AND SPA
Amara accommodations are a bit more affordable than those at nearby L'Auberge de Sedona, but you can still enjoy the same luxurious spa treatments in conjunction with Serenitē Spa.
The Amara's offerings include the outdoor creekside cabana sessions, and, this additional option:
As a guest of The Amara, you can also enjoy complementary morning yoga courses, if you like. And it's possible to arrange for highly personalized, private yoga guidance as well.
Some rooms at the Amara Resort and Spa are directly creekside. All the rooms have an urban-chic vibe with a clean, modern design and heavenly bedding.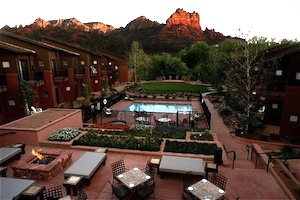 Photo Courtesy of © Amara Resort and Spa
The onsite AAA 4 star rated, Hundred Rox Sedona restaurant is swank!. You'll find great California-Italian cuisine, panoramic Red Rock vistas, and outdoor fireside dining. Nice fit for upscale romance or getting to know other visitors from all over the globe.
This is a definite girls' favorite… a perfect place for girl getaways. The pool is small and simple, but it's salt water! Keeping you're spa treated skin supple.
Amara Resort and Spa
100 Amara Lane
Sedona, AZ (Uptown)
928-282-4828 (local) | 800-815-6152 (general)
We hope you'll accept a big ATTITUDE of GRATITUDE for your interest in this guide and in our beloved hometown. YOU are the reason SedonaHappy.com exists.


The Real Sedona AZ
Red Rock Heaven On A Down-to-Earth Site
If you'd like to "share-it-forward," and help more people get this Sedona goodness, remember to mention this site to some people. Bookmark it. Share it. Fave it. Link to it. Keep this site growing strong! Thanks all.
Sedona AZ Guide - Sedona Spas 4
Our Visitors Are Our Motive and Our Power