---
SEDONA MOTEL - DISCOUNT SEDONA HOTEL Guide. Value and comfort. Visitors share tips. Sixty dollars: balcony, view, fridge, micro. Seventy: down bedding, organic bath products. See the main Sedona lodging overview for even more like this.

West Sedona Panorama - Thunder Mountain & Coffee Pot Rock © Lee Everette Robinson
Featured On This Page: White House Inn Sedona Motel
Top Sedona Motel Pick: White House Inn Sedona
Discount Hotels Sedona AZ - Top Pick
The White House Inn is our absolute, top low-price bargain pick. Easily. Here's how to get the most from "cheap" Sedona motel lodging in Sedona AZ.
Call and ask for Mr. Hershel. He's the onsite go-to guy, and a delightful human being. Inquire about an upstairs room, in the "West Wing," with a room number from 37 to 42. These rooms have the great views of Thunder Mountain (photo above).
The two buildings are well maintained with pretty green paint and golden-glow entry night lights. And, all the rooms have private little outdoor balconies or patios… what a treat… especially considering the price… which is usually about…
$60!
The rooms are very simply furnished, but include a mini-fridge, microwave, and table for two. There's also a big (tube) television and Wi-Fi throughout the property.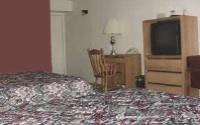 Simple & Clean Rooms © White House Inn
Bathrooms are dated, but perfectly clean. And there's an onsite laundry facility.
Besides the view-rooms, another real stand out quality of this Sedona lodging pick is the onsite Sedona restaurant, Thai Spices - Natural Cuisine. This is high on our list of favorites for really good / pretty-cheap eats ($10+ entrées). It's super fresh and locals LOVE this place.
Notes, Tips & Directions
Affordable Sedona Arizona Hotels

Red Rock Sedona Backdrop © White House (Painted Green in 2010)
NOTE: Pets welcome (only housebroken, please).
NOTE: Weekend stays may cost an additional $10 per night, depending on the season.
TIP: There's free coffee (descent) available in the tiny lobby area.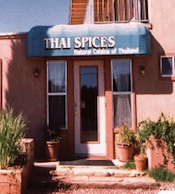 Onsite Sedona Restaurant
© Thai Spices
Or, if you prefer, you can buy an excellent cup of Diedrich's (gourmet) coffee and some phenomenally fresh, handmade pastries at the nearby Sedona Sweet Arts bakery (3 blocks east).
TIP: For single travelers, and couples looking for an inexpensive extended stay, you can't beat this Sedona AZ lodging pick.
You can arrange 7 days for as low as $50 a day ($350-$400/wk) or even a longer… for a negotiable additional discount.
White House Inn
2986 W Hwy 89A
Sedona, AZ 86336
928-282-6680
Reservations by Phone Only
Click Here To See The Website.
Favorite Budget-Friendly Sedona Hotels
We hope you'll accept a big ATTITUDE of GRATITUDE for your interest in this guide and in our beloved hometown. YOU are the reason SedonaHappy.com exists.


The Real Sedona AZ
Red Rock Heaven On A Down-to-Earth Site
If you'd like to "share-it-forward," and help more people get this Sedona goodness, remember to mention this site to some people. Bookmark it. Share it. Fave it. Link to it. Keep this site growing strong! Thanks all.
Sedona Motel Finds & Top Discount Hotels Sedona
Our Visitors Are Our Motive and Our Power