---
Sedona Bed and Breakfast Inns with truly unique flavor. Sedona AZ vacation lovers share Sedona hotels info and tips. Find a stay you will enjoy and remember!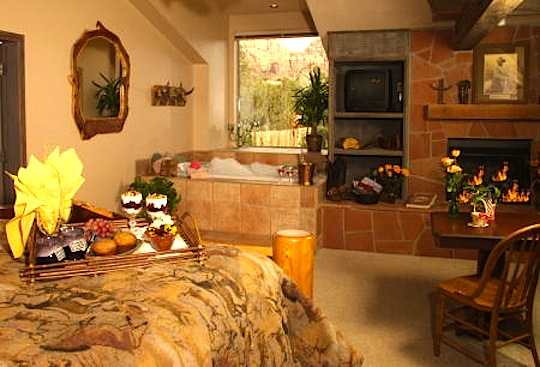 The Gentleman Cowboy Room © Boots and Saddles B & B
Featured On This Page: Boots 'n' Saddles
A Long Standing Favorite Sedona Bed and Breakfast Pick
Wonderfully Personal Touches at Boots and Saddles
Favorite Sedona Arizona Hotels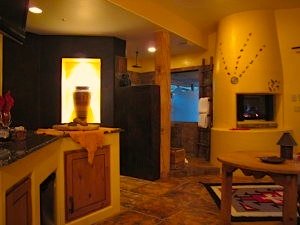 The Sacred Feather Room © Boots and Saddles B & B
Sam and Irith are the husband and wife team who own and run Boots and Saddles. You can tell they love what they do. Among the many Sedona bed and breakfast inns, this one is a real stand out for a down-to-earth, homestyle kind of stay.
Here, you'll find very considerate amenities and casually sophisticated style.
For four years in a row, the people, and Travel Advisor, have named Boots and Saddles THE Best Sedona Bed and Breakfast.
Each of their 6 rooms has a private entrance, a private deck, and a good Red Rock view.
You'll find Kiva fireplaces, wood and/or tile floors, and flat screen televisions. All with tasteful, western decoration. The bed linens are crisp and oh-so-very comfy.
The 2 course gourmet breakfast is generously proportioned. Very fresh, with lots of meat, if you like. Be sure to try the delectible homemade breads. And directly after breakfast, while you're still sitting at the table, you can be treated to excellent in-the-know insights for what to do and see.
My favorite Boots and Saddles offering is this: You can slip into your patio-jacuzzi for quiet star-gazing. And enjoy an ever closer look at the heavens with the telescope that has been thoughtfully provided.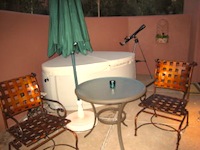 El Dorado Room Patio
© Boots and Saddles B & B
The owners' accessibility and highly personal touches (Sam's a chef and Irith is an interior designer) are likely what makes Boots and Saddles a favorite among Sedona AZ vacation lovers, who loyally return here again and again.
Rates per night, per couple are mid - high $200's. You can save about $25/day, by staying 3 nights or more.
Boots and Saddles Old West B&B
2900 Hopi Drive
Sedona, AZ 86336
928-282-1944 | 800-201-1944
Click Here To See The Website.
Book A Room Online? Click Here.
Favorite Sedona Hotels
We hope you'll accept a big ATTITUDE of GRATITUDE for your interest in this guide and in our beloved hometown. YOU are the reason SedonaHappy.com exists.


The Real Sedona AZ
Red Rock Heaven On A Down-to-Earth Site
If you'd like to "share-it-forward," and help more people get this Sedona goodness, remember to mention this site to some people. Bookmark it. Share it. Fave it. Link to it. Keep this site growing strong! Thanks all.
Standout Sedona Bed and Breakfast Inns
Our Visitors Are Our Motive and Our Power