---
Sedona AZ Bed and Breakfast Reviews: Locals and visitors offer tips for finding the best Sedona Hotels. Been There. LOVED That. Hope YOU Will Too.
All Sedona AZ Bed and Breakfast Photos On This Page Courtesy of © Sedona Views
The Views Sedona Bed and Breakfast - A New Favorite
Created by Talented and Trusted Old Friends
Sedona Views is Our Overall Favorite B & B...
Top Sedona Arizona Hotels
Sam and Irith love owning and operating Boots and Saddles so much, they've doubled their offerings with their new sister property, Sedona Views B&B. Here you'll find the same personalized attentions and thoughtful details for which their first B&B is well known, but with even better views.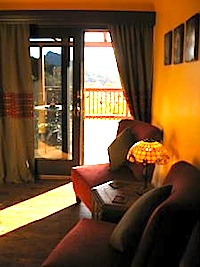 © Sedona Views B & B
This huge house is nestled into a tall Red Rock Sedona wall, with undisturbed panoramic vistas and the lush green of (directly adjacent) Coconino National Forest.
The owners are very hands-on when it comes to design and food. Irith's interiors are wonderfully thoughtful and comfortable and Sam's chef-ing is creative and fresh. In more ways than one. He makes sure every breakfast is offers a new kind of taste adventure.
Like at Boots and Saddles, every one of these 6 rooms has a fireplace and a large jetted tub for two. Plus a flat screen television and fine luxurious bed linens.
Adobe Grand Villas ($$$$+) is still our favorite B&B for artistic functional-art designs, but we think Sam and Irith deliver the warmest homestyle Sedona Bed and Breakfast experience. This, plus the phenomenal views, make Sedona Views our top pick of all Sedona B&B's.
Rates, Notes & Directions
Standout Sedona Hotels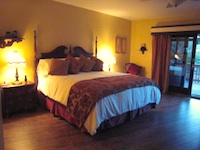 © Sedona Views B & B
NOTE of Congratulations!
Sam and Irith's new Sedona AZ bed and breakfast, Views offering is a welcomed success: The "people" and Travel Advisor have graced the place with this award:
Top 10 Bed and Breakfast In America!
And so did Boots & Saddles, by the way. Cheers! Well done!!
Rates per night, per couple are just under $300, with $25/day discounts available for stays of 3 days or more.
Sedona Views
995 N Hwy 89A
Sedona, AZ 86336
800-201-1944
Click Here To See The Website.
Book A Room Online? Click Here.
Top Sedona Hotels & Sedona Bed and Breakfast Favorites
We hope you'll accept a big ATTITUDE of GRATITUDE for your interest in this guide and in our beloved hometown. YOU are the reason SedonaHappy.com exists.


The Real Sedona AZ
Red Rock Heaven On A Down-to-Earth Site
If you'd like to "share-it-forward," and help more people get this Sedona goodness, remember to mention this site to some people. Bookmark it. Share it. Fave it. Link to it. Keep this site growing strong! Thanks all.
Top Sedona AZ Bed and Breakfast - Sedona Views
Our Visitors Are Our Motive and Our Power